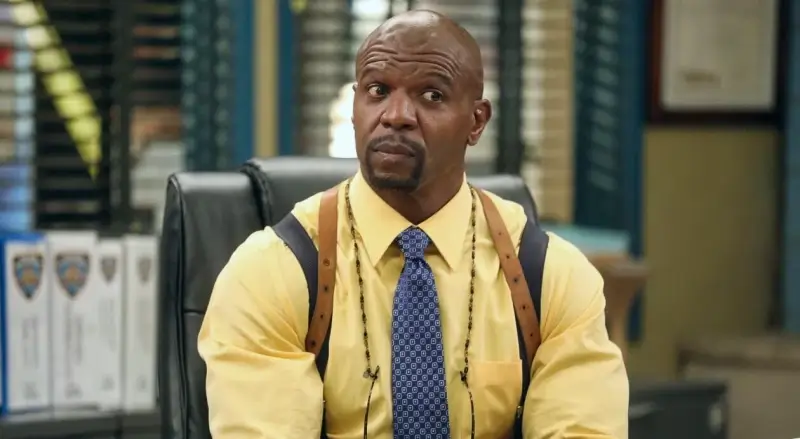 Photo Credit: Everett Collection
Character Analysis
(Avoiding Spoilers)
Living... in New York with his wife, Sharon, and twin baby daughters, Cagney and Lacey. They have a nice, large house with plenty of room for their daughters to grow up.
Profession... sergeant in the New York Police Department at the 99th Precinct. Terry is a decorated veteran and even has a history with the precinct's new commanding officer, Captain Holt, working with him at their previous police assignment. But while the beefy Terry still looks and talks like a tough guy, he hasn't been the same professionally since his twins were born. His intense fear of potentially leaving his girls without a father led to a breakdown in the field when he became overwhelmed by the danger inherent in his profession. That has relegated him to desk duty for now.
Interests... his daughters. Terry's twins are the most important things in his life. Next to his family, though, Terry takes pride in working out to maintain his almost absurdly muscled physique.
Relationship Status... married to Sharon. They are very happy together and only seem to really argue when they don't communicate as well as they should, which tends to happen when Terry thinks it better not to tell his wife all of the (potentially life-threatening) details of his work. But she makes it clear that honesty is not only the best policy, it's the only one: "I'm always going to worry about you... but if you ever keep anything from me ever again, I will leave you."
Challenge... balancing his home and work life. The tough-but-tender Terry is haunted by the possibility of getting injured or killed in the line of duty, especially given his role as husband and father. He'll need to work through that in order to do his job as effectively as before.
Personality... a pleasant contradiction. Terry looks mean, frankly, and could clearly rip off the head of anyone who crossed him. But that belies a tender and caring side that has only grown since he became a father. He's even taken to viewing his younger co-workers in parental terms: "I feel like a proud mama hen whose baby chicks have learned to fly!" Now if only Terry could learn to regain some of his lost ferocity and combine it with his increased sensitivity and compassion, he'd be the perfect law-enforcement officer for the 21st century.
Recommendations
Fans of him also like: