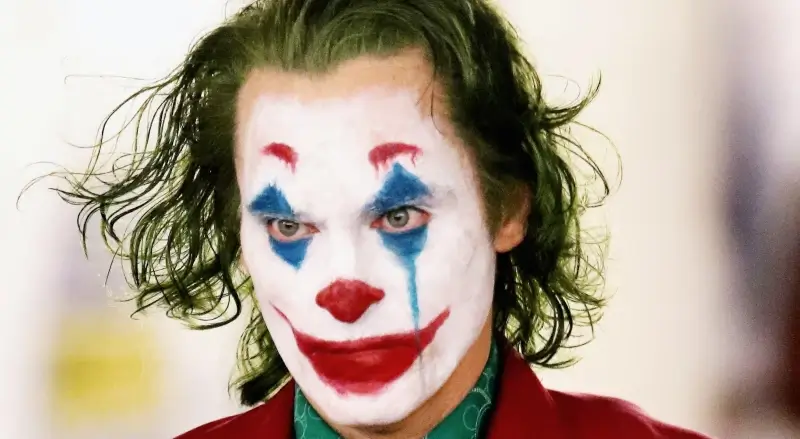 Photo Credit: Everett Collection
Character Analysis
(Avoiding Spoilers)
Living… a life of crime. When he's not robbing banks or assassinating public officials, he's setting up elaborate, Rube Goldberg-like traps for the people of Gotham, like threatening to kill one person for every day Batman doesn't turn himself in. He also purposefully allows himself to be caught by the police just so he can break free and cause havoc from inside the police station.
Profession… terrorist, bank robber, arsonist, murderer, and clown. Let's be honest, Gotham isn't the best-functioning city. Say what you want about The Joker – like, perhaps, that he's pathologically violent – but the guy inspires loyalty in his crew and, by golly, he gets things done.
Interests… explosives. As Batman's butler Alfred says, "Some people just want to watch the world burn." The Joker wants to see the whole world explode as people descend into madness. His goal: "Introduce a little anarchy, upset the established order, and everything becomes chaos. I'm an agent of chaos. And you know the thing about chaos? It's fair."
Relationship Status… once married, according to him. He says his wife was given scars after getting in too deep with some loan sharks and to make her happy, he gave himself his iconic mangled smile, which turned her away. Knowing the Joker, though, this story could just be a bad joke.
Challenge… trying to win the fight over Gotham's soul. The Joker is convinced that through fear and terror (and a whole lot of explosives) he can turn Gotham into a city of chaos. However, Batman believes that the people of Gotham are inherently good.
Personality… insane, violent, and extremely dangerous. The Joker will stop at nothing to terrorize the citizens of Gotham. His dark past has made him into a twisted murderer, and his intelligence unfortunately allows him to be very good at what he does.
Recommendations
Fans of him also like:
Find out how you match to him and 5500+ other characters
Get to Know him in...
The Dark Knight of Gotham City begins his war on crime with his first major enemy being the clownishly homicidal Joker, who has seized control of Gotham's underworld.

This 15-chapter serial pits Batman and Robin against The Wizard, who uses a device that allows him to control machinery to hold the city hostage.

Driven by tragedy, billionaire Bruce Wayne dedicates his life to uncovering and defeating the corruption that plagues his home, Gotham City. Unable to work within the system, he instead creates a new identity, a symbol of fear for the criminal underworld: Batman.

The Dark Knight of Gotham City confronts a dastardly duo: Two-Face and the Riddler. Formerly District Attorney Harvey Dent, Two-Face believes Batman caused the courtroom accident which left him disfigured on one side. And Edward Nygma, computer-genius and former employee of millionaire Bruce Wayne, is out to get the philanthropist; as The Riddler. Former circus acrobat Dick Grayson, his family killed by Two-Face, becomes Wayne's ward and Batman's new partner Robin.

Fearing the actions of a god-like Super Hero left unchecked, Gotham City's own formidable, forceful vigilante takes on Metropolis's most revered, modern-day savior, while the world wrestles with what sort of hero it really needs. And with Batman and Superman at war with one another, a new threat quickly arises, putting mankind in greater danger than it's ever known before.

An old flame of Bruce Wayne's strolls into town, re-heating up the romance between the two. At the same time, a mass murderer with an axe for one hand begins systematically eliminating Gotham's crime bosses. Due to the person's dark appearance, he is mistaken for Batman. Now on the run, Batman must solve the mystery and deal with the romance between him and Andrea Beaumont.

As Batman hunts for the escaped Joker, the Clown Prince of Crime attacks the Gordon family to prove a diabolical point mirroring his own fall into madness.

Batman raises the stakes in his war on crime. With the help of Lt. Jim Gordon and District Attorney Harvey Dent, Batman sets out to dismantle the remaining criminal organizations that plague the streets. The partnership proves to be effective, but they soon find themselves prey to a reign of chaos unleashed by a rising criminal mastermind known to the terrified citizens of Gotham as the Joker.

Following the death of District Attorney Harvey Dent, Batman assumes responsibility for Dent's crimes to protect the late attorney's reputation and is subsequently hunted by the Gotham City Police Department. Eight years later, Batman encounters the mysterious Selina Kyle and the villainous Bane, a new terrorist leader who overwhelms Gotham's finest. The Dark Knight resurfaces to protect a city that has branded him an enemy.

During the 1980s, a failed stand-up comedian is driven insane and turns to a life of crime and chaos in Gotham City while becoming an infamous psychopathic crime figure.

Led by the Joker, the inmates have taken over Arkham Asylum, Gotham's mental illness detention center, and are holding the staff hostage. Their demands are many, but one stands out: they want Batman in there with them. Batman takes their challenge to save the hostages, but risks losing his own sanity in the process. Includes the annoted script for the comic and original page layouts.

This dark and twisty BATMAN in the blockbuster DC Icons series is an action-packed thrill ride from #1 New York Times bestselling author MARIE LU. AN INSTANT NEW YORK TIMES BESTSELLER Before he was Batman, he was Bruce Wayne. A reckless boy willing to break the rules for a girl who may be his worst enemy. The Nightwalkers are terrorizing Gotham City, and Bruce Wayne is next on their list. Bruce is turning eighteen and inheriting his family's fortune, not to mention the keys to Wayne Industries and all the tech gadgetry that he could ever desire. But on the way home from his birthday party, he makes an impulsive choice that leads to community service at Arkham Asylum, the infamous prison. There, he meets Madeleine Wallace, a brilliant killer with ties to the Nightwalkers. A girl who will only speak to Bruce. She is the mystery he must unravel, but is he convincing her to divulge her secrets, or is he feeding her the information she needs to bring Gotham City to its knees? Bruce Wayne is proof that you don't need superpowers to be a super hero, but can he survive Madeleine's game of tense intrigue and deception? Act fast! The first printing includes a poster of Bruce! Each first printing in the DC Icons series will have a limited-edition poster--collect them all to create the full image! "Masterful. . . . A great story for any Dark Knight fan." --Den of Geek Don't miss the rest of the DC Icons series! Read them in any order you choose: * Wonder Woman: Warbringer by Leigh Bardugo * Catwoman: Soulstealer by Sarah J. Maas * Superman: Dawnbreaker by Matt de la Peña

A NEW YORK TIMES Bestseller! Hailed as a comics masterpiece, THE DARK KNIGHT RETURNS is Frank Miller's (300 and SIN CITY) reinvention of the legend of Batman. It remains an undisputed classic, one of the most influential stories ever told in comics, and is a book cited by the filmmakers as an inspiration for the most recent Batman movies. It is ten years after an aging Batman has retired and Gotham City has sunk deeper into decadence and lawlessness. Now, as his city needs him most, the Dark Knight returns in a blaze of glory. Joined by Carrie Kelly, a teenage female Robin, Batman takes to the streets to end the threat of the mutant gangs that have overrun the city. And after facing off against his two greatest enemies, the Joker and Two-Face, for the final time, Batman finds himself in mortal combat with his former ally, Superman, in a battle that only one of them will survive. This collection is hailed as a comics masterpiece and was responsible for the launch of the Christopher Nolan Batman movies. This volume collects BATMAN: THE DARK KNIGHT RETURNS #1-4.

BATMAN: THE KILLING JOKE is Alan Moore's unforgettable meditation on the razor-thin line between sanity and insanity, heroism and villainy, comedy and tragedy. According to the grinning engine of madness and mayhem known as the Joker, that's all that separates the sane from the psychotic. Freed once again from the confines of Arkham Asylum, he's out to prove his deranged point. And he's going to use Gotham City's top cop, Commissioner Jim Gordon, and the Commissioner's brilliant and beautiful daughter Barbara to do it.

Taking place during Batman's early days of crime-fighting, this new edition of the classic mystery tells the story of a mysterious killer who murders his prey only on holidays. Working with District Attorney Harvey Dent and Lieutenant James Gordon, Batman races against the clock as he tries to discover who Holiday is before he claims his next victim each month. A mystery that has the reader continually guessing the identity of the killer, this story also ties into the events that transform Harvey Dent into Batman's deadly enemy, Two-Face.

Bestselling author Gaiman joins a murderer's row of talented artists in lending his unique touch to the Batman mythos for this Deluxe Edition hardcover.

One of the most important and critically acclaimed graphic novels of all time is now presented in a deluxe hardcover edition, including many of the extras and bonus materials from ABSOLUTE BATMAN: YEAR ONE. In 1986, Frank Miller and David Mazzucchelli produced this groundbreaking reinterpretation of the origin of Batman--who he is and how he came to be. Written shortly after THE DARK KNIGHT RETURNS, Miller's dystopian fable of Batman's final days, YEAR ONE set the stage for a new vision of a legendary character. This new edition includes artist David Mazzucchelli's original pencil pages, sketches and script pages from Frank Miller, along with other bonus materials. Collects BATMAN #404-407.

Using a great variety of gadgets you must make your way around the island, and the asylums halls to find and stop the joker. The game uses a 3-button combat system, but with a great number of gadget abilites which Batman can unlock. This makes for a very cinematic combat experience when fighting the Joker's goons.

After the events of Batman: Arkham Asylum (2009), a section of the city of Gotham has been turned into a prison, designed to keep the scum of the city away from the people. Bruce Wayne protests this prison but is shortly kidnapped by the despicable Hugo Strange, thus having to face the city's most powerful villains as the Batman while trying to uncover Strange's plans.

The highly anticipated addition of this legendary vehicle, combined with the acclaimed gameplay of the Arkham series, offers gamers the ultimate and complete Batman experience as they tear through the streets and soar across the skyline of the entirety of Gotham City. In this explosive finale, Batman faces the ultimate threat against the city that he is sworn to protect, as Scarecrow returns to unite the super criminals of Gotham and destroy the Batman forever.

Batman: Return to Arkham sees the combination of two classic entries in the Batman: Arkham series make a return to modern consoles (PS4 and Xbox One) with improved graphics.

In this latest chapter, both Bruce Wayne and Batman will be forced into precarious new roles. The Riddler has returned to terrorize Gotham City, but his gruesome puzzles merely foreshadow an even greater crisis. With the arrival of a ruthless federal agent and the return of a still nascent Joker, Batman must navigate uneasy alliances while Bruce Wayne undertakes a perilous series of deceptions. Which of Batman's new allies will you choose to trust? And how deep into the darkness will you let Bruce descend?

Enter the fractured psyche of Bruce Wayne and discover the powerful and far-reaching consequences of your choices as the Dark Knight. In this gritty and violent story, you'll make discoveries that will shatter Bruce Wayne's world, and the already fragile stability of a corrupt Gotham City.

Batman: The Animated Series is an American animated television series based on the DC Comics superhero Batman. The series was widely praised for its thematic complexity, dark tone, artistic quality, and faithfulness to its title character's crime-fighting origins.