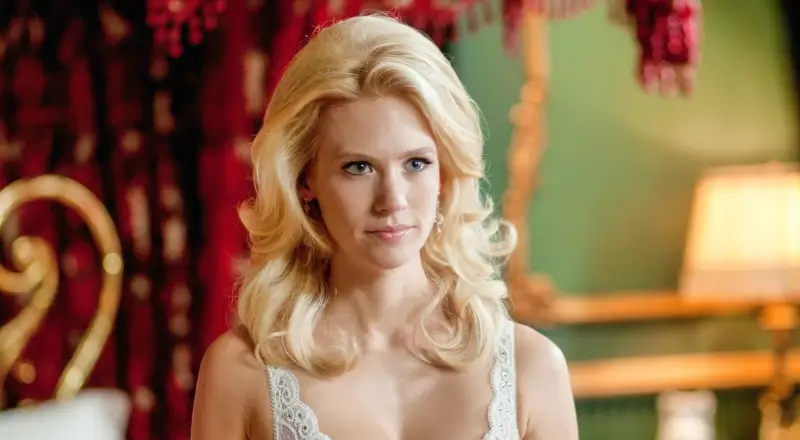 Photo Credit: Everett Collection
Character Analysis
(Avoiding Spoilers)
Overview... a powerful mutant living in the swinging 1960s. Not only does Emma Frost have strong telepathic abilities, she can also transform her entire body into an unbreakable diamond. Her powers make her a crucial player in the Hellfire Club, an organization of mutants who believe they're superior to humans. Emma cares first and foremost for her own well-being and has no problem taking down those who stand in her way.
Personality... icy, aloof, and cunning. Thanks to her mutant powers, which give her both mental and physical protection, Emma Frost considers herself above most people. She's more of a follower than a leader, and she's not afraid to switch allegiances when a better opportunity presents itself. Emma often uses her sexuality to her advantage, distracting people with her beauty to get what she wants from them.
Recommendations
Fans of her also like:
Find out how you match to her and 5500+ other characters
Get to Know her in...
Two mutants, Rogue and Wolverine, come to a private academy for their kind whose resident superhero team, the X-Men, must oppose a terrorist organization with similar powers.

After seeking to live a normal life, Logan sets out to avenge the death of his girlfriend by undergoing the mutant Weapon X program and becoming Wolverine.

After the re-emergence of the world's first mutant, world-destroyer Apocalypse, the X-Men must unite to defeat his extinction level plan.

The ultimate X-Men ensemble fights a war for the survival of the species across two time periods as they join forces with their younger selves in an epic battle that must change the past—to save our future.

Before Charles Xavier and Erik Lensherr took the names Professor X and Magneto, they were two young men discovering their powers for the first time. Before they were arch-enemies, they were closest of friends, working together with other mutants (some familiar, some new), to stop the greatest threat the world has ever known.

When a cure is found to treat mutations, lines are drawn amongst the X-Men, led by Professor Charles Xavier, and the Brotherhood, a band of powerful mutants organized under Xavier's former ally, Magneto.

Professor Charles Xavier and his team of genetically gifted superheroes face a rising tide of anti-mutant sentiment led by Col. William Stryker in this sequel to the Marvel Comics-based blockbuster X-Men. Storm, Wolverine and Jean Grey must join their usual nemeses Magneto and Mystique to unhinge Stryker's scheme to exterminate all mutants.

They live among us, each possessing special superhuman abilities—sometimes a blessing, sometimes a curse. Mutants. Since the discovery of their existence, they have been regarded with fear, suspicion, and often hatred. Across the planet, the debate rages: Are mutants the next link in the evolutionary chain or simply a new species of humanity, fighting for their share of the world? Either way, one fact remains: Sharing the world has never been humanity's defining trait.There are two sects of mutants: One aims to coexist peacefully with a world that despises them; the other group strikes at intolerance with a relentless, often murderous force. But now there is a new insidious enemy, and no one will be safe.

The world has acquired a lethal new weapon against X-gene mutants, whose superhuman powers separate them—for better, for worse, forever—from ordinary mortals. Now, for the first time, mutants have a choice: retain their godlike abilities, though their powers may isolate and alienate them, or surrender them and become human. The mutant antibody is called a cure, but its invention may trigger a struggle that destroys every living soul on Earth. As Magneto declares all-out war against humanity and its dreaded cure, the U.S. president mobilizes the military. But it is Charles Xavier and the X-Men who truly must brace for the ultimate battle, for they alone are powerful enough to determine the outcome. Lessons of the past are useless in the coming life-and-death conflict, as new players—mutants possessing unprecedented, unearthly skills— take center stage. With so many joining forces with Magneto's evil Brotherhood, the X-Men will face their ultimate test against an enemy whose forces far outnumber their own. Now, as the world trembles, the Phoenix slowly rises. . .

Outcasts from society, the X-MEN are genetic mutants, born with superhuman powers, who harness their special abilities for the greater good. But the human race they fight to protect rejects and fears—even hates—them. Not all mutants seek to protect mankind. One terrorist group—led by the supremely powerful Magneto—seeks to strike first. Battling against prejudice and agents of intolerance, the X-MEN must establish a peaceful coexistence between mutant and mankind or they will surely perish . . .

X-Men: Mutant Academy 2 is a PlayStation video game, the sequel to X-Men: Mutant Academy. Like its predecessor, the game allows the player to select from several heroes and villains and includes many of the signature moves from the comic.

X-Men: Mutant Academy is a basic fighting game that uses six buttons: three buttons for punches and three for kicks. The game's characters can be played both with their comic book costumes and their costumes from the 2000 film X-Men.

X-Men Origins: Wolverine will give you new insight into how much damage indestructible, razor-sharp claws can do to a human body. This is a game that revels in gore, with decapitations, eviscerations, and mutilations drenching the screen in blood. It may be derivative, a cakewalk, and at times buggy, but the sheer visceral impact of the over-the-top violence in X-Men Origins is enough to make it a fun action game, as well as one of the better movie tie-ins released recently.

X-Men, also known as X-Men: The Animated Series, is an American-Canadian animated television series.

X-Men: Evolution is an American animated television series about the Marvel Comics superhero team X-Men. In this incarnation, many of the characters are teenagers rather than adults.