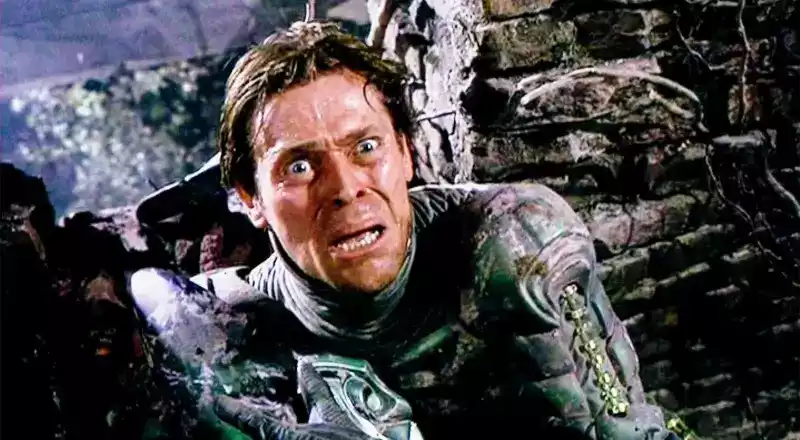 Norman Osborn / Green Goblin
Photo Credit: Everett Collection
Character Analysis
(Avoiding Spoilers)
Living… in Manhattan where he runs the highly successful military contracting company he founded, OSCORP. Norman originally had good intentions with his use of science at his company: "Forty thousand years of evolution and we've barely even tapped the vastness of human potential."
Profession… scientist and head of OSCORP. He had been working in the nanotechnology labs on a new serum that is aimed at creating a super soldier. However, when test results reveal that some subjects became insane, he decides to test the serum himself, which turns him into the uncontrollable, evil Green Goblin.
Interests… eliminating his competition after the military decided to go with a rival company instead of OSCORP. He is not afraid to resort to deadly tactics to beat his rivals.
Relationship Status… none. His wife died not too long after the birth of his son, Harry. Norman can be particularly hard on his son, holding him to a standard of academic excellence that he can't reach. Harry becomes jealous when Norman forms a bond with his best friend, Peter Parker.
Challenge… trying to get Spider-Man to join his evil forces. Little does he know that his web-shooting adversity is actually Peter Parker, his son Harry's best friend. When Spider-Man refuses him, he makes it his goal to kill him.
Personality… distant and volatile after his failed super soldier serum makes him go insane. Nevertheless, he is a determined man who is hellbent on destroying Spider-Man.
Recommendations
Fans of him also like:
Find out how you match to him and 5500+ other characters
Get to Know him in...
After being bitten by a genetically altered spider, nerdy high school student Peter Parker is endowed with amazing powers.

Peter Parker is going through a major identity crisis. Burned out from being Spider-Man, he decides to shelve his superhero alter ego, which leaves the city suffering in the wake of carnage left by the evil Doc Ock. In the meantime, Parker still can't act on his feelings for Mary Jane Watson, a girl he's loved since childhood.

The seemingly invincible Spider-Man goes up against an all-new crop of villains—including the shape-shifting Sandman—in the third installment of this blockbusting comic book adventure series. While Spidey's superpowers are altered by an alien organism, his alter ego, Peter Parker, deals with nemesis Eddie Brock and gets caught up in a love triangle.

Peter Parker is an outcast high schooler was abandoned by his parents as a boy, leaving him to be raised by his Uncle Ben and Aunt May. Like most teenagers, Peter is trying to figure out who he is and how he got to be the person he is today. As Peter discovers a mysterious briefcase that belonged to his father, he begins a quest to understand his parents' disappearance—leading him directly to Oscorp and the lab of Dr. Curt Connors, his father's former partner. As Spider-Man is set on a collision course with Connors' alter ego, The Lizard, Peter will make life-altering choices to use his powers and shape his destiny to become a hero.

For Peter Parker, life is busy. Between taking out the bad guys as Spider-Man and spending time with the person he loves, Gwen Stacy, high school graduation cannot come quickly enough. Peter has not forgotten about the promise he made to Gwen's father to protect her by staying away, but that is a promise he cannot keep. Things will change for Peter when a new villain, Electro, emerges, an old friend, Harry Osborn, returns, and Peter uncovers new clues about his past.

This game take place in the rockwell film studios. The levels consists of walls, platforms, traps, switches and adversaries. You will make significant progress only if you can locate those switches which are necessary to proceed, and if you avoid the traps. Your goal is to locate the Mysterio's lair in the executive offices. To get there you will make your way through many rooms, most of which are parts of the film studio sets specially laid out by Mysterio to make your task of locating Mary Jane even harder.

Spider-Man released in 1982 by Parker Brothers was the first video game to feature SpiderMan and also the first video game based on a Marvel Comics character.

Spider-Man 2: Enter Electro is an action-adventure video game developed by Vicarious Visions and published by Activision for the PlayStation in 2001. It is the sequel to Neversoft's Spider-Man title, which was released the previous year. The game follows Spider-Man as he attempts to stop another old nemesis Electro from obtaining a source of power known as the Bio-Nexus Device. Game bosses include Shocker, Hammerhead, Lizard, Sandman and the exclusive charged-up Hyper-Electro.

2 years after the death of Ben Parker, Peter Parker his nephew gains special Spider like powers to become Spider-man. But now with the rise of enemies like Harry Osborn, kingpin, And the Russian Mob, Spider-man is in one of his biggest battles yet. Though he is not the only one hunting Villains.

Starring the world's most iconic Super Hero, Spider-Man (working title) features the acrobatic abilities, improvisation and web-slinging that the wall-crawler is famous for, while also introducing elements never-before-seen in a Spider-Man game. From traversing with parkour and utilizing the environment, to new combat and blockbuster set pieces, it's Spider-Man unlike any you've played before.

Spider-Man, also known as Spider-Man: The Animated Series, was an American animated television series based on the Marvel Comics superhero, Spider-Man. The show ran on Fox Kids from November 19, 1994, to January 31, 1998. The producer/story editor was John Semper, Jr. and the production company was Marvel Films Animation. The instrumental theme song for the series was performed by Joe Perry of Aerosmith. Reruns can currently be seen for free at Marvel.com.

Following the events of Captain America: Civil War, Peter Parker, with the help of his mentor Tony Stark, tries to balance his life as an ordinary high school student in Queens, New York City, with fighting crime as his superhero alter ego Spider-Man as a new threat, the Vulture, emerges.

Peter Parker and his friends go on a summer trip to Europe. However, they will hardly be able to rest—Peter will have to agree to help Nick Fury uncover the mystery of creatures that cause natural disasters and destruction throughout the continent.

In Spider-Man 2, Manhattan becomes a gamer's playground as you take the role of Spider-Man in a battle against the nefarious Doc Ock. Based on the plot of the movie Spider-Man 2 and the heroes and villains created by Marvel, the game allows players to encounter unique and dangerous villains as they patrol the streets and rooftops of the biggest city created in any Super Hero game to date. As Spider-Man, players must master new combo moves as they protect the denizens of New York City from the nefarious Doc Ock and other classic Marvel villains by swinging, jumping and wall-crawling through 19 new levels that extend beyond the film. With an unprecedented depth of gameplay, players experience original storylines featuring Vulture, Shocker, Rhino, and Mysterio all while battling through graphically rich 3D environments.