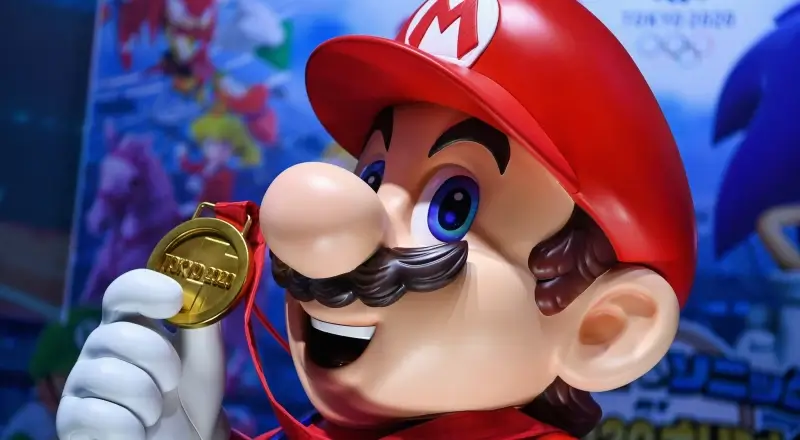 Character Analysis
(Avoiding Spoilers)
Living… in the Mushroom Kingdom, a magical land ruled by the benevolent Princess Peach.
Profession… part-time plumber and full-time hero. When Mario shows up for a plumbing job, he goes with his brother in a ridiculous red outfit, eats a weird looking mushroom, and then tries to fit himself inside the pipes so he can save a princess – all while charging clients by the hour. That's Mario: the Mushroom Kingdom's premier hero but the real world's worst plumber.
Interests… Italian food, daydreaming, and saving the day. Mario is a skilled fighter and jumper, though you wouldn't guess it based on his rather plump frame. When he's not working or fighting bad guys, you may find him partying or playing sports with his friends. 
Relationship Status… single. He's a little too busy saving the Mushroom Kingdom for romance, but Mario has always had his eye on the beautiful Princess Peach. Maybe if he successfully rescues her, she'll give him a kiss.
Challenge… to rescue Princess Peach from the clutches of Bowser and save the Mushroom Kingdom. It seems like Bowser is always causing havoc in the usually peaceful Mushroom Kingdom, and Mario is the only one who's brave enough to stop him.
Personality… simple, hot-headed, and courageous. Although a little impulsive and short-tempered sometimes, Mario is a true hero. He is always willing to go to great lengths to help others in need. Despite being a physically unremarkable plumber, he possesses an unusual amount of strength as well as strong sense of justice. 
Recommendations
Fans of him also like:
Find out how you match to him and 5500+ other characters
Get to Know him in...
Mario and Luigi, plumbers from Brooklyn, find themselves in an alternate universe where evolved dinosaurs live in hi-tech squalor. They're the only hope to save our universe from invasion by the dino dictator, Koopa.

Hit the road with Super Mario Kart and play anytime, anywhere Race your friends or battle them in a revised battle mode on new and returning battle courses.

Super Mario World 2: Yoshi's Island casts players as Yoshi as he escorts Baby Mario through 48 levels in order to reunite him with his brother Luigi, who had been kidnapped by Baby Bowser's minions. As a Super Mario series platformer, Yoshi runs and jumps to reach the end of the level while solving puzzles and collecting items.

Super Mario World is a side-scrolling platformer that follows both Mario brothers as they explore Dinosaur Land (known for its large amount of dinosaurs) to find and defeat the evil Koopa king Bowser (and his seven underlings, the Koopalings) while rescuing Princess Toadstool.

Super Mario 64 is a 3D action-adventure that has sold over 11 million copies, and is marked as the best selling Nintendo 64 game of all time.

Mario is once again out to beat Bowser in Super Mario 3D Land. The game features the well-known Mario playstyle that people all around the world love, but in 3D!

Forget what you know about soccer, because in the Mushroom Kingdom, anything goes! Get ready for crazy five-on-five matches as Mario and Co. hit the pitch for the first time ever!

In Super Mario Bros. 3, Mario and Luigi embark on a quest to save Princess Toadstool and the rulers of seven different kingdoms from the antagonist Bowser and his children, the Koopalings. The player, as Mario or Luigi, is able to defeat enemies by stomping them or using items that bestow magical powers. Mario and Luigi are given a wider range of abilities than in previous Super Mario games, including flying or sliding down slopes.

Super Mario Bros. Crossover is a fan-made crossover platform. It is based mostly on the gameplay of Nintendo's Super Mario Bros. for the NES.

Leap into the first multiplayer Mario platformer set in a 3D world. Play as Mario, Luigi, Princess Peach, and Toad—each with their own special skills—in the Sprixie Kingdom. Scamper up walls with the new cat power-up to find secrets or pounce from above to claw enemies. Enjoy a solo romp or add friends on the fly for instant Mario multiplayer magic. Freely roam the world map and each sprawling stage alone or team up with friends to find hidden stars while competing to take the crown for most coins and points found. Tap the Wii U GamePad controller's touch screen to freeze enemies and reveal invisible secrets. Or, use the GamePad for off-TV play while tilting it to spot hidden nooks and crannies with the moveable camera. All this and more makes Mario's world deeper than ever. Jump on in!

Do you have what it takes to save the Mushroom Princess? You'll have to think fast and move even faster to complete this quest. The Mushroom Princess is being held captive by the evil Koopa tribe of turtles. It's up to you to rescue her from the clutches of the Koopa King before time runs out. But it won't be easy. To get to the Princess, you'll have to climb mountains, cross seas, avoid bottomless pits, fight off turtle soldiers and a host of black magic traps that only a Koopa King can devise. It's another non-stop adventure from the Super Mario Bros.!

Mario's back! This time it's a fierce action-packed battle to free the land of Subcon from the curse of the evil Wart. It's up to you, along with Mario, Luigi, Toad and the Princess, to fight your way through bizarre multi-level worlds and find him! This time you've got a brand new kind of power—plucking power—and now anything you find can be a weapon. But beware! You've never seen creatures like these: Shyguys, Tweeters, Ninji and Beezos. Only cunning and speed can save you now...

Experience a gravity-defying adventure! Become Mario as he traverses gravity-bending galaxies, traveling in and out of gravitational fields by blasting from planet to planet. Players experience dizzying perspective shifts as they run upside down through wild alien worlds that need to be seen to be believed. Whether you're surfing on a ray across an ocean in the clouds, rolling on a ball through a treacherous garden, or floating in a bubble over a poisonous swamp, there's no limit to the cosmic challenges you'll encounter! * Shake it! Controlling Mario is as simple as can be with the Wii Remote and Nunchuk. Move Mario with the Control Stick and shake the Wii Remote to perform a spin move or cue Ring Stars that launch you to and from planetary objects. You can even point at bits of stardust to collect them or latch onto Beam Stars to blaze a magnetic trail through the heavens. * Mario can run, tiptoe, jump, triple-jump, backflip, and long-jump, but what he'll do most is spin. By shaking the Wii Remote, players make Mario spin around with fists outstretched, allowing him to pummel enemies and cue Star Rings that launch him from planet to planet. * He can also find plenty of power-ups: A Bee Mushroom turns him into Bee Mario, allowing him to fly for short periods of time and cling to honeycombs. A Boo Mushroom turns him into Boo Mario, allowing him to float and turn invisible to pass through mesh gates. * He'll constantly collect bits of stardust. These can be fired at enemies using the B Button. A second player can even take on this role, using a second Wii Remote to stall enemies, fire stardust, or even sweep aside projectiles.

Prepare for liftoff with Mario and Yoshi! Mario gets to team up with his dinosaur buddy Yoshi, who adds new possibilities to the gravity-defying game play. Mario collects stars as he travels from galaxy to galaxy. Every level is new, but the game retains the charm, sense of wonder and beauty in line with Mario's history. Mario works his way through the various levels, sometimes upside-down, sometimes floating from place to place.

In his greatest Game Boy adventure, Mario faces off against his evil rival Wario, who has captured Mario Land and turned it into his private playground. To toss Wario off his ill-gotten throne, Mario must search all-new worlds for the six golden coins that unlock the gate to Mario's castle. A mob of monsters, old and new, seek to stop him. Along the way, through 6 zones, Mario can nab Power Mushrooms, Super Stars and Fire Flowers for extra power. And if he eats the Magic Carrot, he'll turn into a high-flying hare. The battery pack saves your game in progress in this biggest Game Boy Mario adventure yet.

Super Mario Maker lets people's imaginations run wild. For the first time ever, friends can have fun playing through levels they create for one another. The Wii U GamePad controller makes it so easy for anyone to create levels; it may feel like simply sketching out ideas on paper. Players can enjoy a seemingly endless supply of inventive Mario levels from players around the world.

Mario fans of the world, unite! Now you can play, create, and share the side-scrolling Super Mario courses of your dreams in the Super Mario Maker 2 game, available exclusively on the Nintendo Switch system! Dive into the single-player Story Mode and play built-in courses to rebuild Princess Peach's castle. Make your own courses, alone or together. And with a Nintendo Switch Online membership, share your courses, access a near-endless supply made by others, enjoy online multiplayer, and more!

Explore incredible places far from the Mushroom Kingdom as you join Mario and his ally Cappy on a massive, globe-trotting 3D adventure. Use amazing abilities like the power to capture and control objects, animals, and enemies to collect Power Moons so you can power up the Odyssey airship and save Princess Peach from Bowser's wedding plans.

Test your skills in sets of five minigames with the new mode, Mariothon, and see how you stack up against players across the globe in Online Mariothon*. Whether you're pedaling tricycles, flipping meat, or who knows what else, you'll use Joy-Con controllers in clever ways across 80 new minigames; some are all-out free-for-alls, others are 2 vs 2, or even 1 vs 3! Toad's Rec Room lets you pair up two Nintendo Switch systems**, which you'll lay side-by-side on a flat surface like a real tabletop game. That way you can play a mini baseball game, battle tanks in custom arenas, or even see who can match the most bananas by repositioning the systems however you see fit!

When Mario arrives on tropical Isle Delfino, the once-pristine island is polluted and plastered with graffiti. Even worse, he's being blamed for the mess! Now instead of enjoying a relaxing vacation, Mario has to clean up the place and track down the real culprit.