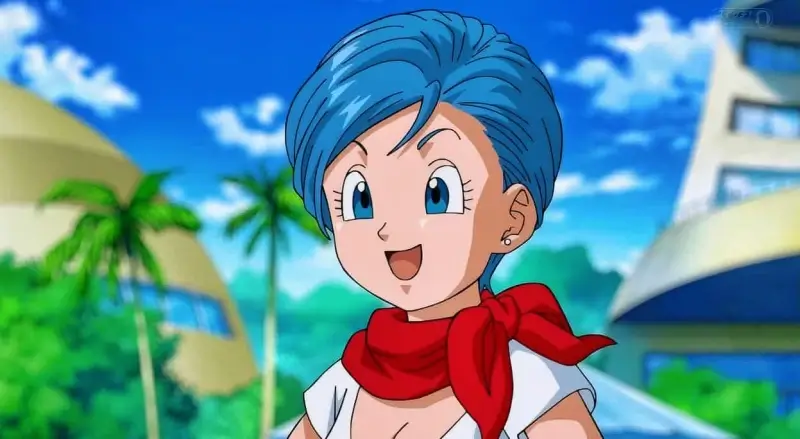 Character Analysis
(Avoiding Spoilers)
Grew Up... as the daughter of the founder of the highly successful Capsule Corporation, making her both incredibly wealthy and equally spoiled. Despite this Bulma is able to think for herself, and after finding a mysterious object known as a Dragon Ball in one of the many rooms in her father's mansion, she was inspired to discover its secrets.

Living... on the road in whatever encapsulated living quarters best suit her needs. Being the heiress to a corporation that allows one to store just about anything in easy-to-carry capsules gives Bulma the ability to maintain her luxurious lifestyle even when on an adventure.

Profession... scientist. Even though only a teenager, Bulma is "no amateur" in creating technological wonders that far make up for her otherwise conspicuous lack of fighting skills in a world that frequently treats her as a damsel in distress.

Interests... scientific discovery, the luxuries of modern living, strawberries, and boys. While Bulma may be a technological genius who enjoys discovering new things, she much prefers the simple pleasures of living in comfortable houses, taking long baths, and thinking about cute boys.

Relationship Status... single, although she's doing everything she can to change that. Bulma thinks of herself as very attractive, and is willing to use her "feminine charms" to try to persuade others to do what she wants. But this forwardness, along with her tendency to use people, might chase away potential love interests.

Challenge... collecting all seven dragon balls so that she can have her greatest wish granted. However her greatest wish is to have "the most perfect boyfriend who ever lived," so her real challenge might be more along the lines of maturing into someone who can accept people more for who they are rather than who she wants them to be. Fortunately she'll have plenty of adventures to learn important life lessons from before needing to worry about what to really wish for in life.

Personality... self-centered, manipulative, and a tad spoiled. To be fair, Bulma is a teenage heiress, and hasn't had the time or the experiences needed to mature into a good person. But her heart is far from pure, as she is more than willing to take advantage of other people's kindness – or perversion – to get what she wants, yet still call them out on these very flaws she exploits. Still, she certainly isn't evil, and has a respectably strong will and sense of self.
Recommendations
Fans of her also like:
Find out how you match to her and 5500+ other characters
Get to Know her in...
The events of Battle of Gods take place some years after the battle with Majin Buu, which determined the fate of the entire universe. After awakening from a long slumber, Beerus, the God of Destruction is visited by Whis, his attendant and learns that the galactic overlord Frieza has been defeated by a Super Saiyan from the North Quadrant of the universe named Goku, who is also a former student of the North Kai. Ecstatic over the new challenge, Goku ignores King Kai's advice and battles Beerus, but he is easily overwhelmed and defeated. Beerus leaves, but his eerie remark of "Is there nobody on Earth more worthy to destroy?" lingers on. Now it is up to the heroes to stop the God of Destruction before all is lost.

One peaceful day on Earth, two remnants of Frieza's army named Sorbet and Tagoma arrive searching for the Dragon Balls with the aim of reviving Frieza. They succeed, and Frieza subsequently seeks revenge on the Saiyans.

Dragon Ball Goku grew up on a remote mountain side without human contact other than his long deceased adoptive Grandfather. Unknown to both him and his Grandfather, however, Goku was not originally from Earth, but is one of the last members of the near omnipotent species known as Saiyans. That gives Goku a level of power far above any normal human—and a fate of constant adventure and hardship far greater than any could have imagined.

Ten years have passed since Goku left his friends and family to hone his skills. But Goku soon finds himself helpless against the mystical power of the Dragon Balls and an accidental wish made by the devious Emperor Pilaf. His desire; that Goku once again become a child! Not daunted by this small setback, Goku, together with Trunks, and his own granddaughter Pan, blast off into the outer reaches of space in search of the mysterious Blackstar Dragon Balls. But these Dragon Balls have a fatal secret: if not collected within one year Earth will be destroyed.

Set just after the events of the Buu Saga of Dragon Ball Z, a deadly threat awakens once more. People lived in peace without knowing who the true heroes were during the devastating battle against Majin Buu. The powerful Dragon Balls have prevented any permanent damage, and our heroes also continue to live a normal life. In the far reaches of the universe, however, a powerful being awakens early from his slumber, curious about a prophecy of his defeat. Join Gokuu, Piccolo, Vegeta, Gohan, and the rest of the Dragon Ball crew as they tackle the strongest opponent they have ever faced. Beerus, the god of destruction, now sets his curious sights on Earth. Will the heroes save the day and prevent earth's destruction? Or will the whims of a bored god prove too powerful for the Saiyans? Gokuu faces impossible odds once more and fights for the safety of his loved ones and the planet.

As a member of a Saiyans renowned for being the "mightiest warriors in the universe," Vegeta grew up conquering planets and the pathetic peoples that lived on them, just as any good warrior would. But now that their planet was destroyed, he's one of the handful of Saiyans alive.

Rejoin Goku and his friends in a series of cosmic battles! Toei has redubbed, recut, and cleaned up the animation of the original 1989 animated series. The show's story arc has been refined to better follow the comic book series on which it is based. The show also features a new opening and ending. In the series, martial artist Goku, and his various friends, battle increasingly powerful enemies to defend the world against evil. Can Earth's defender defeat demons, aliens, and other villains?

Dragon Ball Z: Hyper Dimension is a 2D fighting game and the last DBZ game made for the Super Famicom (SNES). It is based around the most memorable battles from DBZ and introduces more traditional and fluid combat mechanics.

Dragon Ball Z: Battle of Z delivers over-the-top anime action and intensity, presented in new cell-shaded HD graphics. Focusing on team battles, players will be able to battle online with or against their friends in frantic 4-player co-op or up to 8-player vs. Battle of Z's expanded team battle and co-op modes allows players to create teams of four characters to take on opponents across the globe.

Dragon Ball Z: Ultimate Battle 22 gives you 22 playable characters, each with an arsenal of unique moves, kicks, spins, slashes, and specialties, an additional five bonus characters can be unlocked with one command, including Master Roshi, Kid Goku, Super Saiyan 3 Goku, Vegeto, and Mr. Hercule Satan.

For the first time ever Dragon Ball Z fans can enter into high-impact two vs. two combat in Dragon Ball Z: Tenkaichi Tag Team for the PSP system. Play solo or team up via Ad Hoc mode to tackle memorable battles in a variety of single player and multiplayer modes, including Dragon Walker, Battle 100, and Survival Mode. Dragon Walker Mode takes fans through the entire epic Dragon Ball Z story arc from the Saiyan saga to the Majin Buu saga. Battle 100 Mode tasks players to relive the most epic encounters and newly created situations from the Dragon Ball Z world in ever increasingly difficult situations. With more than 70 playable and deeply customizable characters, multiple modes, and Ad Hoc Party gameplay, Dragon Ball Z: Tenkaichi Tag Team is chock full of gameplay for your portable PSP system.

Dragon Ball Z for Kinect used the unique gameplay abilities of the Kinect motion sensor to let gamers become part of the DBZ world. It features all the classic action and intensity of the Dragon Ball Z universe but with the unprecedented sense of immersion that only Kinect can deliver. Players will be able to unleash over 100 moves upon their enemies, including the legendary Kamehameha, with their very own fists as they battle their way to victory in this ultimate evolution of the unstoppable franchise. Dragon Ball Z For Kinect also packs a double dose of exclusive content for Dragon Ball Z fans! The game includes the Dragon Ball Z anime episode "Episode of Bardock" and will feature Bardock Super Saiyan as a playable character for the first time ever in the history of Dragon Ball Z video games.

Kamehameha! Prepare to dive into the world of Dragon Ball Z with Earth-shaking combat, a massive character selection, faithful manga-style graphics, and exciting new features in Dragon Ball Z: Ultimate Tenkaichi! Delivering an explosive DBZ fighting experience, this game features upgraded environmental and character graphics, with designs drawn from the original manga series. Destructible battlefields, including massive craters and ki blasts cutting across the sky deliver a more dynamic experience and immediate sense of urgency to the exhilarating fights. An enhanced story mode drops players into the rich Dragon Ball Z universe, filled with beloved characters and powerful enemies. An accessible battle system allows gamers of all ages to hold their own in fast-paced battles, while still retaining tactical depth for hardcore fans.

Upcoming RPG based on the famous manga Dragon Ball. In the game the player has the possibility to fuse together the characters (using a special bracelet), in order to obtain new heroes. The game will be released for Nintendo 3DS on 4th August 2016.

Heading back to the early days of the Dragon Ball story, players control Kid Goku as he sets out on fantastic adventures with his friends. The title faithfully reproduces the uniqueness and special humour of the early Dragon Ball series, while adding an original blend of action and adventure to the mix. With the original Japanese music and voiceover included for maximum authenticity, Dragon Ball: Revenge of King Piccolo offers fans a dazzling new experience with the characters and universe they know and love.

Developed to fully utilize the power of current generation gaming consoles, Dragon Ball Xenoverse 2 builds upon the highly popular Dragon Ball Xenoverse with enhanced graphics that will further immerse players into the largest and most detailed Dragon Ball world ever developed. Dragon Ball Xenoverse 2 will deliver a new hub city and the most character customization choices to date among a multitude of new features and special upgrades.

Gohan has been kidnapped! To make matters worse, the evil Garlic Jr. is gathering the Dragonballs to wish for immortality. Only then will Garlic Jr. be able to take over the Earth in order to gain revenge for the death of his father. Goku rushes to save Gohan, but arrives at the fortress just as Garlic Jr. summons the Eternal Dragon! Krillin and Piccolo try to help Goku, but their combined powers.

As Goku investigates the destruction of the Southern Galaxy, Vegeta is taken to be King of the New Planet Vegeta, and to destroy the Legendary Super Saiyan, Broly.

Not paying attention to his job, a young demon allows the evil cleansing machine to overflow and explode, turning the young demon into the infamous monster Janemba. Goku and Vegeta make solo attempts to defeat the monster, but realize their only option is fusion.

The Z Warriors discover an unopenable music box and are told to open it with the Dragon Balls. The contents turn out to be a warrior named Tapion who had sealed himself inside along with a monster called Hildegarn. Goku must now perfect a new technique to defeat the evil monster.

DRAGON BALL FighterZ is born from what makes the DRAGON BALL series so loved and famous: Endless spectacular fights with its all-powerful fighters. Partnering with Arc System Works, DRAGON BALL FighterZ maximizes high end anime graphics and brings easy to learn (but difficult to master) fighting gameplay to audiences worldwide. Genres anime and fighting.

Fierce battles of Goku and others will be reborn! For the first time ever, the Dragon Ball universe will be depicted onto the new generation systems and will fully benefit from the most powerful consoles ever created. Dragon Ball: Xenoverse will bring all the frenzied battles between Goku and his most fierce enemies, such as Vegeta, Frieza, Cell and much more, with new gameplay design! The game takes the beloved universe from series' creator Akira Toriyama by storm and break tradition with a new world setup, a mysterious city and other amazing features to be announced in the future! But a question remains; an unknown fighter appears... Who is he?!

Dragon Ball Z: Extreme But'den features over 100 fighters in both one-on-one and team battles. It has a story mode where you go through sagas as either the heros or villains.

Earth is peaceful following the Tournament of Power. Realizing that the universes still hold many more strong people yet to see, Goku spends all his days training to reach even greater heights. Then one day, Goku and Vegeta are faced by a Saiyan called 'Broly' who they've never seen before. The Saiyans were supposed to have been almost completely wiped out in the destruction of Planet Vegeta, so what's this one doing on Earth? This encounter between the three Saiyans who have followed completely different destinies turns into a stupendous battle, with even Frieza (back from Hell) getting caught up in the mix.