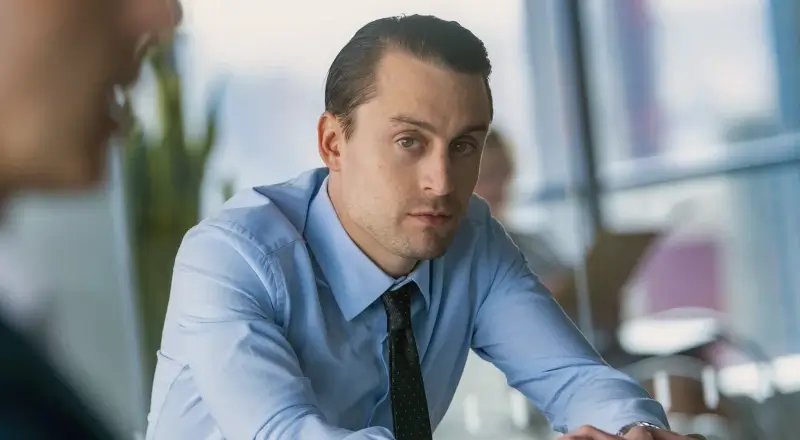 Character Analysis
(Avoiding Spoilers)
Grew Up... with an inferiority complex. Roman is the youngest son of wealthy British aristocrat Caroline Collingwood and bullish businessman Logan Roy. His childhood was anything but normal. Roman describes his father by explaining, "He didn't apologize when he hit our au pair with his car. It was her fault for being too short, he said." The only people who truly understand him are his older brothers Connor and Kendall and his sister Shiv.
Living... irresponsibly, in New York City. Like the rest of his family, Roman has a truly absurd amount of wealth. He'll make a $1 million bet like it's nothing.
Visiting... anywhere he wants. That's what the private cars, jets, and helicopters are for.
Profession... COO of Waystar Royco. Roman has had a rocky road at his father's company, which is the fifth-largest media conglomerate in the world. Though he was fired from his role in the film production branch, his position as a board member still gives him substantial leverage. When Logan has a stroke and Kendall steps in as acting CEO, Roman is hired as Chief Operating Officer. He doesn't know the first thing about what that job actually entails, but he likes the snazzy office it comes with.
Interests... being the center of attention and enjoying the finest luxuries life has to offer.
Relationship Status... single. Roman has some holdups about intimacy and vulnerability. Lately, he's been dating a woman named Tabitha, although she's not convinced Roman is capable of having anything remotely close to a functional relationship.
Challenge... surviving a Waystar Royco crisis. Not only are Logan and Kendall locked in a power struggle for the CEO position, it turns out Waystar is $3 billion in debt. It's a lot to handle and Roman has to figure out how to do right by the company and do right by his family, all without putting himself at risk.
Personality... immature, entitled, and secretly insecure. Roman's privileged life has left him untethered from the realities of the world. He doesn't seem to take anything seriously and he'll make an inappropriate joke at even the most formal of occasions. As he says in one characteristic moment, "I'm serious as cancer. F—ing more serious. F—ing money cancer." He's crass, rude, and uncaring, if, admittedly, hilarious. Yet a lot of Roman's flippant attitude is really just a defense mechanism for his self-doubt. Roman grew up feeling unloved, and has been chasing a sense of validation ever since. When he truly puts his mind to it, he's actually not a bad businessman.
Recommendations
Fans of him also like: