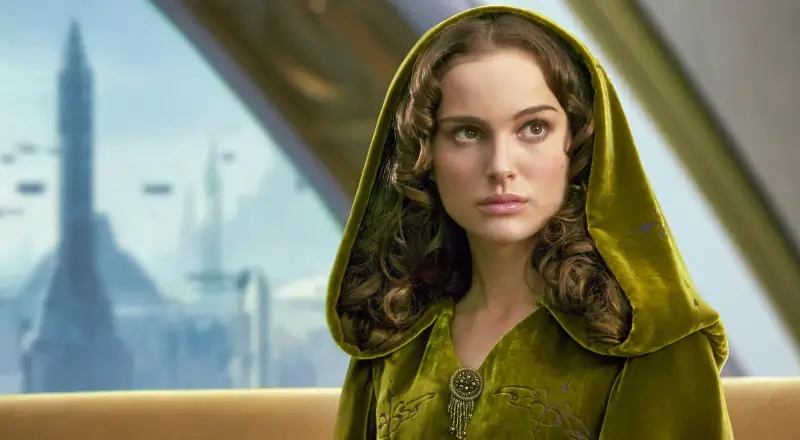 Photo Credit: Everett Collection
Character Analysis
(Avoiding Spoilers)
Grew Up… with great responsibilities. Thrust into queen-hood at a very young age, Padmé Amidala took it upon herself to make executive decisions for her people of Naboo, instead of allowing senators and advisors make all of the decisions for her. In this sense, she embraced her role and rose to the challenge when political strife became too heated and a war was on the rise. 
Living… in political exile. The turmoil on her home planet Naboo became too dangerous for her to stay. She is now being protected by good-hearted Jedi knights, while they plan a counterattack to reclaim Naboo from the evil Sith forces. Whenever she is not on Naboo she worries that she has abandoned her people. She is always loyal to her duties as a queen.
Profession… queen. Interestingly enough, she was elected to this position, and as such she serves her people with an utmost respect that royalty who have inherited the crown might not understand. Although she leaves Naboo when the Sith try to capture her, she plans to return and seek aid from the underwater Gungan tribe and lead a battle against the Sith. She is a true warrior queen. 
Interests… fashion. As the supreme representative of Naboo, Queen Amidala must always dress in the highest order of style. Her elaborate presentations include full face makeup, grandiose hairstyles, and flashy dresses with all kinds of accessories.
Relationship Status… secretly married to Jedi protector Anakin Skywalker. They spend time alone together in hiding.  
Challenge… saving the people of Naboo. During this time of need, they are in great danger from powerful forces of evil. If she doesn't quickly decide the best course of action, it might be too late for her great nation, and the world of Naboo might fall permanently into the hands of the Sith. 
Personality… brave, strong-willed, and loyal. But Queen Amidala is torn between her sometimes overwhelming official duties and her personal identity as a young woman. This is most obvious when she dresses in disguise as a handmaiden and allows a decoy to sit on the throne. Although this serves the purpose of protecting her from possible assassinations, it becomes more and more obvious that she truly enjoys the escape of being (or at least playing) someone with fewer responsibilities and a "normal" life, if only for a little while.
Recommendations
Fans of her also like: