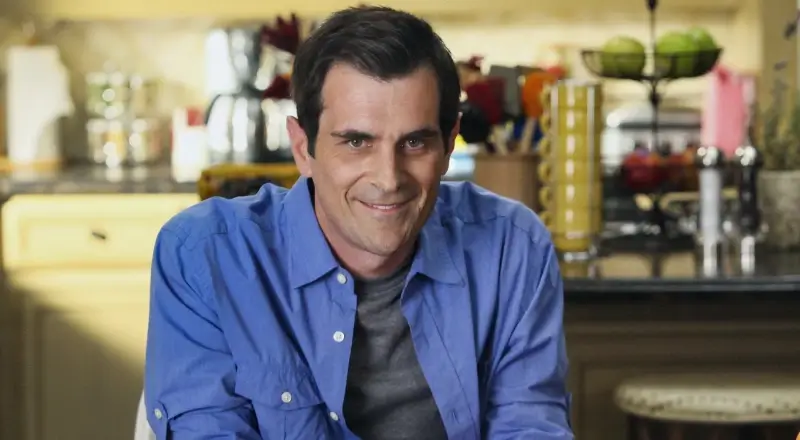 Character Analysis
(Avoiding Spoilers)
Grew Up… with supportive parents – especially his father, Frank who shares his sense of humor. After high school, Phil attended Fresno State University, where he was a male cheerleader.
Living… as head of the Dunphy household, though he likes to think of himself as a "peerent" – meaning he talks to his kids like a peer but acts like a parent. (That's his plan, anyway.) Phil and his wife Claire have three kids: daughters Haley and Alex and son Luke, the baby of the family. The house is modern and comfortable, located in a pleasant Los Angeles neighborhood. 
Profession…real estate agent. He is the sole bread-winner in the Dunphy family; Claire is currently a stay-at-home mom. Though a confident and generally successful salesman, Phil often feels overshadowed by Gil Thorpe, his real estate nemesis. Gil's stereotypical alpha-male approach throws Phil's more touchy-feely style into high relief. 
Interests… whatever the kids these days are into. It makes sense that Phil thinks of himself as a "cool dad" since he seems to have all the same interests he had when he was in high school, plus updating them for the latest teen crazes. He loved geeky/nerdy '80s movies like "Footloose" and "Star Wars," but also knows all the dances to "High School Musical" – to his kids' chagrin. When he was arrested for a number of unpaid traffic violations (accrued by Haley) he pleaded with the police officer, "Can we at least not drive by Middle Earth Comics Books and Trampoline World? People look up to me in this town!" 
Relationship Status… married to Claire, who differs markedly in personality and parenting style. Due to his eagerness to hang with his kids and general goofiness, Claire sometimes sees Phil as her fourth child. His laid-back approach to life contrasts strongly with Claire's general uptightness. But like others in the extended Pritchett-Dunphy-Delgado-Tucker clan, Phil and Claire take advantage of these opposites to find balance. 
Challenge… worrying a little less about what everyone else thinks about him. Phil dotes on his wife and constantly tries to bond with his children and father-in-law Jay. Sometimes he worries he's not "manly" enough to impress guy's guy Jay, who was (very) slow to warm up to him, or compete with Gil. Maybe he'd be better accepted if he didn't so obviously crave acceptance.
Personality… goofy, awkward, upbeat, and optimistic. He often seems like an overgrown kid: "I'm 'cool dad,' that's my thang. I'm hip, I surf the web, I text. LOL: laugh out loud, OMG: oh my God, WTF: why the face." Phil doesn't plan most things through all the way, leading to the not infrequent but mostly innocent screw-up. But few are more loving or loyal than Phil Dunphy.
Recommendations
Fans of him also like: