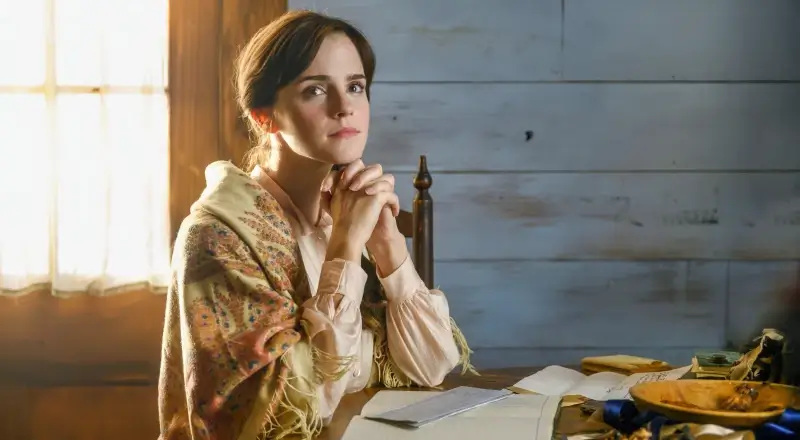 Character Analysis
(Avoiding Spoilers)
Grew Up... in a life very different than the one she's leading now. As the eldest daughter of the family, Meg remembers a time when her parents Robert and Marmee lived a much wealthier lifestyle. But her father lost his fortune through an unwise loan, which has left the March family in genteel poverty. As Meg exclaims, "It's so dreadful to be poor!"
Living... happily, with her sisters and her mother in Concord, Massachusetts. All of the March women do their best to keep things running smoothly while their father is away serving for the Union Army during the Civil War. As the two oldest siblings, Meg has special bond with her tempestuous sister, Jo. They've each taken a younger sibling under their wing too. Jo looks out for shy Beth while Meg is sympathetic to entitled Amy.
Profession... governess. After completing her early education, Meg left school to help support her family. She absolutely hates her job, however, especially because she works for a wealthy family who remind her of everything she once had. Still, she does her best to soldier her burden.
Interests... playing with her sisters and dreaming of a more luxurious life. Though Meg enjoys acting in Jo's plays and writing fake newspapers with her sisters, her favorite activity is attending balls held by wealthy friends.
Relationship Status... conflicted. Meg has always dreamed of marrying rich and returning to a life of luxury, glamour, and ease. However, she starts to develop feelings for John Brooke, the humble tutor of the Marchs' wealthy young neighbor Laurie. John isn't anything like the man Meg thought she would marry, nor is she even sure she's ready for love at all.
Challenge... deciding what she wants her life to look like. As a young 19th century woman from a humble family, much of Meg's life will be shaped by the kind of man she marries. That means she must balance her dreams and hopes with her heart, without losing herself in the process.
Personality... demure, romantic, and responsible. As the oldest daughter, Meg helps Marmee run their household and is the most propriety minded of any of her sisters. However, she also has a dreamy romantic side and a love of elegance. Yet while Meg envies the luxurious, indulgence lifestyles of her wealthy friends, in actuality she often feels most comfortable in the practical domesticity of her humble home.
Recommendations
Fans of her also like: