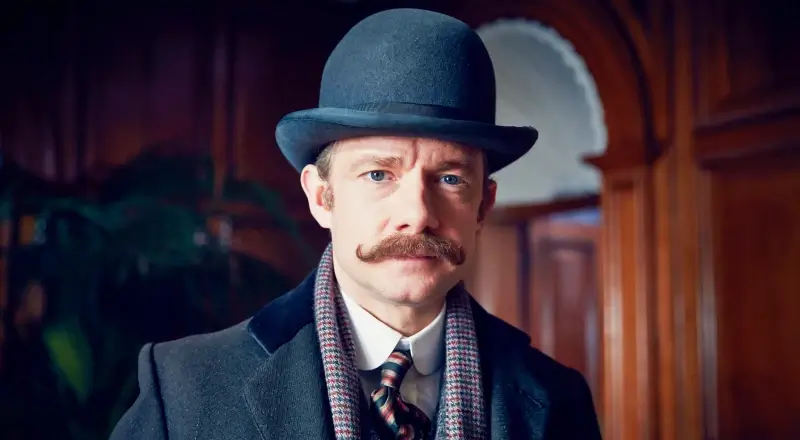 Photo Credit: Everett Collection
Character Analysis
(Avoiding Spoilers)
Grew Up… with his older sister, Harriet ("Harry" for short), whom he doesn't see often. After finishing secondary school, John trained as a British Army doctor at St. Bartholomew's Hospital.
Living… with one of the more interesting people John has met in his life. He recently moved in, somewhat reluctantly, with Sherlock Holmes, detective consultant to the New Scotland Yard. They live at 221B Baker Street in Marylebone, London, and pay a small rent to their landlady, Mrs. Hudson, who lives next door. John is tidier than Sherlock, who seems to rely on Mrs. Hudson for cooking and cleaning. 
Profession… former Captain in the Fifth Northumberland Fusiliers, which included a tour in Afghanistan. When John returned to London, he met Sherlock who took him in as an assistant in solving crimes that New Scotland Yard couldn't handle.
Relationship Status… single but looking. He becomes interested in women fairly easily and seems to have had a number of short-term relationships, though he may be seeking out something more lasting. He is very quick to correct people when they think that he is in a relationship with Sherlock, which happens quite often.
Challenge… recovering from the wounds, both physical and psychological, that led to his discharge from combat in Afghanistan. To that end, he was instructed to keep a blog to record his thoughts and feelings as he adjusts to civilian life. John's challenge is to find something or someone that will help him resolve the issues of the past that still haunt him.
Personality… witty, resourceful, practical, and loyal. He is skilled with firearms—more so than Sherlock and Detective Inspector Lestrade – and provides much needed back-up to Sherlock this way. And next to his partner, at least, John appears to be very "normal." 
Recommendations
Fans of him also like:
Find out how you match to him and 5500+ other characters
Get to Know him in...
Eccentric consulting detective Sherlock Holmes and Doctor John Watson battle to bring down a new nemesis and unravel a deadly plot that could destroy England.

There is a new criminal mastermind at large—Professor Moriarty—and not only is he Holmes' intellectual equal, but his capacity for evil and lack of conscience may give him an advantage over the detective.

Sherlock?follows the well known detective—now armed with smart phone, internet, and nicotine patches—as he navigates London's underground with army veteran John Watson.?Sherlock is a genius of deduction, making himself indispensable to the London police despite his quirks.

A Study in Scarlet, introduced the eccentric genius of Sherlock Holmes to the world. This baffling murder mystery, with the cryptic word Rache written in blood, first brought Holmes together with Dr. John Watson.

All fifty-six short stories and four novels featuring Conan Doyle's classic hero—a truly complete collection of Sherlock Holmes's adventures in crime! Volume II begins with The Hound of the Baskervilles, a haunting novel of murder on eerie Grimpen Moor, which has rightly earned its reputation as the finest murder mystery ever written. The Valley of Fear matches Holmes against his archenemy, the master of imaginative crime, Professor Moriarty. In addition, the loyal Dr. Watson has faithfully recorded Holmes's feats of extraordinary detection in such famous cases as the thrilling The Adventure of the Red Circle and the twelve baffling adventures from The Case Book of Sherlock Holmes. Conan Doyle's incomparable tales bring to life a Victorian England of horse-drawn cabs, fogs, and the famous lodgings at 221B Baker Street, where for more than forty years Sherlock Holmes earned his undisputed reputation as the greatest fictional detective of all time.

This new Sherlock Holmes game sends us to 19th Century London where Arséne Lupin, a young French burglar with an impressive track record, has just challenged Scotland Yard and the most famous of detectives - Sherlock Holmes. This new adventure offers gamers tremendous freedom and an even stronger sense of involvement through real-time 3D. The game invites you to visit 19th century London in all its splendor and to travel through superb decors which have been faithfully reproduced. The magnificent city of London with all its most famous monuments (Buckingham Palace, the British Museum, the National Gallery, the Tower of London...), is faithfully created for the scenes of investigation. Meet the Queen of England in a very private interview. Interact with more than 40 characters to further your inquiry. Take turns being the famous detective, Sherlock Holmes, and his faithful friend, Doctor Watson. Use and combine more than 100 objects and discover hundreds of clues and documents to help you bring the investigation to its conclusion.

Become the greatest detective of all time, Sherlock Holmes! Solve six high-profile, gripping and varied cases: murders, disappearances, spectacular thefts and sensational cases will sometimes take you to the realms of the fantastic in this stunning game of investigation in the fine tradition of the Conan Doyle novels. The game offers you a large degree of freedom to make moral choices that go beyond merely seeing that justice is done: your decisions have a real influence on the game both in terms of your character's reputation and the consequences that arise in a realistic and sometimes unexpected way. Will you listen to your moral sense, or will you impartially enforce justice?

The party Sherlock Holmes and his trusted friend, Dr. Watson, have been invited to turns into tragedy: a murder is committed right before their very eyes. Our famous detective is on the case immediately, but the list of suspects is getting no shorter, while other crimes are being committed. Will you succeed in uncovering the truth before other innocent people suffer? Experience an amazing plot, written by a true Sherlock Holmes fan, in a unique environment.

Discover the adventures of Sherlock Holmes with a gripping atmosphere, for the first time ever delivered in a thoroughly intensive and wholly immersive real-time 3D world. Throughout your investigation you will meet more than sixty characters with whom you can interact freely. Hundreds of clues and objects will need to be scrutinized and utilized in order for the investigation to be solved.

London, 19th century. Moriarty is dead, but his dark legacy lives on. Welcome to 221B Baker Street for the thrilling adventure that will challenge the master sleuth as never before. When a mysterious lady moves to 221C, try to uncover the truth as you hide a terrible secret from your adopted daughter. While solving four seemingly unlinked cases, Holmes' story will culminate in his greatest-ever problem, involving his most beloved ones and his worst enemies in a deadly chase for the truth.

The first American television series of Sherlock Holmes adventures aired in syndication in the fall of 1954. The 39 half-hour mostly original stories were produced by Sheldon Reynolds and filmed in France by Guild Films, starring Ronald Howard as Holmes and Howard Marion Crawford as Watson. Archie Duncan appeared in many episodes as Inspector Lestrade. Richard Larke, billed as Kenneth Richards, played Sgt. Wilkins in about fifteen episodes. The series' associate producer, Nicole Milinaire, was one of the first women to attain a senior production role in a television series.

Starting in Switzerland, Sherlock Holmes rescues the inventor of a bomb-sight which the allies want to keep from the Nazis. Back in London it seems that the inventor is not all that he seemed.

Time is ticking and bodies are piling-up as the great Sherlock Holmes and Dr. Watson, go deep into London's underbelly in search of the Shadow Watchers.

An animated Sherlock Holmes film starring Peter O'Toole.

England, at the start of World War Two. Mysterious wireless broadcasts, apparently from Nazi Germany are heard over the BBC. They warn of acts of terror in England, just before they take place. Baffled, the Defence Committee call in Holmes ...

This intriguing collection of Sherlock Holmes cases contains 'Shoscombe Old Place' - the last story Conan Doyle ever wrote. Grappling with treachery and ingenious crimes of all kinds, Holmes' dazzling powers of logic are as sharp as ever - no case is too challenging, no mystery too dense for the sleuth's logic and legendary powers of deduction.