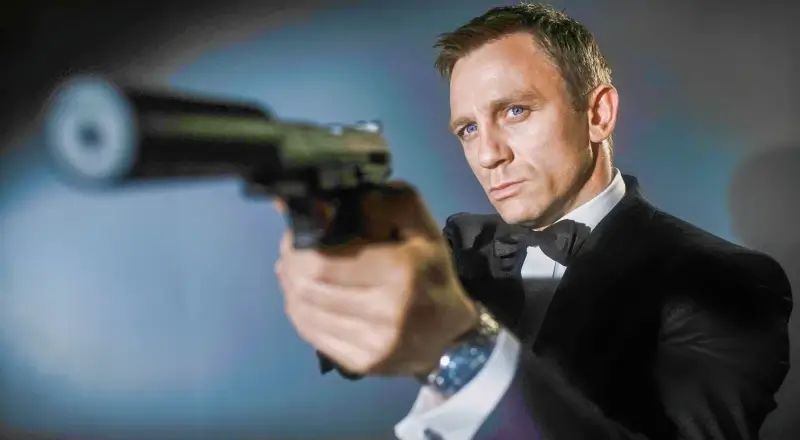 Photo Credit: Everett Collection
Character Analysis
(Avoiding Spoilers)
Grew up... with his parents until he was eleven. After they were killed in a mountain climbing accident in France, he moved in with his aunt.
Living... in London in a Chelsea flat, but he spends his life traveling around the world for work. There are few places he hasn't been.
Profession... spy. He works for Her Majesty's Secret Service, code name 007. After years of getting the most dangerous assignments, he is still alive thanks to his attention to detail; his karate, judo, and boxing skills; his trusted Walther PPK pistol; and his many high-tech gadgets.
Friends… few. His job doesn't afford him much time for friendships. He is probably closest to his boss, M, and his assistant, Miss Moneypenny.
Interests... playing 18 holes of golf at his favorite country club, driving expensive cars too fast, cleaning up at Baccarat and the craps tables, and racing down black diamond ski trails. And to relax, he likes to drink martinis – shaken, not stirred. 
Relationship Status... very single. With his looks, he has his choice of women. His beautiful exes include shell diver Honey Rider, NSA operative Jinx, and jewel thief Octopussy. Some people complain he is a womanizer, but Bond doesn't think he deserves the criticism. Women always know where they stand with him; he never pretends to be someone he is not – unless it's his cover, of course.
Challenge... not being able to trust anyone in his line of work. As he says, "History is moving pretty quickly these days, and the heroes and villains keep on changing parts." Also challenging: Not getting killed.
Personality... cocky, and he has reason to be. He's one of the coolest, wittiest, and bravest men you'll ever meet. In recent years, he has become more cynical and reserved. His stressful job must be getting to him.
Recommendations
Fans of him also like:
Find out how you match to him and 5500+ other characters
Get to Know him in...
A newly developed microchip designed by Zorin Industries for the British Government that can survive the electromagnetic radiation caused by a nuclear explosion has landed in the hands of the KGB. James Bond must find out how and why. His suspicions soon lead him to big industry leader Max Zorin.

Le Chiffre, a banker to the world's terrorists, is scheduled to participate in a high-stakes poker game in Montenegro, where he intends to use his winnings to establish his financial grip on the terrorist market. M sends Bond—on his maiden mission as a 00 Agent—to attend this game and prevent Le Chiffre from winning. With the help of Vesper Lynd and Felix Leiter, Bond enters the most important poker game in his already dangerous career.

Diamonds are stolen only to be sold again in the international market. James Bond infiltrates a smuggling mission to find out who's guilty. The mission takes him to Las Vegas where Bond meets his archenemy Blofeld.

The ever-daring James Bond taking on a North Korean leader who undergoes DNA replacement procedures that allow him to assume different identities. American agent Jinx Johnson assists Bond in thwarting the villain's plans to exploit a satellite that is powered by solar energy.

In the film that launched the James Bond saga, Agent 007 battles mysterious Dr. No, a scientific genius bent on destroying the U.S. space program. As the countdown to disaster begins, Bond must go to Jamaica, where he encounters beautiful Honey Ryder, to confront a megalomaniacal villain in his massive island headquarters.

A British spy ship has sunk and on board was a hi-tech encryption device. James Bond is sent to find the device that holds British launching instructions before the enemy Soviets get to it first.

James Bond must unmask the mysterious head of the Janus Syndicate and prevent the leader from utilizing the GoldenEye weapons system to inflict devastating revenge on Britain.

Special Agent 007 comes face to face with one of the most notorious villains of all time, and now he must outwit and outgun the powerful tycoon to prevent him from cashing in on a devious scheme to raid Fort Knox—and obliterate the world's economy.

James Bond and his American colleague Felix Leiter arrest the drug lord Sanchez who succeeds in escaping and takes revenge on Felix and his wife. Bond knows but just one thing: revenge.

James Bond must investigate a mysterious murder case of a British agent in New Orleans. Soon he finds himself up against a gangster boss named Mr. Big.

During the transportation of a Space Shuttle a Boeing 747 crashes in the Atlantic Ocean yet when they go to look for the destroyed shuttle it is not there. James Bond investigates the missing mission space shuttle and soon learns that the shuttles owner Hugo Drax wants to kill all of mankind.

James Bond returns as the secret agent 007 one more time to battle the evil organization SPECTRE. Bond must defeat Largo, who has stolen two atomic warheads for nuclear blackmail. But Bond has an ally in Largo's girlfriend, the willowy Domino, who falls for Bond and seeks revenge. This is the last time for Sean Connery as Her Majesty's Secret Agent 007.

James Bond is sent to investigate after a fellow '007 agent is found dead with a priceless Farberge egg. James bond follows the mystery and uncovers a smuggling scandal and a Russian General who wants to provoke a new World War.

Quantum of Solace continues the adventures of James Bond after Casino Royale. Betrayed by Vesper, the woman he loved, 007 fights the urge to make his latest mission personal. Pursuing his determination to uncover the truth, Bond and M interrogate Mr. White, who reveals that the organization that blackmailed Vesper is far more complex and dangerous than anyone had imagined.

A cryptic message from Bond's past sends him on a trail to uncover a sinister organization. While M battles political forces to keep the secret service alive, Bond peels back the layers of deceit to reveal the terrible truth behind SPECTRE.

James Bond helps a Russian General escape into the west. He soon finds out that the KGB wants to kill him for helping the General. A little while later the General is kidnapped from the Secret Service leading 007 to be suspicious.

A golden bullet has 007 engraved on it as it smashes into the secret service headquarters. The bullet came from the professional killer Scaramanga who has yet to miss a target and James Bond begins a mission to try and stop him.

Russian and British submarines with nuclear missiles on board both vanish from sight without a trace. England and Russia both blame each other as James Bond tries to solve the riddle of the disappearing ships. But the KGB also has an agent on the case.

Greed, revenge, world dominance, high-tech terrorism—it's all in a day's work for cunning MI6 agent James Bond, who's on a mission to protect beautiful oil heiress Elektra King from a notorious terrorist. In a race against time that culminates in a dramatic submarine showdown, Bond works to defuse the international power struggle that has the world's oil supply hanging in the balance.

A criminal organization has obtained two nuclear bombs and are asking for a 100 million pound ransom in the form of diamonds in seven days or they will use the weapons. The secret service sends James Bond to the Bahamas to once again save the world.

A deranged media mogul is staging international incidents to pit the world's superpowers against each other. Now 007 must take on this evil mastermind in an adrenaline-charged battle to end his reign of terror and prevent global pandemonium.

A mysterious space craft kidnaps a Russian and American space capsule and brings the world on the verge of another World War. James Bond investigates the case in Japan and meets with his archenemy Blofeld.

When she is drawn into an investigation of a series of bizarre murders, in which the victims are missing body parts, Zoe hopes to help her boyfriend, Atlanta homicide detective Daniel Frasier, stop the killer—one she's sure is from the darkest levels of the astral plane—without letting him find out about her special abilities. Then danger strikes close to home when Zoe's mother disappears, and Zoe must use all the powers at her command to save her—even though Zoe knows that, in doing so, she may make herself into something no longer entirely human.

A "James Bond" action/arcade game based on the movie with the same name. Your aim is to avenge the death of Felix Leiter, who was killed by the drug baron Sanchez.

GoldenEye 007 is a first-person shooter video game developed by Rare and based on the 1995 James Bond film GoldenEye. It was exclusively released for the Nintendo 64 video game console.

Agent 007 is back in the second installment of the James Bond series, this time battling a secret crime organization known as SPECTRE. Russians Rosa Klebb and Kronsteen are out to snatch a decoding device known as the Lektor, using the ravishing Tatiana to lure Bond into helping them. Bond willingly travels to meet Tatiana in Istanbul, where he must rely on his wits to escape with his life in a series of deadly encounters with the enemy

This, the first of Ian Flemings tales of secret agent 007, finds Bond on a mission to neutralize a lethal, high-rolling Russian operative called Le Chiffreby ruining him at the baccarat table.

British Secret Service agent James Bond, a.k.a. 007, is sent to meet with Corporal Tatiana Romanova, a Soviet intelligence operative who claims to want to defect, and offers a valuable decoding machine as a show of good will. Unfortunately for Bond, she is a plant, part of a SMERSH operation aiming to have him killed. James Bond is one of the most iconic characters in 20th-century literature. In addition to the 12 novels and 9 short stories written by Ian Fleming, there have been over 40 novels and short stories written about the spy by other authors, and 26 films produced, starring actors such as Sean Connery and Daniel Craig as 007. Random House Canada is proud to bring you classic works of literature in ebook form, with the highest quality production values. Find more today and rediscover books you never knew you loved.

On the brink of becoming a security risk after the death of his wife, Secret Service agent 007 is sent to Japan and encounters an old enemy.

In 007: Tomorrow Never Dies, which is based on the movie of the same name, the player takes the role of the famous James Bond who fights against Elliot Carver. Carver tries to increase his TV ratings by creating a war between the British and the Chinese. To achieve his goal he sunk a British ship with his stealth ship and made it look like the Chinese Air Force was the offender. Now it is Bond's responsibility to set things right...

007: Agent Under Fire is the first James Bond game to appear on the PlayStation 2, GameCube, and Xbox. The game casts the player as the legendary James Bond who must accomplish missions throughout different areas of the world. Bond is sent on a mission rescue Zoe Nightshade, a CIA agent in the hands of Nigel Bloch. Nigel Bloch is the CEO of Identicon, a section of a highly successful industry company known as Malprave industries. Bond is also tasked to retrieve the set of DNA samples that are in Identicon's hands. So James Bond sets off on another adventure.

From Russia with Love is a video game featuring Ian Fleming's secret agent, James Bond. The game is based on the 1957 novel and the 1963 film of the same name, albeit adding in new scenes to make the game more action-oriented, as well as changing the affiliation of the main villains. Additionally, it features many elements of earlier Bond films to recreate the feel of the era such as the jet pack from Thunderball (1965) and the Aston Martin DB5 that debuted in Goldfinger (1964). From Russia with Love is also notable in that it is the first video game to use Sean Connery's likeness as James Bond and the first to include all new voice work by the actor. From Russia with Love is the last James Bond video game EA Games marketed before they lost the rights to Activision in 2006.

Introducing a more lethal and cunningly efficient Bond, the game blends intense first-person action with a unique third-person cover combat system that allows players to truly feel what it is like to be the ultimate secret agent as they use their stealth, precision shooting and lethal combat skills to progress through missions. Blending the action of the "Quantum of Solace" feature film with the "Casino Royale" movie, the title propels players into the cinematic experience of international espionage. Based on the Call of Duty 4: Modern Warfare game engine that has been specifically engineered to immerse players in the Bond universe, the Quantum of Solace game delivers high-definition graphics, reactive AI and visually stunning locations inspired by locales portrayed in the films. Quantum of Solace marks the first time players can become the dangerous and cunning Bond as portrayed by Daniel Craig. From silent take downs and sneaking through confined spaces, to one-on-one shoot outs and large scale battles, players experience a variety of gameplay that challenges them to think through situations and choose how they progress, whether it's through covert means or confronting enemies in full force. Advanced combat and Realistic AI: Players engage in both first-person and third-person gameplay that allows gamers to be Bond in unscripted battles against the world's most evil villains and mercenaries. Filled with armed combat, massive explosions and vertigo-inducing chases, gamers are immersed in an authentic Bond universe and drawn into epic movie moments with theatrical camera angles, split screen effects, picture-in-picture sequences, and amazing environments inspired by real world locations such as Montenegro, Venice, Bolivia and Austria. Bringing James Bond to next-gen consoles for the first time, gamers now have the ability to battle online in a variety of modes.