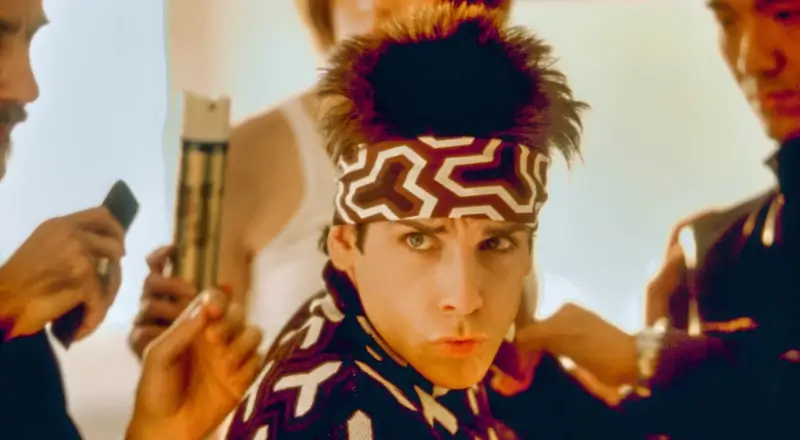 Photo Credit: Everett Collection
Character Analysis
(Avoiding Spoilers)
Grew Up… poor in the Appalachian coal mines with his father, Larry, and brothers, Luke and Scrappy. His mother ran off sometime during his childhood, and eventually so did Derek, to use his talents of being incredibly good looking and….well, being incredibly good looking.
Living… the high life in fashionable New York, in a swanky pad with three friends who are also male models – Brint, Rufus, and Meekus. Derek is as popular as you'd expect a top model to be, with parties every night and dozens of messages left for him every day.
Profession… model. Derek, a three-time winner of Male Model of the Year, is at the top of the modeling world. He even has his own calendar. He's represented by Maury Ballstein's modeling agency, and has been hired by every major designer…except Jacobim Mugatu, who is at the center of a sinister fashion industry conspiracy.
Interests… modeling; being incredibly good looking; etting orange mocha frappucinos with his male model friends; perfecting "Magnum," his new modeling look; and creating the Derek Zoolander Center for Kids Who Can't Read Good.
Relationship Status… single, and apparently willing to sleep with almost anyone who asks.
Challenge… fighting to stay the top dog in male modeling. Derek is still a big name, but Hansel (who's "so hot right now") is the rising star. Feeling like he's getting passed by, Derek is having a crisis of confidence and searching for what he might be good at besides modeling. It doesn't seem to be a long list. Also, there may be a secret plot between major players in the fashion industry to get Derek to kill the prime minister of Malaysia. Oh no!
Personality… shallow and naïve, though ultimately good-hearted. Derek isn't the sharpest knife in the drawer, but at least he has his looks. However, when circumstances force him into introspection for the first time in his life, he starts to wonder if maybe there is more to life than just being incredibly good looking. It's possible, isn't it?
Recommendations
Fans of him also like: