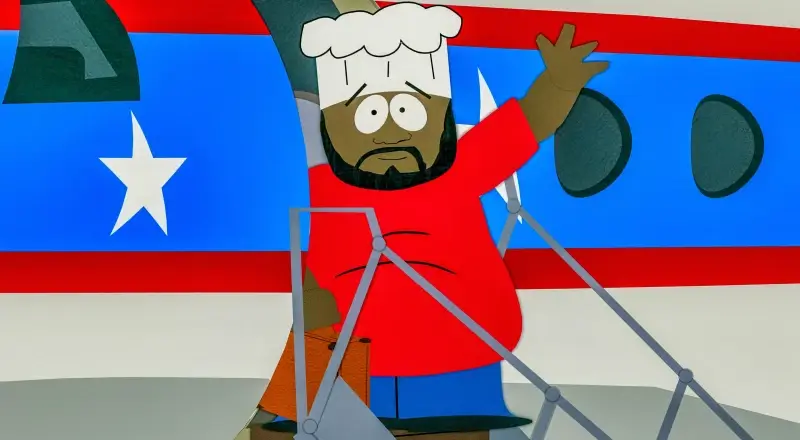 Photo Credit: Everett Collection
Character Analysis
(Avoiding Spoilers)
Living… in his bachelor pad in South Park, Colo. Elementary school students Stan, Kyle, Cartman, and Kenny turn to Chef when they need life advice, or when seeking information regarding sex and drugs. Chef draws from a wealth of experiences but tries to be discreet when advising the boys. "There's a time and place for everything," he tells them, "and it's called 'college.'"
Profession… cafeteria chef at South Park Elementary. Before his current position, Chef harbored aspirations of a music career. He traveled the world as a singer, and along the way he befriended The Beatles, the Sex Pistols, and Elton John. His advice to the boys often takes the form of sensual '70s R&B songs featuring thinly veiled sexual innuendos.
Interests… making tender love on his leopard-skin upholstered couch.
Relationship Status… very single. Chef is the consummate ladies' man. Over the course of his prolific womanizing career he has bedded legions of women, including Kathie Lee Gifford and Cartman's mom. Chef once resorted to male prostitution to raise funds when in deep financial debt; it was quite profitable.
Challenge… prejudice. Chef seems happy with his life and who he is as a person. However, he occasionally struggles with the fact that he is one of the few black residents of South Park. He casually calls the white people of South Park "cracker" to their faces, a habit he seems to have inherited from his parents, who live in Scotland. This is even true with the boys. Once when they come to him with a dilemma, he tells them, "Oh, I'm sure your little cracker problems ain't all that bad."
Personality… the voice of reason in South Park. Chef has little patience for idiots, who tend to drown out his rationality and good conscience during city council meetings. Overall, Chef is a simple man – a cheery, down-to-earth dude who, without fail, greets the boys as they stand in the lunch line with a hearty "Hello there, children!"
Recommendations
Fans of him also like: