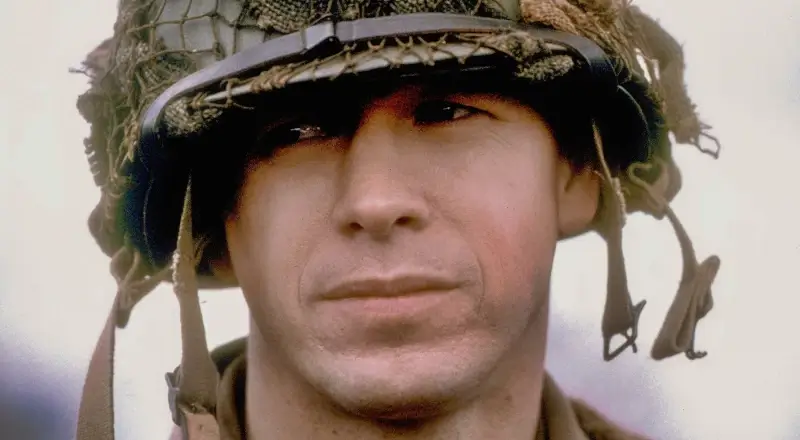 Photo Credit: Everett Collection
Character Analysis
(Avoiding Spoilers)
Grew up… on his own. After his father was killed in an automobile accident, Carwood was forced to take care of his paralyzed mother all on his own. He knows what it means to be a man and take responsibility, which is why he makes such a good solider.
Living… in the thick of the battle for occupied Europe. Lipton, like the rest of his fellow soldiers, is living day-to-day. He and his men face a constant bombardment from the enemy. Lipton has had a few close calls himself.
Profession… commissioned officer in "Easy" Company, 101st Airborne. Lipton joined the paratroopers after seeing an article about their rigorous training in Life magazine. When his commanding officer asks why he wanted to be a paratrooper, Lipton replies, "I wanted to be with the best, sir."
Interests… keeping his mind on the action. Lipton doesn't believe in complaining. Of course he misses home, but he does his best to avoid thinking about it.
Challenge… recovering from his wounds and survive the war. Lipton, who suffered an injury from a nearby shell blast in the battle of Carentan, wants to make it back to the front line in time for the next big offensive push.
Personality… stoic, strong and tough. Lipton has a talent for bucking up his fellow soldiers when times are tough. He finds solace in a famous quote from Shakespeare's Henry V: "…from this day to the end of the world… we and it shall be remembered. We lucky few, we band of brothers, for he who sheds blood with me today shall be my brother."
Recommendations
Fans of him also like: