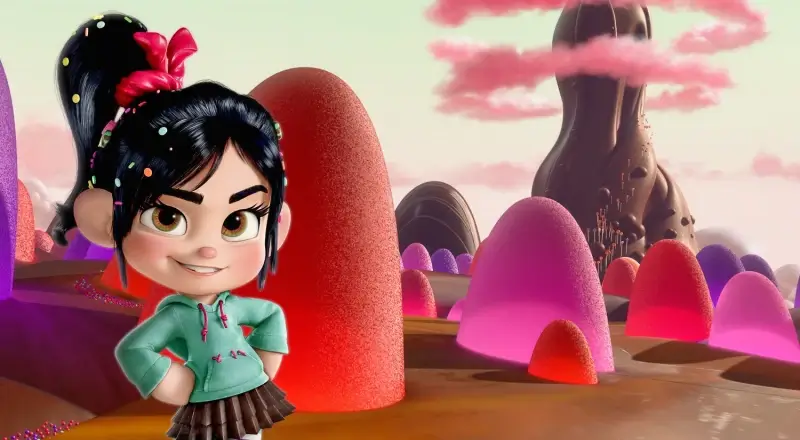 Character Analysis
(Avoiding Spoilers)
Grew Up... as royalty. She is Princess Vanellope Von Schweetz, of the Sugar Rush Von Schweetzes. We're sure you've heard of her.
Living... a predictable and boring life. Vanellope is trapped as one of sixteen racers in the Sugar Rush video game. She knows every detail of her track, which she races day in and day out.
Profession… car racer. But the race has come to halt because there is a glitch in her video game. Without ever knowing anything else, Vanellope is lost. She asks: "I mean, like what am I going to do all day? If I'm not a racer, what am I?"
Interests... adventure. Maybe she should be more careful for what she wishes for though. With the glitch, her life is turned upside down.
Relationship Status... single. As a princess, she fears she needs to find a man to save her. Although she has gotten to know a muscular video game character named Ralph, she just wants to be friends with him.
Challenge… survival. Vanellope is a video game character without a game. She is determined to fix the Sugar Rush video game in order to stay alive. All she needs is a new steering wheel, and Ralph found one on Ebay. Together, they're entering the world of the internet to find the missing piece. But without a credit card or a Paypal account, they may never be able to buy it. The stress is starting to take a toll on their friendship.
Personality… adventurous, optimistic, and compassionate. Vanellope is full of life. She follows her dreams, no matter what obstacles she faces along the way. But will she get her happy ending like other princesses do?
Recommendations
Fans of her also like: