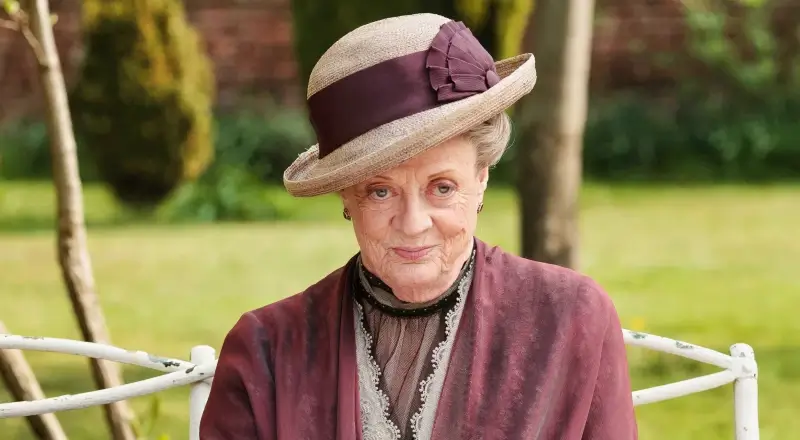 Photo Credit: Everett Collection
Character Analysis
(Avoiding Spoilers)
Living…in Dower House of Downton, Yorkshire. The cottage was designed by Sir Christopher Wren himself and was originally intended as a residence for the first Earl of Grantham's sister. Now, it is home to the Dowager Countess.
Profession…President of Downton Cottage Hospital. But Lady Violet controls more than just the local clinic. As matriarch of the family, Violet holds considerable influence over all proceedings at Downton. Whether it's the issue of Lord Grantham's inheritance or Lady Mary's marriage possibilities, Violet has a strong opinion that she isn't afraid to voice – no matter how unwanted it may be.
Interests…meddling. Lord Grantham would rather his mother keep out of the administrative affairs of Downton, but Violet Crawley isn't so easily silenced. She has always had a say in what goes on at the estate, and refuses to back down, declaring, "I'm tougher than I look."
Relationship Status…widowed. Violet was married to the late Earl of Grantham and had two children by him, Rosalind and Robert.
Challenge…protecting the estate. Violet wants to keep the wealth of Downton within the family. Unfortunately, Lord Grantham only has daughters, none of whom can directly take over. The closest male relative and current heir is Matthew Crawley, an upper-middle-class lawyer who doesn't meet Violet's standards at all. She complains, "I didn't run Downton for 30 years to see it go lock, stock, and barrel to a stranger from God knows where."
Personality…proud and superior. Violet Crawley is an aristocrat in every sense of the word. The concept of a "weekend" is entirely foreign to her – why would anyone work five days in a row in order to need one? – and she sometimes treats those of a lower social standing with utter disdain. Unfortunately, it looks like Matthew and his bothersome mother Isobel are here to stay, so Violet has no choice but to accommodate them. As sharp-tongued (and often bitingly funny) as she can be, though, Lady Violet cares deeply about her family and would do anything for her grandchildren in particular.
Recommendations
Fans of her also like: