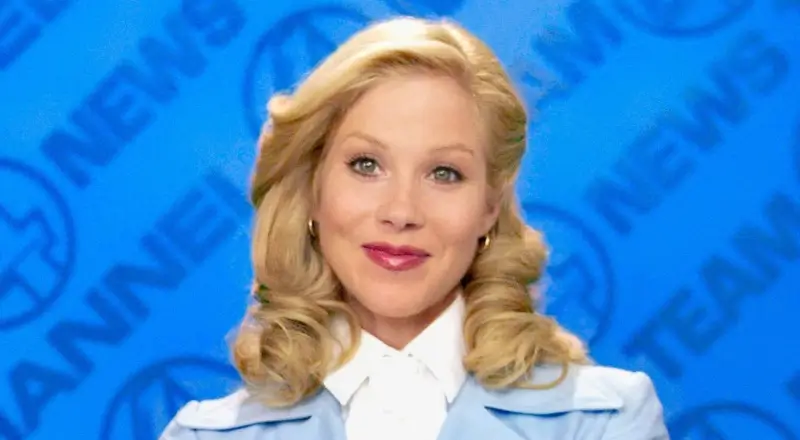 Photo Credit: Everett Collection
Character Analysis
(Avoiding Spoilers)
Living... in San Diego in the 1970s. She just joined the KVWN news team. Before that, she was with WYPN in Asheville, North Carolina. 
Profession... newscaster. As a woman, she has to put up with a lot. It is definitely a man's world. But as she says, "While they're laughing and grab-assing, I'm chasing down leads and practicing my non-regional diction. Because the only way to win is to be the best. The very best."
Interests... throwing back Manhattans. With all the stuff she puts up with from the guys in the newsroom, sometimes she needs a stiff drink. 
Relationship Status... single. But Veronica is starting to have feelings for her co-anchor, Ron Burgundy. Although he is arrogant, crude and domineering, she's got a soft spot for him — maybe due in part to the way he serenades her with his jazz flute. As she says, "There are literally thousands of other men that I should be with instead, but I am 72 percent sure that I love Ron."
Challenge... being respected for her talent in a field dominated by men. Ron can't handle that she is better at the news than he is, and it's starting to get to her. It's getting to him, too, and it might ruin their budding relationship. For Veronica, trying to have it all both professionally and personally is proving very challenging indeed, especially for a woman in a 1970s TV newsroom.
Personality... ambitious, intelligent, outspoken. Veronica is a woman who knows what she wants. Although she wears buttoned-up pastel suits on air, she can be just as macho and tough as the men around her. Probably tougher.
Recommendations
Fans of her also like: