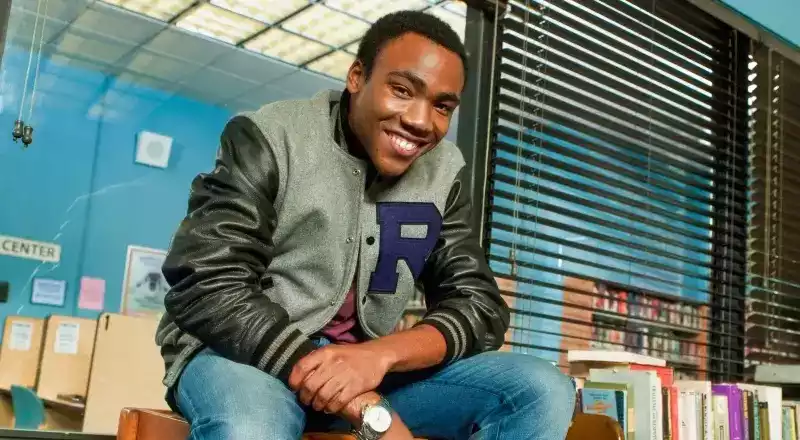 Photo Credit: Everett Collection
Character Analysis
(Avoiding Spoilers)
Grew up… in Greendale, Colo., raised as a Jehovah's Witness. Troy was a definite "Big Man on Campus" at Riverside High as the star quarterback and prom king. But then he injured both shoulders doing a keg flip at a party, losing his football scholarship offers. Troy later revealed he hurt himself intentionally after hearing that a college recruiter was coming to watch him play his most important game of the season: "It was on purpose, I couldn't take the pressure."
Living...  at home with his parents. After the keg flip and his self-inflicted injury, local Greendale Community College was his only real educational option. As Troy tries to spin it, "I was gonna be the first person in my family to graduate from community college. Everyone else graduated from normal college."
Profession... student at GCC. But given his oft-denied natural talent at fixing things, GCC's Annex, the Greendale Air Conditioning Repair School (GACRS), is often trying to lure him to its campus fulltime. The mysterious GACRS claims to date as far back as the time of the Pharaohs. Along with sacred scriptures and the expectancy of a forthcoming messiah, GACRS is also a global secret power. Supposedly.
Interests... playing football. No longer attracted to the sport's intense competitiveness, he instead decided to play quarterback for the GCC team, the decidedly non-competitive Greendale Human Beings. Though now Troy just plays for pleasure, since it's a pretty shoddy squad with no requirements to join.
Relationship Status… single, for now. He does have a "bromance" with Abed, his best friend from his Spanish class study group, a seven-member collective that spends a rather shocking amount of time together.
Challenge... getting over his BMOC hangover and fitting in at GCC. At first, Troy is quite wrapped up in his past as a star high school quarterback, complete with his ever-present RHS letterman's jacket. But inspired in part by Abed, it turns out Troy is also a pop-culture junkie. Now that he's in college, he needs to try new things and let his geek flag fly.
Personality... cool yet nerdy, and agreeably goofy. He tried to hide his geeky side under his tough-guy jock exterior, but he's embracing it more at GCC. He can still be childish, but with the influence of his fellow study-group members he's becoming the well-rounded adult he was always meant to be.
Recommendations
Fans of him also like: