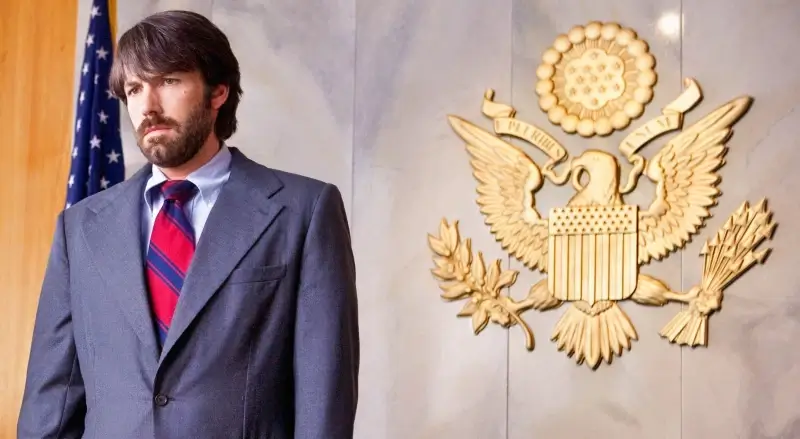 Photo Credit: Everett Collection
Character Analysis
(Avoiding Spoilers)
Living… alone in a small, messy apartment in Virginia. He spends nights on the phone with his young son, watching the same movie simultaneously from their different locations and talking about school.  
Visiting… Los Angeles. That's where he is putting together a fake movie production as part of an undercover CIA operation. The only problem? Tony has 72 hours to whip things together and no experience with the entertainment industry.
Profession… an exfiltration specialist for the CIA. Tony finds ways to extract Americans from dangerous political situations. Though he's respected by his colleagues, he sometimes struggles to find support from other departments. That's especially true when Tony hatches what strikes many as a far-fetched plan. He wants to smuggle six Americans out of Iran during the 1979-81 hostage crisis by having them pose as Canadian filmmakers scouting locations for a pretend science-fiction film. It's a shaky strategy, perhaps, but it's also the best option they have.
Relationship Status… separated from his wife, with whom he has a young son.
Challenge… rescuing six American diplomats from where they are hiding within Iran during a period of political turmoil. After a group of radical Iranians seize the U.S. embassy in Tehran and keep its inhabitants as hostages, the Canadian ambassador took in the small group of escapees. But they won't be safe with him much longer. So Tony must make this fake movie convincing enough to enable the diplomats to essentially walk out of the country in broad daylight.
Personality… determined, intelligent, and resourceful. Tony Mendez isn't one of the best exfiltration specialists the CIA has for nothing; he will do whatever it takes to complete his mission. He is also pragmatic and a natural leader.
Recommendations
Fans of him also like: