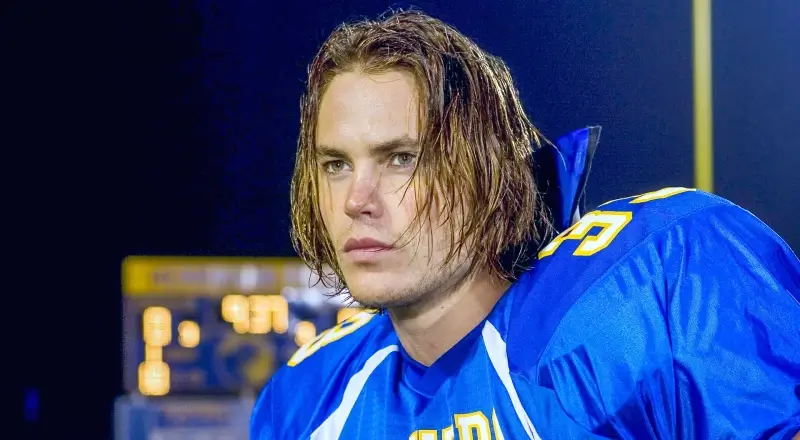 Photo Credit: Everett Collection
Character Analysis
(Avoiding Spoilers)
Living… in Dillon, Texas, with his older brother, Billy, after both of their parents abandoned them. Tim constantly rebels against his brother's attempts at parenting. Early on, Tim tells him, "You are a brother. Don't forget. Not a mother."
Profession… fullback/running back for the Dillon panthers. He is talented and passionate about the sport but does not see a future in it. Tim is also not invested in any academic pursuits. Several cheerleaders have to do his assignments in order for him to even qualify to play. He actively skips school to drink beer and watch TV all day.
Interests... drinking, casual sex, football, his best friend's girlfriend Lyla Garrity. Initially, Tim's only friend is the former Panthers quarterback, Jason Street. After Jason's accident, Tim cannot bring himself to go visit him. Without a stable force in his life, Tim is on the verge of following in the footsteps of his dead-beat father. Coach Taylor, luckily enough, empathizes with Tim and becomes dedicated to pushing him onto a more productive path. 
Relationship Status... complicated relationship Tyra Collette. Tim and Tyra had a very carefree relationship in which they constantly cheated on each other. After Jason's accident, Tim pulls away from those close to him. Even though there is nothing that Tim could have done, he still blames himself for letting Jason get hurt. Rather than talking about his feelings, Tim turns to alcohol. When Tyra tries to help him, Tim abruptly ends the relationship. As Lyla and Tim struggle to adjust to Jason's predicament, they grow closer to one another.
Challenge… dealing withthe cards he has been dealt. Tim's entire life seems to be shrouded in tragedy from birth. His dad was a dead beat alcoholic, his mom has been out of his life for years, and his brother Billy gets him into all kinds of illegal situations. He can't find any measure of stability and tries to dull the pain with alcohol. As tragedy repeatedly strikes, though, Tim shows courage and compassion – caring for those in need and sacrificing his time and energy for the greater good.
Personality… confused. Tim does not seem to care about anything except football, and his life is a mess. On the field, Riggins is all "clear eyes, full hearts, can't lose." But off the field, it's more "bloodshot eyes, breaking hearts, stealing copper wire with his brother." But it's those off-the-field woes that give him the chip on his shoulder he needs to play extra hard.
Recommendations
Fans of him also like: