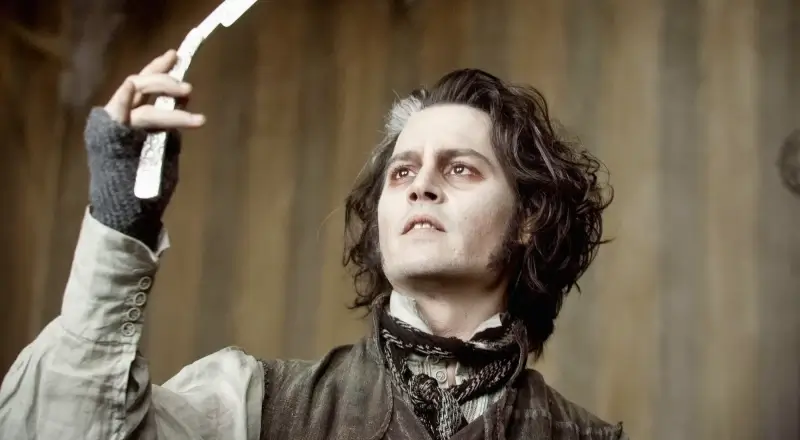 Photo Credit: Everett Collection
Character Analysis
(Avoiding Spoilers)
Living… in London, on Fleet Street above Mrs. Lovett's pie shop, fresh off a laborious stint in Australia. Back when he went back by the name of Benjamin Barker, he was unjustly committed of a crime and sentenced to life of hard labor Down Under. Fifteen years later, he escaped. But Benjamin Barker is dead. He's Sweeney Todd now.
Profession… barber. As Benjamin Barker, he was one of the most reputable barbers in London. As Sweeney Todd, he is anything but that.
Interests… shaving razors. Todd admires the way they "smile in the light," and he regards them as his friends. Upon returning to London, he takes his razors from a drawer and holds them aloft. "At last! My arm is complete again!"
Relationship Status… previously married to a woman named Lucy. She was his "reason and his life" – and together they had a daughter named Johanna. But he heard from Mrs. Lovett that Lucy was raped by Judge Turpin during his and committed suicide by arsenic thereafter.
Challenge… dealing with his intense grief and anger. Todd seeks revenge upon Judge Turpin – the "pious vulture of the law" who brought down his prison sentence, who keeps Johanna as his ward and his captive. He bides his time scheming his revenge, satisfying his bloodlust by "practicing on less honorable throats." Unsuspecting citizens enter his shop looking for a shave; he cuts their throat and sends them down a chute to be baked into Mrs. Lovett's pies.
Personality… once an upstanding family man. But Judge Turpin's actions extinguished the light from his life and released the hellbeast within. He now maintains a calm demeanor, but truly his desire to spill blood is his singular purpose. He reveals a bit of his former self as he talks to clients with whimsical showmanship, but it is only to the end of irony, a twisted inside joke with himself, for within moments he has dispatched his innocent victim and sent them tumbling down the chute.
Recommendations
Fans of him also like: