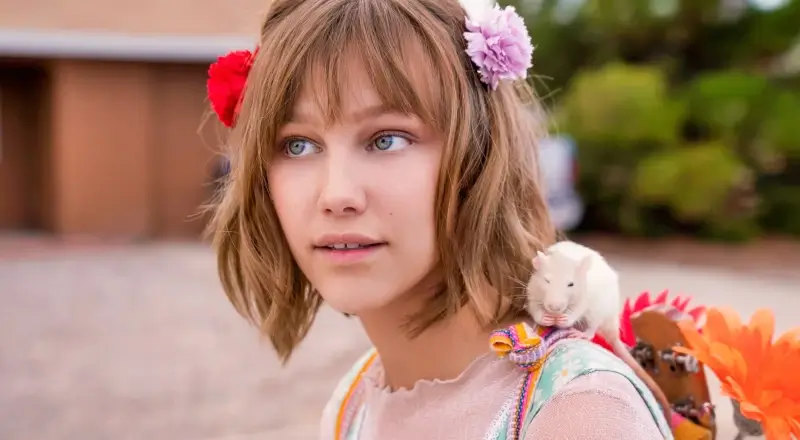 Character Analysis
(Avoiding Spoilers)
Grew Up… as Susan Caraway. The name Susan, however, didn't quite fit, and so she now goes by Stargirl. As she tells classmate Leo Borlock, "I'm not my name. My name is something I wear, like a shirt. It gets worn, I outgrow it, I change it."
Living… in Mica, Arizona. As a small, dusty town in the middle of the desert. It's not much to look at, but Stargirl thinks it has its own kind of beauty.
Profession… student. High school is not a forgiving place for non-conformists, but Stargirl doesn't seem to mind, wearing outrageous costumes to school and serenading classmates with Happy Birthday on ukulele. 
Interests… cheerleading, meditating in the desert, and observing the world. Though she's not explicitly religious, Stargirl is a strongly spiritual person who believes there is much to be learned from staying still: "The earth is speaking to us, but we can't hear because of all the racket our senses are making."
Relationship Status… dating Leo. Though more quiet than she is, Leo shares Stargirl's appreciation for the unusual, collecting porcupine neckties and cooing over his girlfriend's pet rat, Cinnamon. But while Leo loves Stargirl's quirkiness, he seems less prepared to deal with the consequences of dating such a cultural rebel.
Challenge… staying true to herself despite the demands of high school. Though Stargirl's eccentricity earns her many admirers, it gains her fewer points with the more conventional crowd. Popular girl Hillari Kimble in particular takes great pleasure in tormenting Stargirl, spreading nasty rumors about her and threatening Cinnamon.
Personality… decidedly different. The type of girl who attends strangers' funerals and gives anonymous birthday presents, Stargirl is an odd bird, seeming not to understand – or to not care – about social conventions. What is perhaps most unique about Stargirl, however, is her kindness. No matter how cruel they may be, Stargirl cares deeply about other people and does her best to bring joy to their lives.
Recommendations
Fans of them also like: