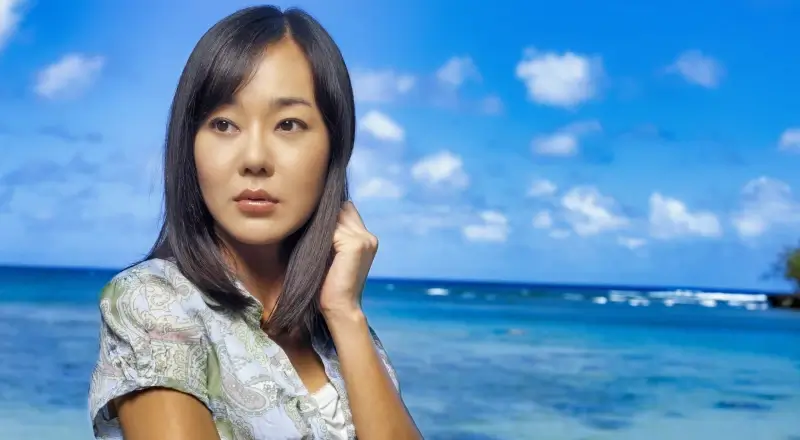 Photo Credit: Everett Collection
Character Analysis
(Avoiding Spoilers)
Living... with her husband Jin on a remote island after surviving a plane crash. Jin is overprotective of Sun and separates them from the rest of the survivors. They both are Korean and do not speak English like the others onboard Oceanic 815. Well, at least that's what Jin thinks – Sun might have kept a few secrets from him.
Profession... Walt's babysitter, for the moment anyway. While Jin fishes in the ocean, Sun begins to spend more time with the rest of the group. Michael and Sun become friends, and he asks her to watch his son Walt while he hunts for food. It's a good fit for her caregiver nature.
Interests… gardening, and coming out of her shell to join the group. She has more to contribute than Jin knows, but has been conditioned to follow his lead.
Relationship Status... married to Jin, though they dealt with a number of marital problems before landing on the island. They were unable to conceive, his mother attempted to blackmail her, and his job in organized crime was very stressful for the both of them. On the island, he at first did not want her to interact with other men. But the power dynamic between them shifts when she reveals she has a very important skill that he doesn't, one that enables her to fit in much better with the other survivors.
Challenge... attempting to join the group while keeping her marriage together. Her relationship with Jin has been turbulent from the start, and when he sees this new set of circumstances as a way to assert his masculinity, things only get worse. Being stranded on this island will likely either strengthen their marital bond, or destroy it forever.                                                       
Personality... caring and empathetic, but low on self-confidence. Sun is motivated to help the rest of the survivors and do her part to ensure survival in difficult circumstances, but years of belittling behavior from Jin have made her insecure. Fellow survivor John Locke would say it was her destiny to land on the island, a place uniquely suited to working through both her own issues and those in her marriage.
Recommendations
Fans of her also like: