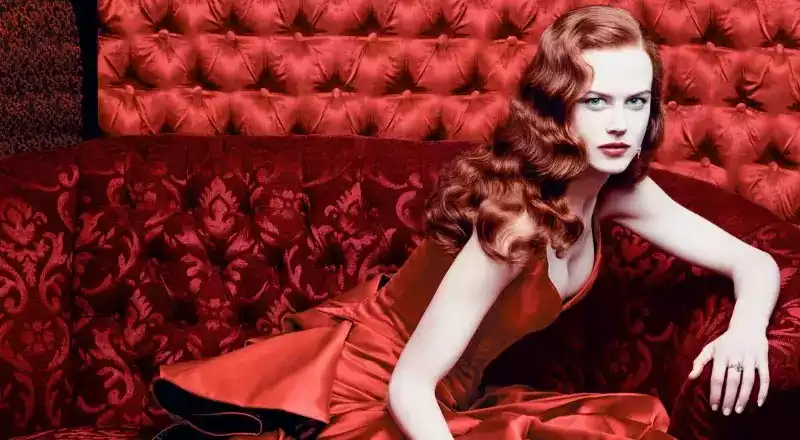 Photo Credit: Everett Collection
Character Analysis
(Avoiding Spoilers)
Living... at the Moulin Rouge theater in Paris in the year 1900, in an opulent elephant statue. She lives with her fellow performers, surrounded by luxury, music, and people who are passionate about the "bohemian spirit." Her private quarters in the elephant statue are lavishly decorated – housing fit for the true star of the show.
Profession... cabaret actress and courtesan. As Christian, the young writer who falls for her, describes Satine (in song): "A courtesan, she sold her love to men. They called her the 'Sparkling Diamond,' and she was the star of the Moulin Rouge." Satine is an enchanting performer, capable of capturing the hearts of countless visitors with her beauty and talent. She has a talent for making the audience, and her lovers, feel completely enraptured by her. But most of all, she hopes that her work at the Moulin Rouge will lead to achieving her dream of becoming "a real actress."  
Interests... dancing, singing, and drinking champagne. She also enjoys spending time with her friends, the fellow performers at the Moulin Rouge, who are more like her family.
Relationship Status... involved with a few different lovers. She believes that her next lover will be the Duke of Monroth. Zidler, the Moulin Rouge's owner, promises Satine to the Duke to convince him to fund the Moulin Rouge's next show, which will be a true showcase for her acting talents. She plans to use her feminine charms on the Duke in order to reach her professional dream, and she certainly does not plan to fall in love. But Christian, the poor but romantic writer, will do all he can to change her mind.
Challenge... choosing what's more important: her dream of making it as a serious actress, or allowing herself to fall in love. Complicating matters, the Duke is a powerful man who can be very dangerous if crossed. He could cause serious problems if she follows her heart on a road that leads anywhere but to his bed.
Personality... seductive and passionate, but tough to get close to. Satine tries to control her passion rather than let it control her, and she uses it to further her personal and professional goals. Her true self is guarded, even though outwardly she seems ebullient. She is confident in her skills and determined to achieve her dreams, but will this determination come at the expense of letting her guard down and falling in love? 
Recommendations
Fans of her also like: