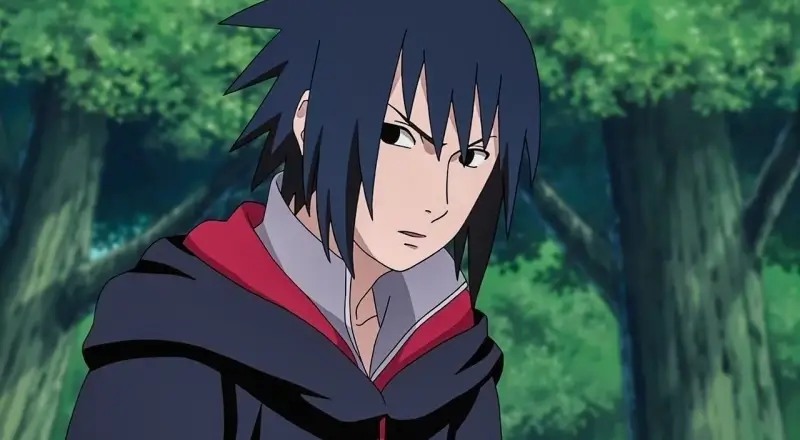 Character Analysis
(Avoiding Spoilers)
Grew up… the only survivor of his clan, after a brutal massacre that left the rest of the Uchiha clan dead. Sasuke is cagey about the details of the event, but one thing's clear: he's "going to restore my clan, and kill a certain somebody."
Living… in the Hidden Leaf Village, in a world where supernaturally powered ninja are common. Sasuke's one of them, and while he's still training to be a full-fledged ninja, his intelligence and talent have already placed him at the top of his class.
Profession… ninja. Considered a prodigy by many, Sasuke excels at every subject in the village Academy – every subject, that is, except cooperation. For that reason, Sasuke is forced to join Team 7 after graduation, where he has to work with slacker Naruto and academic Sakura. Sasuke has a bad attitude and a bit of a superiority complex, but he also possesses the skills to back it up. Seeing your entire clan murdered by your beloved older brother is pretty good training motivation. This ninja won't stop until his enemies are dead.
Interests… improving his skills, brooding, and revenge. Unlike the rest of his team, Sasuke has few things he genuinely enjoys. As he puts it, ""I hate a lot of things, and I don't particularly like anything." Instead, Sasuke focuses all his energy on becoming strong enough to avenge his clan.
Relationship Status… single. Sasuke's aloof demeanor and good looks make him a magnet for many women, including Sakura, but he sees romance as merely another distraction from his main goal.
Challenge… wreaking revenge on the man who killed his clan. Sasuke loved his parents dearly, and since their murder, he's been fixated on avenging their deaths. Only 12 now, he's nonetheless filled with determination to kill his clan's murderer. But in his quest for vengeance, Sasuke may run the risk of becoming like the man he hates.  
Personality… cynical, antisocial, and resentful. As a child, Sasuke was kind and cheerful, but that all changed when he was witnessed the massacre of his clan at age 7. Now, Sasuke's only goal in life is revenge, and he'll do whatever he needs to get it.
Recommendations
Fans of him also like:
Find out how you match to him and 5500+ other characters
Get to Know him in...
Since Naruto's dead father was the former leader of his village, Naruto is next in line. But as a 12-year-old, Naruto would rather pull pranks and eat ramen. As a (failing) student at his village's ninja academy, Naruto is assigned to a team with two of his fellow classmates, aloof Sasuke and intelligent Sakura. Under the leadership of mentor Kakashi, the unlikely trio must learn to overcome their differences and work together.

Naruto Shippuuden revolves around an older and slightly more matured Uzumaki Naruto and his quest to save his friend Uchiha Sasuke from the grips of the snake-like Shinobi, Orochimaru. After 2 and a half years Naruto finally returns to his village of Konoha, and sets about putting his ambitions to work, though it will not be easy, as He has amassed a few (more dangerous) enemies, in the likes of the shinobi organization; Akatsuki.

Naruto: Rise of a Ninja is an Xbox 360-exclusive video game developed by Ubisoft Montreal, making it the first Naruto game to be developed by a non-Japanese company. A sequel titled Naruto: The Broken Bond was released in fall a year later.

Building on the success of NARUTO: Rise of a Ninja, this new adventure takes the story to a deeper level within the Naruto Universe. Now a respected ninja, Naruto evolves into a mature and strong hero. However he will soon find himself surrounded by conflict. Forced to relive bitter memories, Naruto's best friend Sasuke strikes out on a self-destructive quest for power. Now with the help of his friends, Naruto must confront Sasuke and save him before it's too late.

Ultimate Ninja STORM 3 promises to unleash a tornado of ninja action and adventure that the franchise is known for, with over eighty playable characters, advanced online modes and enhanced fighting mechanics that allow anyone to become a ninja master.

Taking players through the Naruto Shippuden story arc, daring ninja warriors must strategically recruit the right support characters to ensure victory against any and all opponents. With the winning combination, players can easily unleash bigger and more explosive Team Special Techniques to obliterate enemies who stand in the way.

The title will power the series into the future by revolutionizing online play and ramping up the number of playable and support characters far beyond any NARUTO game in the wildly popular franchise. Players will compete in a variety of online battle modes with their favorite NARUTO characters, including Naruto and Sasuke. NARUTO fans have been waiting to see more of Zabuza and Haku since the launch of the original Manga, and now they will have their chance!

The latest instalment of the NARUTO SHIPPUDEN: Ultimate Ninja STORM series will offer players a new experience in the deep & rich NARUTO environment. Tons of new techniques, enhanced mechanics, over 100 playable characters & Support Ninjas, and a brand new exclusive character (Mecha-Naruto) designed by Masashi Kishimoto.

The latest opus in the acclaimed STORM series is taking you on a colorful and breathtaking ride. Take advantage of the totally revamped battle system and prepare to dive into the most epic fights you've ever seen in the NARUTO SHIPPUDEN: Ultimate Ninja STORM series! In NARUTO SHIPPUDEN: Ultimate Ninja STORM 4, a broad set of Ninja Skills will be yours to use against the fiercest foes you'll ever encounter. Massive attacks in the form of secret techniques, energetic evolutions with the 'Awakening', the inimitable shurikens & kunais and a unique playstyle for each ninja!

Naruto: Ultimate Ninja follows the story of the manga from the Introduction Arc up to the Invasion Arc. Players can select from 14 key characters taken straight from the anime, including Naruto Uzumaki, the young ninja-in-training, and his two ninja-school classmates Sakura and Sasuke. With its opulent visual style and broad range of gameplay modes Naruto: Ultimate Ninja is a game for arcade-fightesr and Naruto fans alike.

Based on episodes from VIZ Media's hit anime series Shonen Jump Naruto, the new game features a unique time-based combat system in which players must determine each character's strengths and use them accurately to help them defeat the enemy. Choosing from six available characters, players explore the Village Hidden in the Leaves and the world of Naruto as they roam across forests, fields, rivers and mountains. Along the way players encounter bosses and enemies that they must use their special techniques to defeat.

Naruto: Ninja Council 3 is the fourth installment in the Ninja Council series for the Nintendo DS. Character-related content such as Kimimaro, the Sound 4's special attacks and their alternate forms themselves are changed or removed in the international versions. The game includes a Naruto CCG card as an added bonus. It features a "Movie" mode, which allows players to watch secret techniques. In Europe it was released by Nintendo as Naruto: Ninja Council European Edition. Naruto: Ninja Council 3 has similar gameplay to the last two games in the series. The missions take place on a small map. The touch screen serves as both a map and as a place to perform different jutsu. Animals and ninjas are the typical opponents in the game. On certain missions, the player has to fight bosses, which are usually the antagonists from the series, including Ino. During missions, the player has to defeat the opponent under various conditions (e.g. having the character's health cut in half, protecting an ally, using a certain move to K.O. the opponent, etc.)

Players can now take their ninja battles on the road with NARUTO: Ninja Destiny, the first 3D head-to-head NARUTO fighter for the Nintendo DS. Any aspiring ninja can unleash powerful jutsu and take advantage of items to brawl his way to victory against 16 different characters. Dual-screen combat will allow fierce battles to unfold on the top screen while power ups can be strategically unleashed on the touch screen for fast, frenetic action. Core fighting game fans and casual gamers alike will find plenty to enjoy, thanks to a combo move system that is both intuitive to pick-up and challenging to master. Featuring scenes, characters, and storylines from up to the 140th episode of the hit animated television series currently airing on Cartoon Network, NARUTO: Ninja Destiny offers an intense single-player story and versus mode, along with wireless multiplayer combat.

Experience first-hand one of the most popular storylines from the NARUTO SHIPPUDEN arc as Naruto and Sasuke face off amidst a backdrop laced with intrigue and subterfuge! Discover, recruit, and swap fighters into your team to meet the needs of any given situation. Compete against your friends in Wireless Battle Mode for up to four players, or play cooperatively in the new Boss Rush Mode (local wireless only). Take part in thrilling battles and exciting mysteries, all leading up to the epic showdown between Naruto and Sasuke!

NARUTO Powerful Shippuden includes a Story Mode as well as an Endless Battle Mode so players can choose to either follow a progressive storyline or just pull out the punches for a sprightly ninja showdown. The action-packed gameplay allows players to earn experience points to power up their vivacious characters and also use the touch screen to strengthen special attacks. Fans will recognize their favorite characters from the NARUTO franchise such as Kakashi, Sakura, Gaara, and many more; all can be called upon as support characters in the midst of battle. With familiar friends at their sides and ninja moves up their sleeves, players will embark on the journey of becoming a powerful Leaf ninja to knock out opponents or even become a knock-out with sexy jutsu.

NARUTO: Ultimate Ninja 3 makes leaps in the franchise with a host of firsts for the series. Players can now live through and be a part of all the major events that defined Story Arc 1 in Heroes History mode. Also, ninja-in-training can customize their characters with the Ultimate Jutsu which gives them that extra bit of edge during battle and allows them to earn points towards upgrading their strength, defense, chakra, agility and other special abilities. Turn playable characters into more powerful ninja of unprecedented size or summon giant creatures as allies with the new Summoning mode.

Naruto: Ultimate Ninja Heroes is an English-exclusive fighting game and is the first English Naruto game on the PlayStation Portable. Naruto: Ultimate Ninja Heroes is essentially a scaled down version of Naruto: Ultimate Ninja 2 and an edited version of Narutimate Hero Portable. However, Ultimate Ninja Heroes is more of an action game whereas Narutimate Portable was more story oriented. The game also features 20 characters and several new features, such as a three-on-three fighting system, wireless two-player battles, and "hidden" team skills.

The latest opus in the acclaimed Storm series is taking you on a colorful and breathtaking ride. Take advantage of the totally revamped battle system and prepare to dive into the most epic fights you've ever seen in the Naruto: Ultimate Ninja Storm series. In the game, a broad set of Ninja Skills will be yours to use against the fiercest foes you'll ever encounter. Massive attacks in the form of secret techniques, energetic evolutions with the 'Awakening', the inimitable shurikens & kunais and a unique playstyle for each ninja!

Based on the popular NARUTO Shippuden animated series from VIZ Media, players assume control of over 10 of their favorite ninja, including the dreaded Akatsuki. NARUTO Shippuden: Legends: Akatsuki Rising promises to deliver fierce ninja action as players re-live the NARUTO Shippuden storyline and experience a brand new adventure. Naruto and his friends are in for the fight of their lives as they search for Gaara, the fifth Kazekage, who has been kidnapped by the dreaded Akatsuki organization. It's a race against time as the Akatsuki attempts to release Shukaku, the demon sealed inside Gaara. NARUTO Shippuden: Legends: Akatsuki Rising boasts streamlined controls for the PSP, ensuring exciting, fast-paced tactical battles making best use of each character's Jutsus. Aim and time the powerful Jutsu attacks with a simple button commands and devastate the enemies by entering Hypermode. As characters defeat the enemies or take damage, the Hyper Gauge will start to fill which enhance the Jutu or unlocks new Jutus. Players will be able to gain advantage in the heat of a battle by selecting two support characters to form a three-man team for each mission. Utilize the different skills each character brings and combine their attacks with yours to discover ultimate combos in defeating enemies. NARUTO Shippuden: Legends: Akatsuki Rising incorporates multiple modes of play including two-player cooperative or versus play via ad-hoc local wireless network. Original Mode lets players experience the Gaara Retrieval Arc as they battle enemies through lush, 3D anime inspired environments. Scenario Mode introduces all-new side-missions to pick up Skill Scrolls which increase your character's abilities including attack, defense, health and other numerous indicators reflected through all modes. Akatsuki Mode lets players gain control of members of the Akatsuki organization for the first time in a brand-new storyline, discovering the Akatsuki's true intentions while Naruto was searching for Gaara. Finally, find out who the best ninja is with Versus Mode by battling against a friend or the computer in one-on-one fights.

NARUTO SHIPPUDEN: Ultimate Ninja Impact lets players unleash their honed Jutsu skills through exciting single-player and multiplayer modes. Story Battle lets fans become part of explosive NARUTO SHIPPUDEN fights straight from the anime with more events and battle sequences than ever before on the PSP. Tag Battle lets two friends connect through Ad-hoc to team up and complete over 20 missions cooperatively, while Versus Battle lets players battle against each other with their persistent customized characters across all modes. Over 20 characters are available to choose from across the NARUTO SHIPPUDEN universe with customization options that carry through each mode within the game

In Naruto: Ultimate Ninja 2 gamers can play through monumental events in the NARUTO storyline all while earning points toward upgrading their character's strength, defense, agility, chakra and special abilities. Players can walk the path of NARUTO in the new all-new mode, Ultimate Road, that will allow them to play through all of the pivotal events in the storyline, as well as unlock an original story, as more and more pieces of the NARUTO saga unfold. More than 60 exciting missions and seven challenging mini games push potential ninja to their limit. Players can assume the role of Naruto, Sasake, Kakashi, Rock Lee, Gara, Kiba and other favorites while taking on daunting tasks like battling the sand ninja and working their way through the Chunin exam, the test to move up in the ninja ranks. Ninja in training can perfect their skills in Practice mode then put their training to the test against a friend in the VS mode. With a vast amount of unlockable features such as playable characters, movies, music, collectible cards and more NARUTO fans will be busy.

NARUTO: Clash of Ninja Revolution 2 provides players with quality fighting game mechanics and a fast-paced gameplay experience on Wii. Set after Sasuke leaves the Leaf Village to gain more power from Orochimaru, the title offers a slew of playable characters, including those developed especially for the storyline. Clash of Ninja Revolution 2 features destructible stages and four-player multiplayer battles, along with gameplay modes and characters not yet seen on the Clash of Ninja series.

Naruto: Uzumaki Chronicles introduces a lush, 3D world that will test the players' Ninjutsu skills as Naruto, the feisty orphan who wants to become the most respected and admired ninja of all time. A brand new story drives the missions as players experience the trials and tribulations of a ninja-in-training - fierce competition from fellow students and constant challenges from their teachers. Players can collect status-boosting chips and plates to customize all aspects of Naruto's abilities and face-off against multiple enemies using either close combat moves or long-range weapons like shurikens and explosive cards. With familiar characters like Kakashi, Sasuke and Neji that can swoop in for assistance, Naruto: Uzumaki Chronicles offers mini-games and lethal attacks straight from the popular anime series to satiate any aspiring ninja.

Following an all-new story, Naruto Shippuden: Kizuna Drive pits Naruto and friends against an unseen foe responsible for the disappearance of ninja from Hidden Leaf Village. New game-exclusive characters will descend onto the scene and unexpected plot twists are revealed as players discover who seeks vengeance upon Naruto.

Naruto Shipp'den: Shinobi Rumble is the fifth instalment of the Ninja Council series on the Nintendo DS.

Naruto Shippuden: Ultimate Ninja Storm 3: Full Burst is the re-release of Naruto Shippuden: Ultimate Ninja Storm 3, which includes revamped visuals, all costumes previously available as, DLC minus the Naruto (Goku) and Sakura (Hello Kitty), a new character (Kabuto Yakushi sage mode), a new story chapter and a new Challenge Mode, which consists of 100 missions. Each mission has varying objectives that unlock various in-game items and HD illustrations. Also newly added is Decision Mode, which allows the player to choose one's fate; the player is given two options of fates to choose from. The player can choose from either Legend (hard) or Hero (easy). Originally released in March 2013 on consoles to wide critical and fan acclaim, the most epic NARUTO game ever released has been given a thorough overhaul for its PC debut! Not least among the wealth of enhancements contained in NARUTO SHIPPUDEN Ultimate Ninja STORM 3 FULL BURST is the addition of the feverishly anticipated chapter in which Sasuke and Itachi take on Kabuto in a nail-biting confrontation.

A brand new tale arrives as Naruto faces different challenges to defend the Hidden Leaf Village and surrounding villages from the evil force trying to dominate it. An ancient organization, which was thought to have been disbanded, is alive and in search of orbs to resurrect a mechanical terror. It's now up to Naruto and all of the Hidden Leaf Genin to join forces with those of the Hidden Sand Village to stop this menace. Multiplayer Co-op and Vs Battles - During the game, a second player is able to join in on the action for a simultaneous two-player adventure! Or, fight head-to-head with a friend and battle it out for the title of Hokage. Additional gameplay modes further enhance the Naruto experience: Story Mode - Play alone or with a friend and traverse a lush, 3-D anime-style world in which Naruto and his friends work together to unravel the mystery of the Shirogane Clan and their nefarious army of "puppet walkers." Hone your skills to become the ultimate warrior and unlock a secret chapter of the story. Mission Mode - Take on a series of challenging side missions. Survival Mode - Test your skills to become the ultimate warrior and unlock a secret mission. Choose your favorite ninja, including Naruto, Shikamaru, Rock Lee, Kakashi, Guy, Sasuke, or Choji, to complete story-driven missions and intense challenges. Prove yourself in battle and earn money to create the ultimate warrior using Chips and Plates that can customize your character's speed, strength, stamina and even special moves. Harness the power of Rasengan, Lightning Blade, Sand Coffin, and other moves, straight from the series.

Take control of both Naruto and Sasuke as they go their own ways to seek out the mysteries and power behind Genryu, the mighty Elemental Dragons, in an all-new epic adventure. The world is in danger and only the power of the legendary Dragon Blade and rare elemental orbs hidden across the land can save it. As Naruto, you will use special orbs collected from the powerful Genryu to enhance your Dragon Blade with new powers, acquire new skills by finding and equipping dozens of Ninja Scrolls hidden throughout the world, and take on gigantic dragons in incredible boss battles! With two superstars in one game, you won't want to miss this amazing adventure

Naruto Shippuden: Ultimate Ninja Heroes 3 puts players? fighting spirits to the test with intense and frantic battles while using one of more than 50 characters. New characters include Young Kakashi and Obito Uchiha from the Naruto Shippuden special, Kakashi Chronicles. For the first time in the series? history, Naruto Shippuden: Ultimate Ninja Heroes 3 expands upon the series? trademark fighting engine and updates it for four-player brawls. Team up with a partner to unleash a devastatingly powerful Jutsu team attack on opponents, or interrupt an enemy's Ultimate Jutsu to help or hinder another player.

Welcome to the Hidden Leaf Village. The village where Uzumaki Naruto, star of the TV show "Naruto" makes his home. Every day, countless powerful ninjas carry out missions and train to hone their skills. Our main character is one of these powerful ninjas...but it's not Naruto! It's the ninja who can't use ninjutsu, Rock Lee!

Naruto is thrilled when he is sent on a mission to protect his favorite actress, Yukie Fujikaze, on the set of her new movie, The Adventures of Princess Gale. But when the crew ventures out to film in the icy, foreboding Land of Snow, Yukie mysteriously flees! Naruto and his squad set off to find her... unaware that three Snow Ninja lie in wait, with a sinister purpose that will force Yukie to face her hidden past!

Naruto, Shikamaru, and Sakura are executing their mission of delivering a lost pet to a certain village. However, right in the midst of things, troops led by the mysterious knight, Temujin, attack them. In the violent battle, the three become separated. Temujin challenges Naruto to a fight and at the end of the fierce battle, both fall together from a high cliff...

A mysterious group of ninjas makes a surprise attack on the Konohagakure, which takes great damage. The nightmare of another Shinobi World War could become a reality. Sasuke, who was still a missing nin from Konoha trying to kill his brother, Itachi, appears for the second time in front of Naruto at an unknown location to prevent it from happening.

Naruto Uzumaki, Kakashi Hatake, Sakura Haruno, and Rock Lee are assigned to protect the prince of the Land of the Moon, Michiru, during his world trip; other escorts had been hired, but quit due to being treated poorly. The Land of the Moon is a very wealthy nation, so Michiru tends to buy whatever he wants, and has a very materialistic worldview. His Hikaru, also acts in much the same manner.

Demons that once almost destroyed the world, are revived by someone. To prevent the world from being destroyed, the demon has to be sealed and the only one who can do it is the shrine maiden Shion from the country of demons, who has two powers; one is sealing demons and the other is predicting the deaths of humans. This time Naruto's mission is to guard Shion, but she predicts Naruto's death. The only way to escape it, is to get away from Shion, which would leave her unguarded, then the demon, whose only goal is to kill Shion will do so, thus meaning the end of the world. Naruto decides to challenge this "prediction of death."

Ninjas with bloodline limits begin disappearing in all the countries and blame points toward the fire nation. By Tsunade's order, Kakashi is sacrificed to prevent an all out war. After inheriting charms left by Kakashi, Naruto fights through friends and foes to prevent his death while changing the minds of those who've inherited the will of fire.

Assigned on a mission to capture Mukade, a missing-nin, Naruto Uzumaki sets out for the once glorious historic ruins of "Ouran", where he pursues and corners the rouge ninja. Mukade's goal is revealed to be a dormant leyline within the ruins; he unleashes the power of the leyline, causing a light to envelop Naruto, sending him into the past, 20 years before the series began. When Naruto awakens, he comes into contact with the Fourth Hokage, Minato Namikaze.

After his capture for attempted assassination of the Raikage, leader of Kumogakure, as well as killing Jōnin from Kirigakure and Iwagakure, Naruto is imprisoned in Hōzukijou: A criminal containment facility known as the Blood Prison. Mui, the castle master, uses the ultimate imprisonment technique to steal power from the prisoners, which is when Naruto notices his life has been targeted. Thus begins the battle to uncover the truth behind the mysterious murders and prove Naruto's innocence.

Sixteen years ago, a mysterious masked ninja unleashes a powerful creature known as the Nine-Tailed Demon Fox on the Hidden Leaf Village Konoha, killing many people. In response, the Fourth Hokage Minato Namikaze and his wife Kushina Uzumaki, the Demon Fox's living prison or Jinchūriki, manage to seal the creature inside their newborn son Naruto Uzumaki. With the Tailed Beast sealed, things continued as normal. However, in the present day, peace ended when a group of ninja called the Akatsuki attack Konoha under the guidance of Tobi, the mysterious masked man behind Fox's rampage years ago who intends on executing his plan to rule the world by shrouding it in illusions.

Boruto is the son of the 7th Hokage Naruto who completely rejects his father. Behind this, he has feelings of wanting to surpass Naruto, who is respected as a hero. He ends up meeting his father's friend Sasuke, and requests to become... his apprentice!? The curtain on the story of the new generation written by Masashi Kishimoto rises!

Naruto and the gang return home after a stint protecting Shibuki, the leader of Takigakure. But there's danger back in the Village Hidden in the Leaves. Sasuke and Sakura are quickly captured and the tow-headed ninja-wannabe finds himself in a desperate situation. Turning to Shibuki for help, Naruto discovers the revered leader is actually a coward and false hero. Alone, Naruto must protect his home, his friends and the Takigakure's secret potion--the Water of Heroes. A special Naruto adventure previously available only on DVD--now an action-packed novel!

Multiplayer battle game based on the Naruto manga and anime, as well as its sequel series about Naruto's son Boruto.