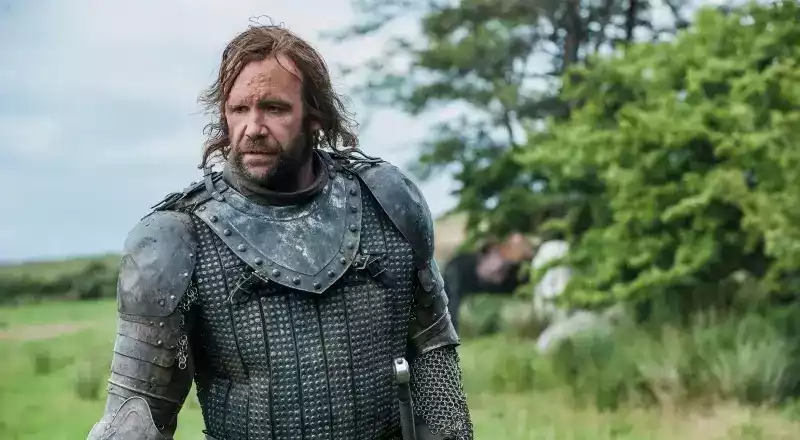 Photo Credit: Everett Collection
Character Analysis
(Avoiding Spoilers)
Living... in King's Landing, where he serves as the personal bodyguard of King Joffrey. The Cleganes have served the Lannisters for generations and done a number of horrible things in their name. But protecting the hated boy king might be the most odious task they've ever been asked to carry out.
Profession... protecting King Joffrey. Safeguarding a monarch is a tough job in the best of times – and these are far from the best of times. Rivals to the throne come from all over Westeros, determined to take the Seven Kingdoms from Joffrey. Having an effective bodyguard is more important than it has ever been. 
Interests… killing, murdering, stabbing, etc. Joffrey's bride-to-be Sansa asks him, "Does it give you joy to scare people?" He responds, "No, it gives me joy to kill people." Later, when delivering a speech to his troops, he says he plans on doing things to corpses that are unprintable here.
Relationship Status... single, but married to his work. Sandor's face was horribly burned by his cruel older brother, Gregor, when he was just a child. That, combined with his typically savage personality, have made him less than desirable to the ladies of the realm. He occasionally finds comfort in the arms of a whore, but for the most part doesn't even seem to have the capacity for romantic feeling.
Challenge... surviving a dirty and difficult job. Joffrey may not have been a legitimate heir to the Throne after all. Many believe him to be the son of the Queen and her brother Jaime Lannister, rather than the former king, Robert Baratheon. Sandor has to work hard to defend the life of a king cruel even by Sandor's standards. And if war becomes necessary – and it's hard to believe it won't – the Hound will doubtless be found on the front lines.          
Personality... extremely violent yet even more loyal. Indeed, he's known as the Hound for a reason. He isn't one for oaths and ceremonies, but when the Hound says he's going to do something, it's probably a good indication that he's going to do it. This loyalty is remarkable because the Hound is a bitter and cynical man, who has been mistreated at almost every turn. He expects little out of life beyond trying to dish out more punishment than he receives.
Recommendations
Fans of him also like: