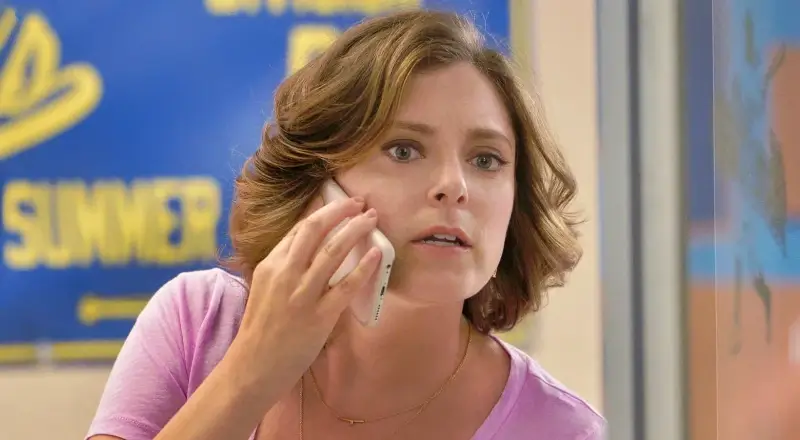 Photo Credit: Everett Collection
Character Analysis
(Avoiding Spoilers)
Grew Up… with an overbearing, slightly psychologically-damaging mother and an absent father. Rebecca's dad left her mom and her during a party Rebecca was throwing and it impacted her in a big way, leaving her with a fear of both abandonment and parties. Her mother always warned her not to be a loser, and it's a warning that Rebecca has been careful to heed all her life by trying to be the best at everything.
Living… anxiously and unhappily in New York. That is, until a butter ad inspires her to make a change in her life. Rebecca realizes that she's made herself miserable pushing herself to be the best and live up to expectations; it's left her with little time to enjoy her life. When she runs into her ex-boyfriend from sleep-away camp, Josh, she realizes that being with him was the last time she was truly happy. So, in an effort to track down that happiness, Rebecca follows him out to the sunny suburbs of West Covina, California.
Profession… lawyer. Rebecca graduated at the top of her class at Harvard Law, and went on to become a high-powered attorney at one of New York's top law firms. But, she gave up her chance to be partner for her chance at happiness in West Covina. Now she works at the much less prestigious small-time firm Whitefeather & Associates – but she's still totally awesome at her job.
Interests… Josh… but she definitely didn't move for him! Well, if she happens to run into him, or if they happen to hang out a little bit, that would be great… but she definitely did not move across the country for him. Got it? Rebecca also has an interest in singing and dancing. Whenever she's feeling something especially strongly, she has a tendency to enter elaborate fantasy musical numbers.
Relationship Status… single, but pining for Josh. The only problem is that once arriving in West Covina, Rebecca discovered that Josh has a long-term girlfriend. Rebecca is dating Josh's friend Greg a little, but he senses some of her manipulative tendencies and so he's wary of her.
Challenge… trying to be happy. Rebecca deals with anxiety and depression, and so she's looking for the thing (or person, perhaps) that will make it all O.K. Her new friend Paula is happy to help Rebecca find the happiness she so desperately desires, even supporting her in a mission to court Josh.
Personality… loud, creative, and, well, a little crazy (although, "crazy" is a pejorative term and she ask that you not use it). Rebecca is incredibly smart, and sometimes her intelligence gets in the way of her happiness. She's ambitious and unafraid to go after the things she wants, even if it means being a little selfish or oblivious to reality.
Recommendations
Fans of her also like: