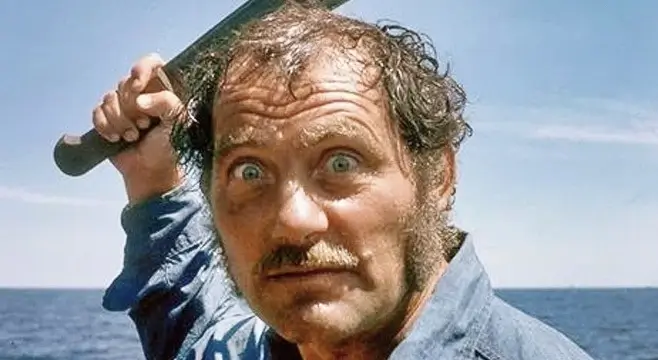 Photo Credit: Everett Collection
Character Analysis
(Avoiding Spoilers)
Grew Up... sailing the seven seas. Quint spent his youth boozing and hunting sharks.
Living… mostly on his boat. Quint is an expert sailor and fisher. Those are skills that make him an important asset to the Amity police chief, Martin Brody, who is trying to catch the killer shark that has been terrorizing the local beach.
Profession… captain of the Orca, a small fishing boat. The vessel might be good enough for what Quint does on a regular basis, but just might not be big enough to catch the killer shark preying on summer tourists.
Interests… distilling and drinking his brews, recounting tales of old scars and old battles, whale oils, and all things bootleg. He recounts a shark he encountered earlier in his life: "Sometimes that shark, he looks right into you. Right into your eyes. You know the thing about a shark, he's got... lifeless eyes, black eyes, like a doll's eye. "
Relationship Status… single. He has had a lot of lovers over the years and has grown bitter from these experiences.  
Challenge… catching the killer shark. This shark has destroyed enough lives, and Quint is prepared to do what must be done in order to set things right again.
Personality… mumbling, pushy, and romanticizes his life on the water. Quint just yearns for a crew who can tie a good knot, share a good drink, and pore over old and lost times.
Recommendations
Fans of him also like: