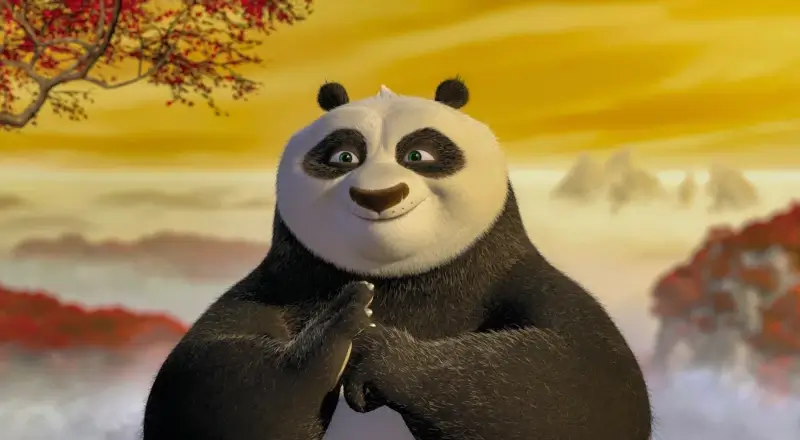 Photo Credit: Everett Collection
Character Analysis
(Avoiding Spoilers)
Living… in the Valley of Peace in ancient China with his father Mr. Ping. Po spends his days helping his father out in the noodle restaurant and daydreaming about becoming a kung fu expert. He is obsessed with the Furious Five – a group of kung fu warriors trained by the great Master Shifu.
Profession… noodle maker in his father's shop. Po wants to become a fierce warrior who can fight alongside the Furious Five. Unfortunately, he's very out of shape and totally uncoordinated. Plus, Mr. Ping expects him to take over the restaurant someday. Po isn't super keen on the idea, but he agrees, as he doesn't want to disappoint his father.
Interests… kung fu. Po is an absolute fanatic. His room is full of posters and action figures of the Furious Five. He has also accumulated tons of kung fu knowledge. Po knows about all the techniques, weapons, and legends. Unfortunately, he doesn't have an ounce of practical experience.
Relationship Status… single. Can you be in a relationship with a martial art? If so, Po is "dating" kung fu.
Challenge… handling his shocking new role. Following a strange turn of events at a kung fu tournament, Po is chosen to become the Dragon Warrior – the legendary fighter judged worthy to learn the secret behind the Dragon Scroll, which could lead to limitless power. Everyone is in complete disbelief, especially the Furious Five. How could a fat, clumsy panda be selected? Though no one is more shocked than Po himself: "They're five MASTERS, and I'm just ONE me!" Now Po must survive training in order to fulfill his new role. 
Personality… bumbling, kind-hearted, and energetic. The Furious Five and Shifu are reluctant to engage with Po, who they (not unjustifiably) see as utterly incompetent. But, Po tries his best to approach the situation with enthusiasm and a positive attitude, gradually winning them over with his optimism and dedication during training.  
Recommendations
Fans of him also like: