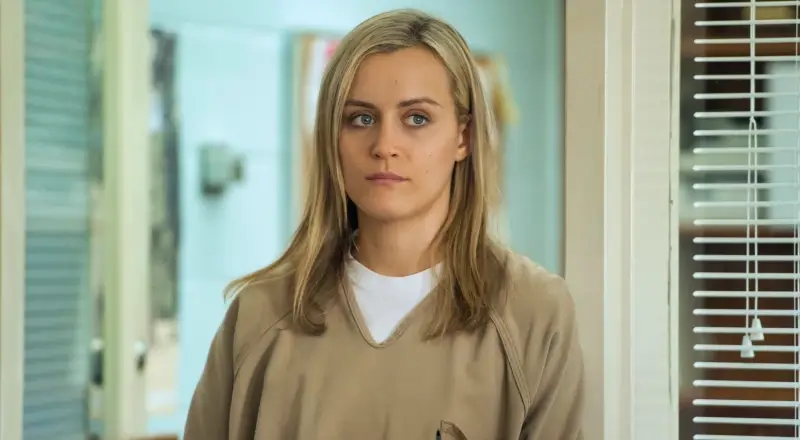 Photo Credit: Everett Collection
Character Analysis
(Avoiding Spoilers)
Living... in prison with a whole lot of nicknames, including "College," "Dandelion," and "Brain." Ten years ago, she smuggled drug money for her then-girlfriend and now she has to leave her comfortable life of iPhones and Whole Foods to serve her time. The only thing that would make prison harder would be if that ex-girlfriend was also an inmate in the same prison and – uh oh, looks like she is.
Profession... former small business owner. When Piper surrendered herself, she abandoned a growing boutique soap business for days spent working in the prison electrical shop.
Interests… soap-making and pig roasts before prison. But behind bars, her main interest is avoiding making too many enemies. It's a whole new society to navigate – turn down the advances of the wrong inmate and she might pee on your floor, disrespect the wrong inmate and you might get shived with a homemade knife. She offends a cafeteria employee almost as soon as she enters prison, and the cafeteria workers all agree to starve her – making her uphill battle even steeper.
Relationship Status... complicated. Very complicated. She's engaged to Larry, but is in prison for things she did while she was dating Alex a decade ago. Now Larry's pitching his fiancée's story to forward his journalism career, and Alex is right there in prison with her…who knows what could happen.
Challenge... dealing with everything. In prison, what isn't a challenge? The showers are terrible, the food's gross, anything can be made into a weapon, and your fiancé's back home watching Mad Men without you. As a wealthy, privileged inmate, she's immediately made an outcast. And the only thing worse than being in prison? Being alone in prison.
Personality... smart, confident, and a know-it-all. Until she goes to prison, that is. Everything changes, and she has to relearn how to live her life. As she tells a teen who visits as part of a "scared straight" program, "Other people aren't the scariest part of prison…It's coming face-to-face with who you really are."
Recommendations
Fans of her also like: