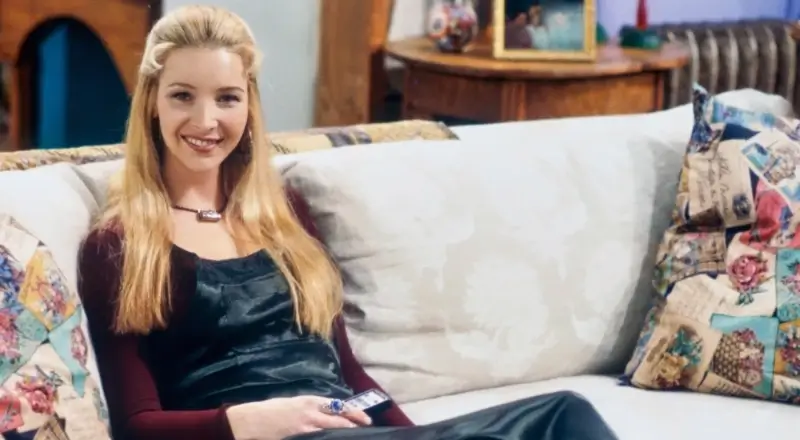 Photo Credit: Everett Collection
Character Analysis
(Avoiding Spoilers)
Grew up... on the streets of New York. She was abandoned by every adult in her life and was living on her own by age 14. She stayed in a Buick for a while. It wasn't all bad, though. She never went to high school, but she did learn French with a small study group that met behind a dumpster.
Living… in Manhattan, formerly with Monica. They are great friends but weren't good roommates. Phoebe couldn't stand Monica's high-strung housekeeping: "I need to live in a world where people can spill!"
Profession… a masseuse. There's often some sexual tension with masseuses, but Phoebe's always kept it professional, aside from a few lapses, like when she was fired from Healing Hands for kissing a client. She wound up with a better-paying job with richer clients – a bittersweet victory for Phoebe.
Interests… singing and playing her guitar. Phoebe continues the Greenwich Village folk tradition with classics like "Smelly Cat" even being licensed for TV commercials. Other songs from her catalog include: "The Double-Double-Double-Jointed Boy," "Bisexuals," "Sue, Sue, Suicide," "You Suck," "Shut Up and Go Home," "Pervert Parade," "Sticky Shoes," "Saltwater Taffy Man," "Ode to a Pubic Hair (Little Black Curly Hair)," "The Grandma Song" and "The Cow in the Meadow goes Moo." We'd love to say that she's a great singer and songwriter, but... 
Relationship Status… single and always ready to mingle. In stark contrast to her friends, except Joey, Phoebe is in no rush to settle down. Unlike Joey, Phoebe is open to a monogamous relationship, but it takes a unique man to keep Phoebe's attention. She's not the easiest woman to keep up with.
Challenge… her painful past. Phoebe's past is full of rejection and other terrible things, but you wouldn't necessarily know it now that she's found such good friends. That is, until you hear her the disturbing music she sings on street corners. The lyrics of "Dead in the Kitchen" are just the beginning.
Personality… eccentric. She embraces her status as "the weird one." Phoebe doesn't feel the pressure to conform to anyone's standards of adulthood. She makes her own rules and encourages civil disobedience whenever necessary. But she's rarely preachy. More often than not, she simply wants to do her own thing and have fun. She's truly one of a kind, and that's just the way she likes it.
Recommendations
Fans of her also like: