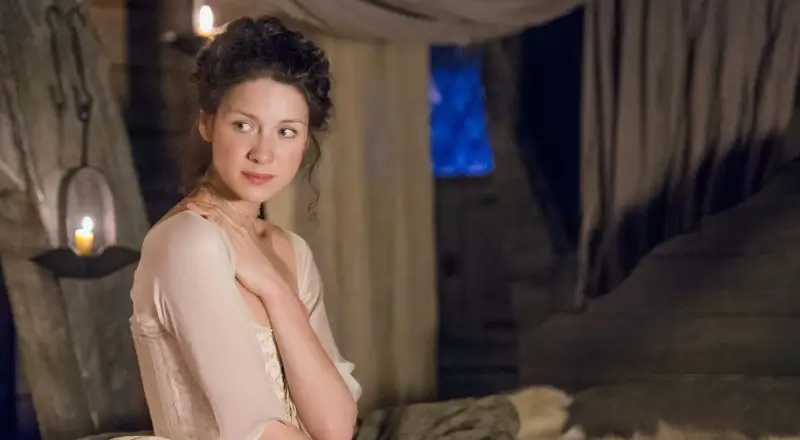 Photo Credit: Everett Collection
Character Analysis
(Avoiding Spoilers)
Grew Up… under the care of her uncle, since her parents died when she was five. Her uncle is an archeologist, and so Claire grew up in the field, traveling to lands far from her native England in search of interesting antiquities. 
Living… between times. Claire had just been reunited with her husband, Frank, after the end of the Second World War, when she accidentally activated some magical standing stones in the Scottish Highlands and found herself transported back to the 18th century, just before the Jacobite rebellion. Now she is living in the castle of the Clan Mackenzie. 
Profession…  nurse. During the war, Claire served as a field nurse, and her medical knowledge has come in handy in the 18th century as well, as she is able to adapt her more advanced training to work with the past's limited tools and supplies. 
Interests… botany, in extension of her interest in medicine. In the absence of modern technology, it is Claire's interest in medicinal plants that enables her to keep treating patients. 
Relationship Status… married to Frank Randall—but he is back in the 20th century, and though Claire is trying to get back to him, she can't help growing attached to a young Scotsman named Jamie. 
Challenge… navigating the politics of 18th century Scotland. The English and the Scots are clashing, and both sides suspect Claire of being a spy. She must figure out a way to return to her own time without triggering the suspicions of the Mackenzies, since they're the only people keeping her safe. 
Personality… independent, headstrong, and cool under pressure. Claire is a modern woman, and her obstinacy and foul language frequently shock the people around her. She doesn't take orders well, and she doesn't keep quiet. She is also a talented healer, and deeply compassionate; she will never let someone injured go without trying to help them.
Recommendations
Fans of her also like: