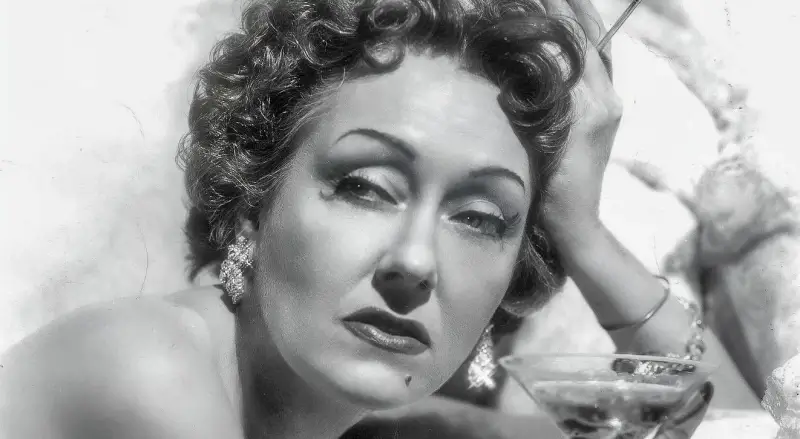 Photo Credit: Everett Collection
Character Analysis
(Avoiding Spoilers)
Living… in a "big white elephant of a place," as her script doctor, Joe, describes it. Norma lives in an old mansion, the kind of palace that was built for the glamorous stars of 1920s Hollywood – just off of Sunset Boulevard. Though today Norma's house looks more like a ruin than a castle.
Profession… actress. Norma is, and always has been, a star. Although her face hasn't been seen on screen in decades, she plans to make a grand return with her old friend, the director Cecil B. DeMille. "I am big," she says to her new friend Joe, "it's the pictures that got small." 
Interests… herself. Norma is a narcissist. Her home is filled with old portraits from her glory days, and she spends every afternoon in the projection room, watching her old films.
Relationship Status… none. The closest thing that Norma has to a companion is her loyal butler, Max. Max helps Norma remember her glory days, when the mansion was a glamorous place visited by Maharajas, dignitaries, and Hollywood royalty.
Challenge… preparing her magnum opus script for development. Norma, in preparation for her "return" to the screen (she prefers this term rather than the more desperate-sounding "comeback"), has written an epic script about the ancient princess, Salome. She's been waiting her entire life to make this picture, yet she doesn't seem to realize that she's already living a bit of a fiction herself. 
Personality… impatient, snobby, and selfish. Norma's delusions of grandeur are not exactly subtle. She walks and talks like she's still the queen of the universe. As Joe describes her, she is "sleepwalking along the gay heights of a lost career." 
Recommendations
Fans of her also like: