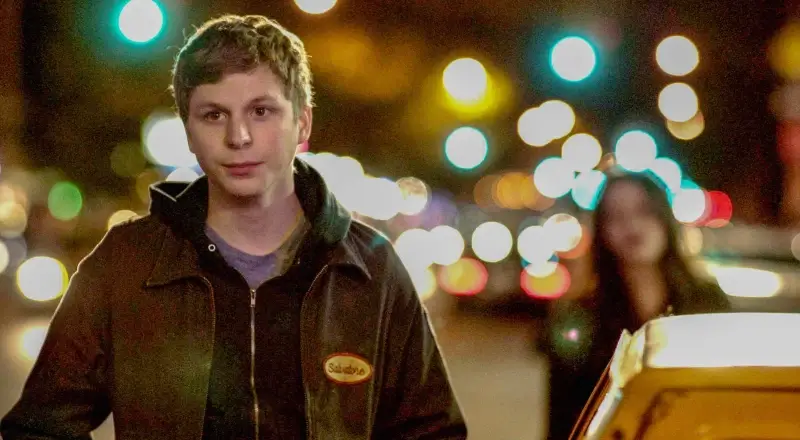 Photo Credit: Everett Collection
Character Analysis
(Avoiding Spoilers)
Grew Up… in Hoboken, New Jersey. Nick spends most of his evenings in New York City's vibrant music clubs.
Living… in utter despair. Nick's ex-girlfriend, Tris, broke up with him approximately three weeks, two days and 23 hours ago. Nick still sends Tris "breakup" CDs inspired by his inner pain. In one of his phone messages to Tris he admits, "also that mix CD… uh, that I left on your doorstep was the last one that I'll be making for you…more or less."
Profession… high school student and (straight) bass player in the (almost) all-gay band, The Jerk-Offs. "You don't know what it's like to be straight, okay?" he tells his band mates, "It's awful."
Interests… indie rock. Nick is especially into the band "Where's Fluffy?" Luckily, Nick and his friends have gotten word that Where's Fluffy? is playing a secret show somewhere in New York tonight. Nick just needs to find out when and where this exclusive gig will take place.
Relationship Status… heartbroken over Tris, his manipulative and unfaithful ex-girlfriend. Nick is too distracted by his unrequited feelings for Tris to notice the attractive and available Norah.
Challenge… finding where Fluffy's secret gig is. But even more challenging is getting over Tris. The shy and delicate Nick doesn't deserve to be messed around by his narcissistic ex-girlfriend.

Personality… sensitive soft-spoken and a bit awkward. Nick's nervous side shows itself when he tries to get to know Norah, a fellow Where's Fluffy? fan. Despite the initial awkwardness, Norah finds his quirky manners and sweet personality endearing.
Recommendations
Fans of him also like: