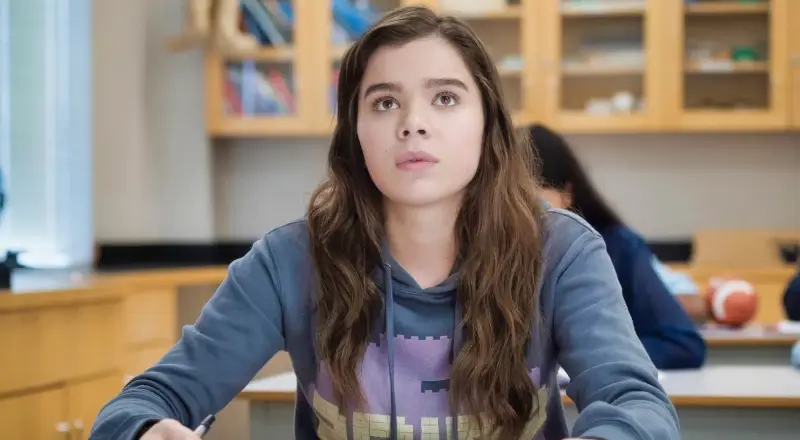 Photo Credit: STX Entertainment
Character Analysis
(Avoiding Spoilers)
Grew up… in a family of four near Portland, Oregon. Nadine has always fought with her mom. Her dad, Tom, was the peacekeeper, keeping things civil between them. Nadine struggled with feelings of being alone and her dad was the only person who could cheer her up. That is until she met Krista in the second grade, who she instantly became close to. The two kept each other afloat. Nadine was only thirteen when her dad died of a heart attack, and from there on out, Krista was her only lifeline. She loves spending time with Krista, but Krista has started dating her brother Darian, and she is feeling even more alone.
Living… with her mom, Mona, and her brother Darian. Darian is an attractive athlete, in with the popular crowd, and the bane of Nadine's existence. Her disgust of her brother is only rivaled by how much she resents her mother. Mona and Nadine don't get along, but not for Mona's lack of trying. Nadine has resented her family since her father's passing, and has a hard time moving past it.
Profession… high school student. Nadine isn't a star student, but she thrives in English class—not because she ever actually does her homework, but because she is Mr. Bruner's favorite student. He wouldn't admit it, but he has a soft spot for her long rants about the meaninglessness of life and her cynical nature. Nadine relies on Mr. Bruner for comfort and attention, and his snarky attitude allows her to drop some of her guards.
Interests… not too much. Nadine spends most of her time wallowing in her sadness, and one of her favorite activities seems to be crying. Nadine says she is an "an old soul who likes old movies and old music, and even old people."
Relationship status… single. Nadine has been crushing on Nick, a student at her high school, but he is decidedly only interested in her for sex. Nadine also spends more and more time with classmate Erwin Kim, providing an escape from the pain she constantly feels. When Erwin expresses interest, Nadine doesn't know how to do anything else besides shut him out.
Challenge… figuring out how to stop hating everything, including herself. Nadine is full of so much hurt and resentment towards her mother, her brother, Krista, and even herself. She is caught up in that pain, which makes her blind to the good parts of life. She doesn't realize that these people are hurting too, and when confronted with that realization, Nadine begins to see the bigger picture.
Personality… cynical, emotional, and snarky. Nadine is cynical to her core, and she is unable to see a world beyond all of her pain. Her anger has become a security blanket, and in a twisted way she likes thinking she is the only one with real problems. Her self-hatred has consumed her for so long, she doesn't even know how to exist without it, in a way she feels like it makes her special. Nadine feels things so deeply, and she has a hard time moving on.
Recommendations
Fans of her also like: