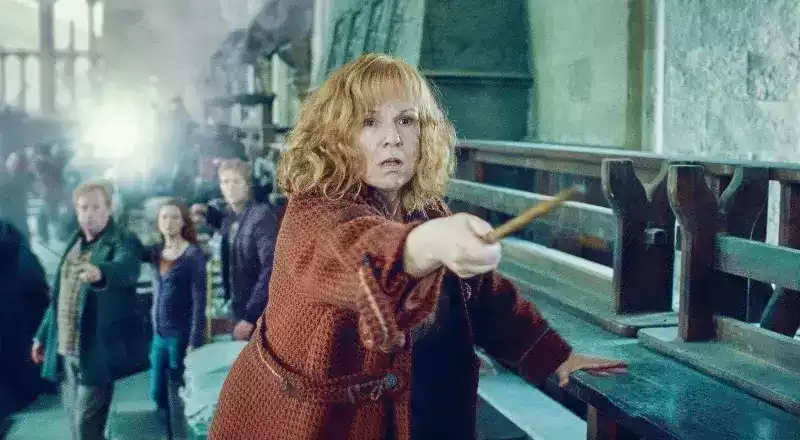 Photo Credit: Everett Collection
Character Analysis
(Avoiding Spoilers)
Grew up… with her parents and two brothers, Gideon and Fabian. At age 11, Molly started attending Hogwarts School of Witchcraft and Wizardry, where she lived in Gryffindor House with her future husband, Arthur.
Living… at the Burrow, a haphazardly constructed house on the outskirts of the village of Ottery St. Catchpole. The house is teeming with magic: gnomes run around the garden, dishes wash themselves and there's even a noisy ghoul in the attic. When Harry Potter, the best friend of Molly's youngest son Ron, first visits the Weasley home, he is awestruck by how charming and welcoming it is; Harry had never seen a wizard's house before.
Profession… housewife. With seven children, Molly has her hands full at home. Although her eldest two sons, Bill and Charlie, have moved out, there is still plenty of chaos amongst the remaining five kids. She maintains the Burrow and is known for her excellent cooking. One of her main concerns is making sure everyone has plenty to eat at all times. Every time she is reunited with Harry, she comments on how "peaky" he looks and proceeds to overload him with delicious food.
Interests… cooking, knitting sweaters, and listening to Celestina Warbeck. Molly enjoys the simpler things when she isn't busy with laundry and cleaning. Every Christmas, she knits each of her kids (and later, Harry) a garish sweater emblazoned with the first letter of his or her name. She also has a soft spot for the sorceress and singing sensation Warbeck, famous for tunes such as "A Cauldron Full of Hot, Strong Love" and "You Charmed the Heart Right Out of Me."
Relationship Status… married to Arthur Weasley. The two have been together since their own days at Hogwarts in the 1960s. They even got in trouble once for sneaking out and not going back to their dormitories until 4 a.m. Although not as young as they once were, the two are still very loving and affectionate; Arthur's private nickname for his wife is "Mollywobbles."
Challenge… keeping her family safe. Molly's biggest worry is that her large family will be in some kind of danger. Her concerns aren't wholly unfounded; she lost her two brothers in the First Wizarding War. And if the Dark Lord Voldemort does return – the signs are all there, alas – the Weasleys figure to be right in the middle of any resulting fight.
Personality… strict, but extremely kind-hearted and loving. Molly runs a tight ship, and has high expectations for her children. At even the slightest sign of troublemaking, she is on their case, and doesn't tolerate rude behavior. However, she is a mother with a heart of gold, and always puts her kids (and the orphan Harry) before herself. 
Recommendations
Fans of her also like: