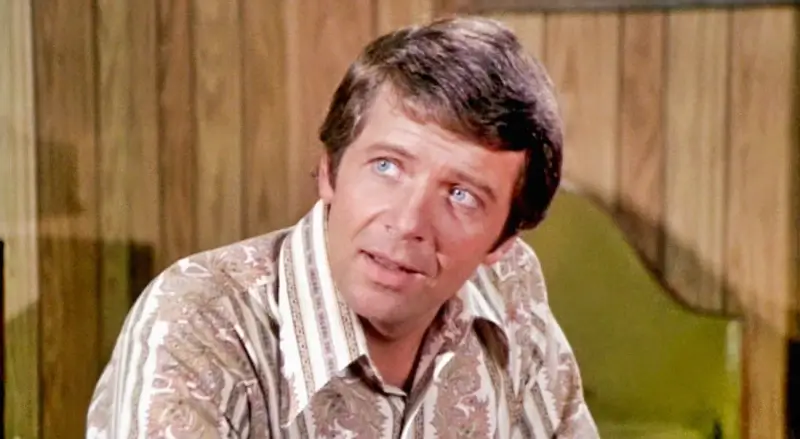 Photo Credit: Everett Collection
Character Analysis
(Avoiding Spoilers)
Living… in Los Angeles, with his new wife Carol, three sons (Greg, Peter and Bobby) and Carol's three daughters – Marcia, Jan and Cindy. The Bradys are determined to be a united family, with no "step-children" or "half-siblings" but just eight proud Bradys. (Or nine, including Alice the live-in housekeeper.) Mike is a beloved husband and father and well-respected in his community, even being named "Father of the Year" by a local newspaper due to Marcia's nomination.
Profession… architect. Mike is quite prominent in his field, to the point where even his occasional failures later reveal themselves to be successes, like when he lost a contract after refusing to cut corners on safety measures. He might've relished the building's eventual collapse – if it hadn't left him trapped inside. At least it gave him yet another great teaching moment for the kids.
Interests… the great outdoors. Mike enjoys fishing and camping with his boys and considers them to be annual traditions. It was initially strange to add three girls to the mix, but if there's one thing Mike enjoys more than nature, it's spending his spare time with the rest of the Brady clan.
Relationship Status… married to Carol. Mike is a widower, and occasionally speaks of his previous marriage with his boys. Fortunately, his marriage to Carol couldn't be happier – even when she teases him with her corny jokes.
Challenge… maintaining the peace. Mike is adjusting to big changes in the Brady household and he wants to make the transition as smooth as possible for his boys. He often acts as an interpreter and mediator for the boys when they have gripes about the girls. Their rituals and routines are changing, and Mike's job is helping them accept and embrace those changes.
Personality… calm and well-adjusted. Mike holds it down at work and at home. He knows when to discipline and when to let the kids figure things out on their own. He's got a strong moral backbone and stresses everyday bread-and-butter values to his kids. Let's be frank: If he's entered in a Father of the Year contest, all the other dads are playing for second.
Recommendations
Fans of him also like: