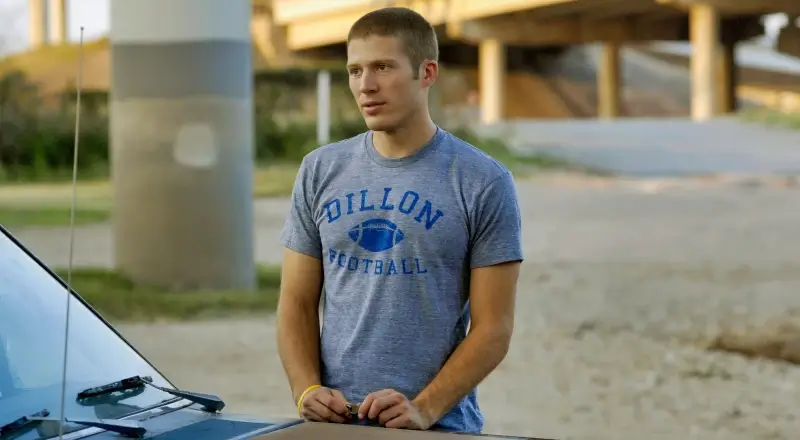 Photo Credit: Everett Collection
Character Analysis
(Avoiding Spoilers)
Living… alone with his grandmother in Dillon, Texas. Matt takes care of his grandmother Lorraine as she battles dementia. He has a strained relationship with both of his parents. His father Henry is a member of the Army who neglects him and his mother abandoned him after divorcing his father.
Profession… new quarterback for the Dillon Panthers. Matt got the position under tragic circumstances, stepping in for Jason Street after he suffered a career-ending injury. Matt has had to take the grief of the entire town on his shoulders, while winning over his coach, who is hesitant to start him.
Interests... finding peace of mind, football. With so much on his mind, Matt never gets the chance to rest. He wishes his grandmother got better, or at least that there was someone there to help. Matt has asked his father if he is coming home any time soon, but only received vague answers. Football provides a form of escape – even if being the starting quarterback adds significantly more pressure.
Relationship Status... single. But he has a crush on Coach Taylor's daughter, Julie. Unfortunately for him, she actively distances herself from anyone on the football team and refuses to speak to him. When Landry and Matt go up to her at the diner, she says, "You're on the football team, right?...I don't eat with football players." Matt, however, is not the stereotypical football player she expects. Perhaps Julie will see beyond her expectations and realize that Matt is an amazing guy.
Challenge… keeping his grandmother safe and assuring Panther victories. Without any parental supervision, Matt is the only person truly taking care of his grandmother. Because Matt has so many responsibilities, it is often hard to confirm that she takes her medications every day. At one point Matt comes home only to realize that his grandmother has gone missing. After several hours of frantically searching for her, the cops bring her home – apparently after she had wandered into a neighbor's house and started taking a shower. Matt constantly has a lot on his shoulders.
Personality… brave and loyal. Matt is always in between worlds. He's too self-aware and sensitive for the jocks. He has a big heart, sacrificing the typical high school joyride for the sake of his grandmother, forgoing opportunities in order to care for her, and stepping up for the team to fill Jason Street's role.
Recommendations
Fans of him also like: