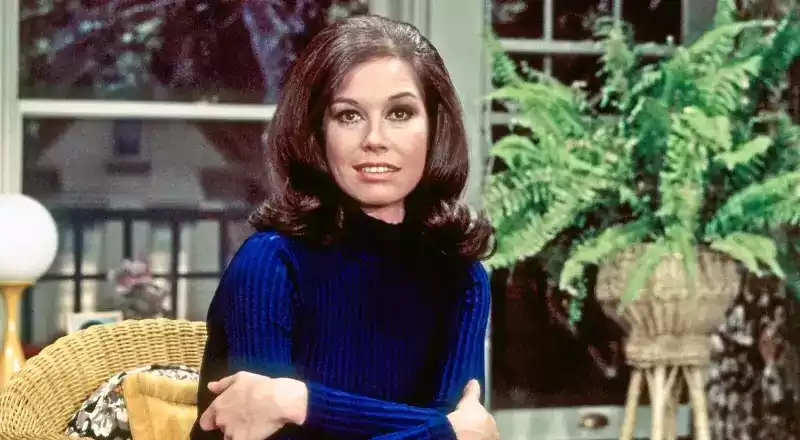 Photo Credit: Everett Collection
Character Analysis
(Avoiding Spoilers)
Living... in Minneapolis after moving there on her own at the "ancient" age of 30. Mary left her boring fiancé and travelled north to rent an apartment from her old friend Phyllis in the same building as her new friend Rhoda. 
Profession... associate news producer at WJM-TV. She came in to interview for a secretary gig but when she finds out that's been filled, she uses her spunky personality to land this higher-pressure (but lower-paying) job. The Six O'Clock News team is a ragtag group. Her producer Lou Grant has a hotheaded exterior to hide his caring nature, anchorman Ted Baxter is a pompous, self-absorbed moron and Murray Slaughter is the poor guy who has to write Ted's copy. Mary keeps the ship afloat. Even if the crusty Lou tells her, "I hate spunk."
Interests… working hard, hanging out with Rhoda, and throwing infamously disastrous parties. Someday one of those parties will have to go according to plan…right?
Relationship Status... formerly engaged, now dating. Her fiancé was Bill, a medical student whom she dated for years before realizing he'd never propose. Now with Rhoda as her wingwoman, she's dating her way through every dud that Twin Cities has to offer. Murray says she's "so terrifically attractive and desirable she can probably have any man she wants." More easily said than done.
Challenge... making it as a single woman in 1970s Minnesota. She deals with sexism, shoddy journalistic ethics and a show whose ratings are always in a tailspin. But none of those match the difficulty of just putting on the show in spite of Ted Baxter's incompetence.       
Personality... strong, kind, and loving. Mary is exactly who you'd want in your newsroom because of her professionalism and world-class people skills. She'll sometimes play the goody two-shoes, telling her co-workers it's insensitive to make jokes after a local clown passes away. But when they attend Chuckles' funeral, Mary can't help but crack up during the eulogy. She can somehow be both one of the gang, and make the gang want to be better people. That's a rare trait.
Recommendations
Fans of her also like: