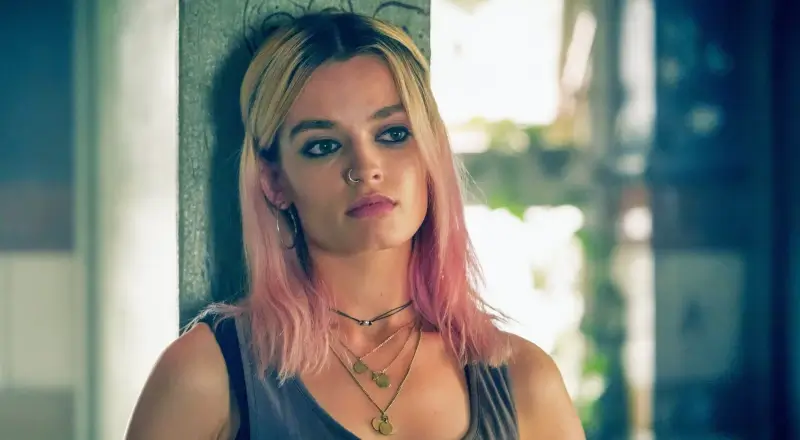 Character Analysis
(Avoiding Spoilers)
Grew Up... in a trailer park and was largely taken care of by her brother. Maeve's father abandoned the family when she was young, and her mother is a drug addict.
Living… on her own in the British countryside. Although her brother loves her very much, he is unreliable and visits erratically. He also ditched her at some point in her youth, forcing the teenage Maeve to support herself.
Profession... student at Moordale Secondary School. Maeve is one of the most intelligent pupils at the school, and often sells her homework in order to pay for her living expenses. Her essays receive praise, and her English teacher calls her an original thinker. However, other students spread unfounded rumors about her promiscuity.
Interests... reading and listening to punk music like Bikini Kill.
Relationship Status... dating Jackson, the school's most popular jock and Head Boy. They started out as friends with benefits and later decided to make it official. However, Maeve's friendship with Otis continues to deepen and become complicated, throwing a wrench into her current relationship.
Challenge... overcoming her fear of abandonment caused by everybody in her family dropping the ball on her. Maeve struggles to believe that love is real and refuses to give other people a chance to let her down. It's for these reasons that when Jackson wants to pursue something more serious with her, Maeve is highly resistant.
Personality... sarcastic, witty, and confident. Maeve takes no one's nonsense. When a jock in the hallway disparagingly comments on her body, Maeve hits him in the crotch. However, beneath the aloof and detached exterior, she has a tender heart. Maeve is the only student who doesn't laugh or make fun of Otis when a video of Otis's mom talking about sex education gets passed around the student body. She understands what it's like to be misunderstood and even helps people who may have not been the kindest to her.
Recommendations
Fans of her also like: