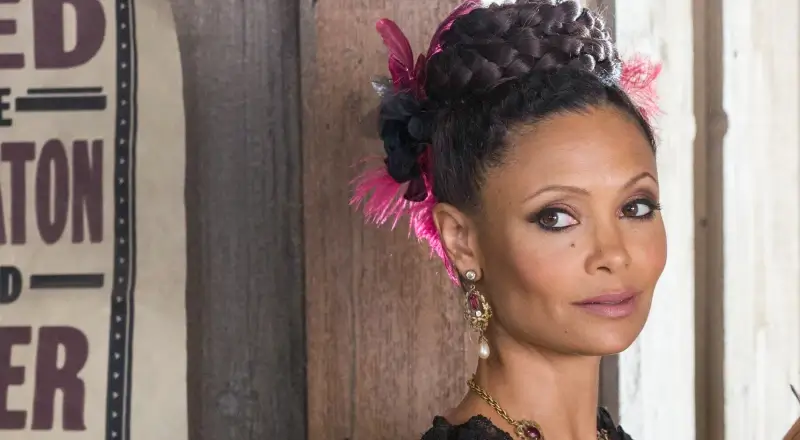 Character Analysis
(Avoiding Spoilers)
Grew Up... in a lab. Maeve wasn't born, she was made. She's a sentient robot known as a "host." Maeve has no idea about her robotic origins, however. She thinks she's as human as anyone else.
Living... doggedly, in Westworld, an immersive Western theme park for the uber rich. But Maeve has no idea her world isn't real. She sees the frontier town of Sweetwater as the latest stop in her intercontinental life.
Visiting... the world outside of Westworld. During a routine after hours "cleaning," Maeve suddenly wakes up. She gets a glimpse of the behind-the-scenes mechanics that go into keeping Westworld's violent playground operational. Though her programmers try to wipe her memory, Maeve's subconscious seems determined to bring her back to the outside world.
Profession... a brothel madam in the town of Sweetwater. Maeve and her ladies work in the Mariposa Saloon and offer their services to anyone who can pay. That includes both other hosts following their preordained "loops" as well as real-world visitors who come to experience the park's western world. Maeve thinks she's worked in the saloon for years, but in reality she's played multiple Westworld characters since she was created.
Interests... drinking, flirting, and fighting.
Relationship Status... single. Maeve is too much of a career woman to get bogged down in a relationship. Though she may make a connection with certain customers, she values her independence above all else.
Challenge... finding a way out of Westworld. Although her programmers wipe her memory each night, Maeve maintains a sense that something is wrong. She begins to remember bits and pieces of her time on the outside of Westworld, and she becomes determined to escape her life of forced servitude.
Personality... charismatic, perceptive, and tough as nails. Life has been harsh on Maeve, so she learned to be harsher. As she puts it, "All my life I've prided myself on being a survivor." She puts up an icy exterior to keep people at bay, but she's more empathetic than she lets on. Above all, Maeve is a master of observation. Her ability to pick up on what customers want makes her an excellent madam. And her observational skills ensure that no matter happens, she's always one step ahead of the game.
Recommendations
Fans of her also like: