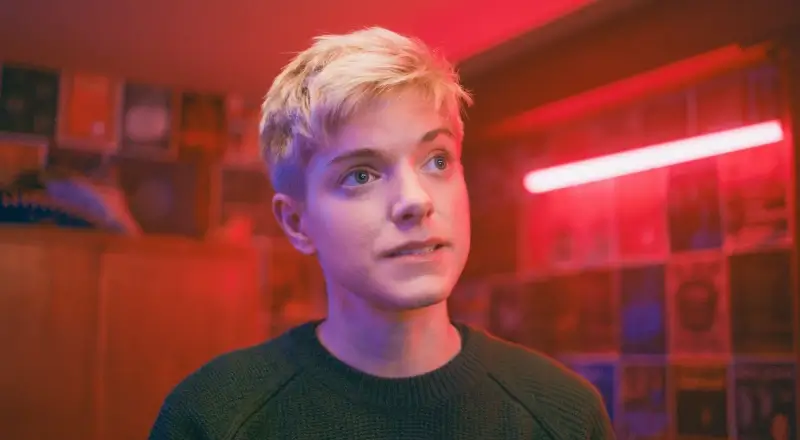 Character Analysis
(Avoiding Spoilers)
Grew up… in Canada with both of her parents, Linda and Malcolm. Mae's life was easy and care-free until she got involved with narcotics as a young teen. When her parents found out, they kicked Mae out of the house, exiling her for nearly ten years.
Living… in Manchester, UK. Mae usually crashes on friend's couches, as she is without a place of her own. She focuses a lot of her time on her career and doesn't have much of a social life. That is until she meets George, a regular at Mae's shows.
Profession… aspiring comedian, performing underwhelming sets at The Gag Bin, a local comedy club. Mae struggles to find her groove in comedy, but she works hard to succeed. The comedy club's drug-fueled environment makes it difficult for the former addict, but Mae is convinced she can stay clean.
Relationship status… dating George. Mae is confident in her sexuality, having dated other women in the past, but it's a different story for George. As George struggles with her sexuality, she begins to push Mae away. Their lust makes it easy to ignore some significant relationship issues, but those issues won't stay hidden for long.
Challenge… not losing herself in her relationship with George. Mae is struggling with her drug addiction, but being with George makes everything else fade away. Mae doesn't know how to be by herself. And as she begins to tackle her problems, she realizes that George might just be another addiction.
Personality… stubborn, strong, and a little awkward. Mae is courageous and independent, resulting from being on her own since she was 14. While she is gentle, Mae has a limit to how much she can take. Her father described her as "wearing her heart on her sleeve," so while she loves ferociously, she feels negative emotions very deeply. Mae has an addictive personality, so she latches on to things and is consumed by them until she gets bored, she describes herself as "Pacman, a hungry, empty ghost."
Recommendations
Fans of her also like: