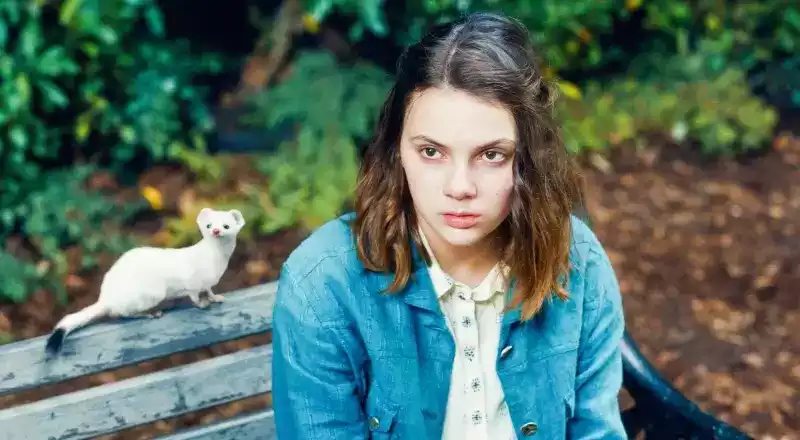 Photo Credit: Everett Collection
Character Analysis
(Avoiding Spoilers)
Living… in Jordan College, Oxford with her cold, intellectual uncle, Lord Asriel, and her beloved daemon, Pan. Lyra spends her days adventuring around the school grounds and getting scolded by the stuffy professors, who insist that she behave in a more lady-like manner.

Visiting… the North. Lyra has always wanted to go to the land of ice and armored bears. Her chance comes when the beautiful Marisa Coulter requests that Lyra accompany her as a personal assistant on her expedition. Enticed by the prospect of glamour and adventure, Lyra instantly agrees.

Profession… a student, sometimes. Lyra isn't a diligent, type-A sort of pupil. She reads what she wants to and ignores the rest, much to her professors' chagrin. Despite her lack of studiousness, Lyra is an incredibly intelligent girl. She's good at connecting the dots and discovering information that the adults in her life try to keep hidden. Unfortunately, this only gets her into more trouble.

Interests… sneaking around the grounds of Jordan College and playing with her friends, Roger Parslow and Billy Costa. The adults in Lyra's life keep telling her to be careful during her exploits. Creatures known only as the "Gobblers" have been kidnapping children one by one and Lyra's reckless ways put her in a very vulnerable position.

Relationship Status… single. Lyra is only 12. Her closest relationship is with Pan, an embodiment of her soul who serves as a constant companion. He's cautious and level-headed, a perfect balance to Lyra's impulsiveness.

Challenge… rescuing Roger and Billy. When her best friends are taken by the Gobblers, Lyra vows to get them back. Unfortunately, Mrs. Coulter and her menacing daemon are keeping a close eye on her. Escaping her guardian won't be easy, but Lyra is determined to succeed and bring down the kidnappers: "We'll set things right. We will. Just let them try to stop us."

Personality… rebellious and quick-witted. Lyra is always up for a challenge, especially if she can flout authority on the way. The Master of Jordan College has had to deal with more than his fair share of disrespect from her. Lyra is prone to getting in trouble, but she's also clever enough to get out of it. Most of the time.
Recommendations
Fans of her also like: