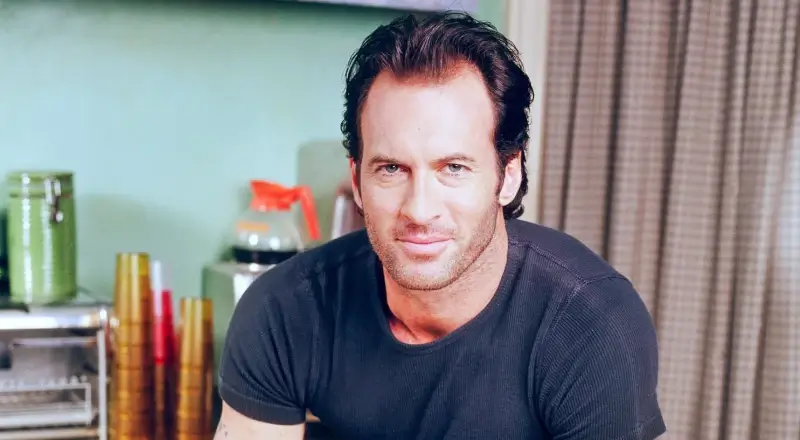 Photo Credit: Everett Collection
Character Analysis
(Avoiding Spoilers)
Grew up… hating the lack of privacy in his small town of Stars Hollow. Luke's father, who owned the local hardware store, was a beloved figure in town.
Living… in a tiny apartment above his father's hardware store, which Luke inherited and turned into a diner. As much as he complains about Stars Hollow, he doesn't seem to have any interest in leaving.
Profession… owner of Luke's diner, and hence coffee supplier to talkative town local Lorelai Gilmore (which is a full time job in and of itself). As a diner owner, he's by extension a chef, waiter, and business manager. Considering how busy Luke is, he really takes a surprising amount of time to talk to his favorite caffeine-loving customers.
Interests… camping, fishing, and baseball caps. Though he was a Trekkie and a track star in high school, as a grown man he enjoys strictly solitary pursuits. It's fair to say that the list of things Luke doesn't like is quite a bit longer than the list of things he does.
Relationship Status… single, and clearly pining for one of his regular customers. You know the one – the fast talker with blue eyes who lives on coffee and junk food. The proof is in the way Luke looks at her – and all the repair work he has offered to do on her house.  
Challenge… not letting his temper get the best of him, especially around Taylor Doose, the town's unofficial spokesman for all things celebratory. No matter what Luke says, he really does care about Stars Hollow – he just thinks most of the things the town does are really stupid. Why decorate for autumn? Aren't there already leaves outside?
Personality… curmudgeonly, protective, and cynical. Luke is secretly a big softie, but that doesn't mean he wants to see his diner decorated for every random holiday that Stars Hollow insists on turning into a spectacle. Talking to Luke about his feelings is even more difficult than using a cell phone in his diner without getting kicked out. (Basically, you have to be Lorelai to do it, and even then it's not easy.) 
Recommendations
Fans of him also like: