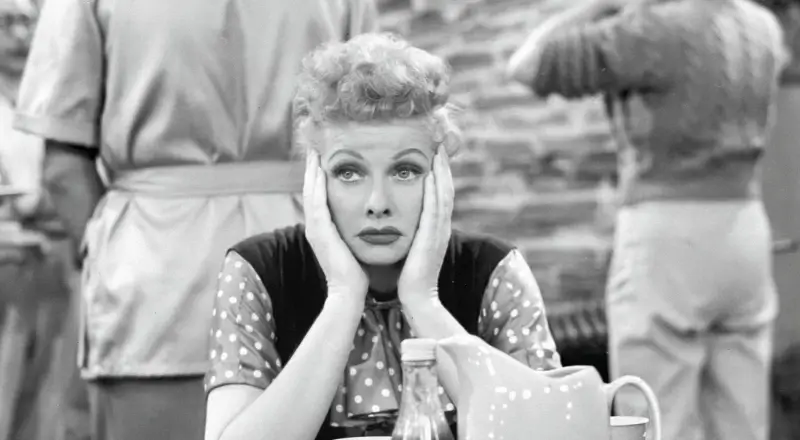 Photo Credit: Everett Collection
Character Analysis
(Avoiding Spoilers)
Grew Up... in Jamestown, N.Y., as Lucy McGillicuddy. Lucy showed a zeal for performance from an early age – playing a petunia in a grammar school recital to rave reviews. She was involved in her high school drama program, where she played Juliet in Romeo and Juliet, as well as the school band, where she played saxophone. After college, she moved to New York City, and the rest is history.
Living… in 1950s Manhattan at 623 East 68th Street, where the Ricardos have a very close relationship with their landlords/neighbors, Fred and Ethel Mertz. They initially lived in apartment 4A until Lucy became pregnant, at which point they moved to apartment 3B so their son Little Ricky could have his own room.
Profession… housewife, but that's not really an apt description for what Lucy does. She is practically a professional understudy, constantly awaiting her big break in show business – specifically, a chance to appear in her husband Ricky's nightclub act. Lucy has ached for the spotlight since she was a child. While her behavior suggests that she's not content with staying at home, she's twice declined show business contracts, instead choosing to remain a stay-at-home mom.
Interests… co-president of her women's club, the Wednesday Afternoon Fine Arts League. She's also an avid card player – specifically bridge, canasta, and gin. Lucy shops whenever she has the opportunity, having a particular taste for hats. Gossiping with her best friend Ethel is also among her favorite pastimes.
Relationship Status… married to Ricky Ricardo. It all started with a blind date in 1940 with a Cuban drummer. Lucy may have acted like a "first-class nincompoop" the first time they met, but more than a decade later they're still going strong. It's a marriage of checks and balances. Ricky is a devoted and caring husband who only asks that Lucy forget her show-biz ambitions. It's the one thing they never can agree on.
Challenge… being in the show. That's all Lucy wants – be a part of Ricky's act. Ricky wants Lucy to be happy at home and leave his show to the professionals, but Lucy is always ready with a new scheme. These schemes are almost guaranteed to get her in some sort of mess, and it'll inevitably be up to Ricky or Ethel to get her out of it. If he'd only let her prove herself, just give her one chance, she'd finally make it to the big time. At least, that's what Lucy believes.
Personality… ambitious, naïve, clever, and determined. We love Lucy because she never gives up. She's a loyal wife, but she has her own desires and isn't afraid to pursue them. She's considerably liberated for her time, simply through her courage to be herself. She is lovably shameless and always goes for it. Lucy believes she is a star and won't let any lack of talent stop her.
Recommendations
Fans of her also like: