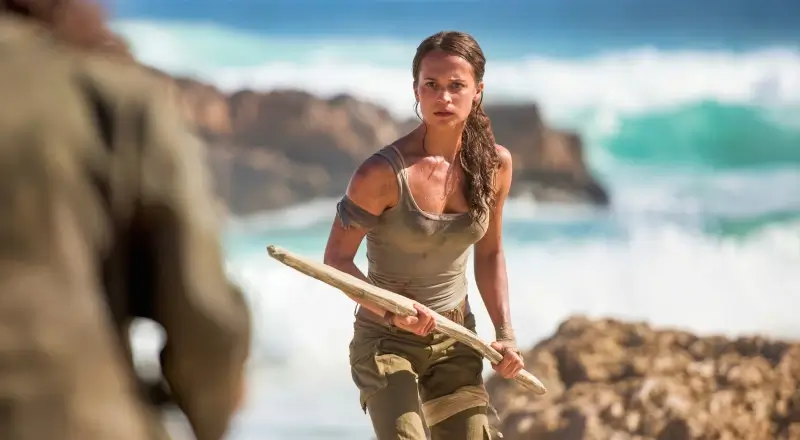 Photo Credit: Everett Collection
Character Analysis
(Avoiding Spoilers)
Grew up… in Wimbledon, London. Lara resided in Croft Manor with her wealthy, aristocratic parents Lady Amelia Croft and Lord Croft. She was afforded every advantage as a young woman, and received private tutoring before attending boarding and finishing schools.
Living… in Croft Manor. Lara inherited her parents' estate after their strange disappearances. But don't count on her staying in one place too long; Lara gets antsy if she's not traveling the world or spelunking through caves. She was never one for British upper-class aristocracy, much to the shame of her parents.
Visiting… the island of Yamtai, a fabled land in the mysterious Dragon Triangle that hosted an ancient and fascinating cult. Lara is here for research, but when her team's ship is destroyed by a storm, they find themselves struggling to survive on an island that is inhabited by a violent, sun-worshipping cult known as the Solarii Brotherhood.
Profession… archeologist and tomb raider. Lara is an adventurous archeologist who specializes in digging through the most dangerous and ancient secret ruins of the world.
Interests… archeology, ancient history, horseback riding, archery, and rock climbing. Lara loves anything that lets her test her athleticism as well as her intellectual capabilities. As she puts it, "I do my best thinking plunging off cliffs."
Relationship Status… single. Lara's commitment to exploration and archaeology doesn't leave her with a lot of time to pursue a relationship. She's so fiercely independent that a boyfriend would likely only slow her down.
Challenge… uncovering the secrets of Yamtai Island and surviving in one piece. While Lara is initially skeptical of the mystical legends that surround the island, she's about to be confronted with startling evidence of the supernatural power of the relics she's determined to study. With the stakes of her mission elevated from academic satisfaction to survival, Lara will have to adapt to her harsh new environment and take her first steps towards becoming a legendary tomb raider.
Personality… intelligent, strong, fearless, and independent. Despite her pampered background, Lara is tough as nails, and displays an almost unmatched will to live. She thrives when she's alone and adventuring, though these tendencies do often put her at serious risk. She's still young, although her experiences on Yamtai seem poised to harden her – transforming the innocent and academically-minded Lara into one of the world's premier warriors and archaeologists.
Recommendations
Fans of her also like:
Find out how you match to her and 5500+ other characters
Get to Know her in...
Intrepid British archaeologist Lara Croft has made perhaps the most important archaeological discovery in history: an orb that leads to the mythical Pandora's Box. Unfortunately, the orb falls into the hands of Jonathan Reiss, an evil scientist who deals in killer viruses and hopes to sell the secrets of the box as the ultimate weapon.

English aristocrat Lara Croft is skilled in hand-to-hand combat and in the middle of a battle with a secret society. The shapely archaeologist moonlights as a tomb raider to recover lost antiquities and meets her match in the evil Powell, who's in search of a powerful relic.

This stand-alone novel is an epic Lara Croft adventure, featuring enough dual-pistol wielding action and sharp wit to please nostalgic fans of the franchise.

After a ruthless competitor beats her in a race to recover a priceless antiquity in Sri Lanka, Lara Croft returns home to London. Nursing her bruises, she gets a call from an old friend in desperate need of help and learns that something truly strange has been discovered during an excavation beneath the City of London. Investigating, Lara witnesses something so spectacular it could rewrite the history of the British Isles - and perhaps even the world - but is drawn into a dangerous shadow world of espionage, conspiracy and black market trafficking. There's too much at stake. Lara sets off on a globe-trotting mission to recover a precious antiquity that links the modern world to ancient myths and legends, as old foes and new threats gather to stop her finding the truth. What is the true secret of the blade, who can she really trust, and is this the one mission even she can't survive?

Storyline written in conjunction with the game developers at Crystal Dynamics, and penned by Dan Abnett, a bestselling British novelist and comic book writer.

Lara Croft GO expands the turn-based puzzle gameplay and takes you on an adventure set in a long-forgotten world. Explore the ruins of an ancient civilization, discover hidden secrets and face deadly challenges as you uncover the myth of the Queen of Venom. A never-before-seen take on the iconic franchise featuring challenging gameplay, gorgeous visuals and a mesmerizing soundtrack, all at your fingertips.

Travel across the world with gaming's most famous heroine, as Lara Croft uncovers ancient secrets that hold the answers to her own mysterious past.

According to Egyptian legend, Horus, son of the light, outwitted the evil God Set and imprisoned him in a secret tomb. Five thousand years later, Lara Croft discovers the lost tomb and unwittingly unleashes the evil God Set, fulfilling the ancient prophecy of his return to plunge mankind into darkness! In a race against time, Lara must use all her wit and skill to re-imprison Set and save the world from Armageddon.

Uncover the secret history of Lara Croft in Tomb Raider: Chronicles. Lara Croft is missing in Egypt - presumed dead. Those closest to her gather together at the Croft Estate on a grey, rainy day for a memorial service in her honour. Afterwards, the friends sit quietly together in the study of the Croft Mansion and reminisce about Lara's past exploits; exploits that have until now remained a secret...

Lara Croft and the Guardian of Light is a platform action video game developed by Crystal Dynamics and published by Square Enix for Microsoft Windows, PlayStation 3, Xbox 360 and iOS as part of the Tomb Raider series through digital distribution. Unlike previous games in the series, the game does not carry the Tomb Raider brand and has a heavy emphasis on cooperative gameplay. In multiplayer, players take the role as either Lara Croft or a 2,000-year-old Mayan warrior named Totec. They must work together in order to stop the evil spirit Xolotl and retrieve the Mirror of Smoke. A single-player campaign mode is available that does not include the non-playable character AI following or helping Lara.

Tomb Raider: Anniversary retraces Lara Croft's original genre-defining adventure ? globe-trotting 3rd person action-adventure in pursuit of the legendary Scion artifact. Using an enhanced 'Tomb Raider: Legend' game engine, the graphics, technology and physics bring Lara's adventure and pursuit of a mystical artifact known only as the Scion right up to today's technology standards and offers gamers a completely new gameplay experience. Re-imagined, Anniversary delivers a dynamic fluidly and fast Lara Croft, massive environments of stunning visuals, intense combat and game pacing, and an enhanced and clarified original story.

Tomb Raider explores the intense and gritty origin story of Lara Croft and her ascent from a young woman to a hardened survivor. Armed only with raw instincts and the ability to push beyond the limits of human endurance, Lara must fight to unravel the dark history of a forgotten island to escape its relentless hold.

Tomb Raider: Definitive Edition is a re-release of Tomb Raider, developed by Crystal Dynamics and published by Square-Enix for the Playstation 4 and the Xbox One. The game is optimized for next-gen consoles, with the help of outside developers including United Front Games and Nixxes Software. Definitive Edition includes several visual and game play enhancements, and is packaged with all available downloadable content for the game. The game was released on January 28th, 2014.

Adventurer Lara Croft has been hired to recover the pieces of an ancient artifact known as the Scion. With her fearless acrobatic style she runs, jumps, swims and climbs her way towards the truth of its origin and powers - leaving only a trail of empty tombs and gun-cartridges in her wake.

A series of grisly murders brings Lara into conflict with a sinister Alchemist from the past, and a secret alliance of powerful individuals shrouded in mystery. Accused of the murder of her one time mentor, Werner Von Croy, Lara becomes a fugitive on the run. Pursued by the police, she follows the Alchemist into a dark world of blood, betrayal and vengeance where it is up to her to defeat this unholy alliance, and stop them from unleashing their incredible powers on the world.

Tomb Raider: Underworld represents a new advancement in exploration-based gameplay. As fearless adventurer Lara Croft explore exotic locations around the world, each designed with an incredible attention to detail resulting in breathtaking high-definition visual fidelity that creates a truly believable world and delivers a new level of challenge and choice. Master your surroundings: Reach new heights with the broadest range of acrobatic abilities and utilize objects within the environment to uncover new paths to explore. Explore epic and unknown worlds: Discover ancient mysteries of the underworld hidden within the coast of Thailand, frozen islands of the Arctic Sea, the jungles of Mexico, and more. Treacherous and unpredictable challenges: Each level is an elaborate multi-stage puzzle masked within an interactive environmental playground offering more flexibility over how the area is solved. New range of combat options: Choose to pacify or kill, target multiple enemies at once with the new dual-target system, and shoot with one hand while suspended with the other.

Thousands of years ago a meteor crashed into Antarctica and the shockwaves of its impact are being felt in the modern age. Lara Croft will follow clues leading to a deadly secret, boldly leaping chasms and blasting monsters that no one has leaped or blasted before.

Lara Croft and Temple of Osiris is takes place deep in the deserts of Egypt, where an ancient Temple to Set has just been discovered. Lara Croft, famed explorer, hoped to find the mythical Staff of Osiris, but she discovered more than they bargained for. As she fights her way across the sands, she must face gods and monsters of myth and legend driven mad. At stake is the fate of the world. It's a nightmare of storms and death.

The second instalment in the Tomb Raider series invites you to join Lara as she travels around the globe to retrieve a precious artefact before it falls into the wrong hands. The legendary artefact, the Dagger of Xian, is said to give its possessor the power of a fire breathing dragon.

Lara Croft, the fiercely independent daughter of a missing adventurer, must push herself beyond her limits when she finds herself on the island where her father disappeared.