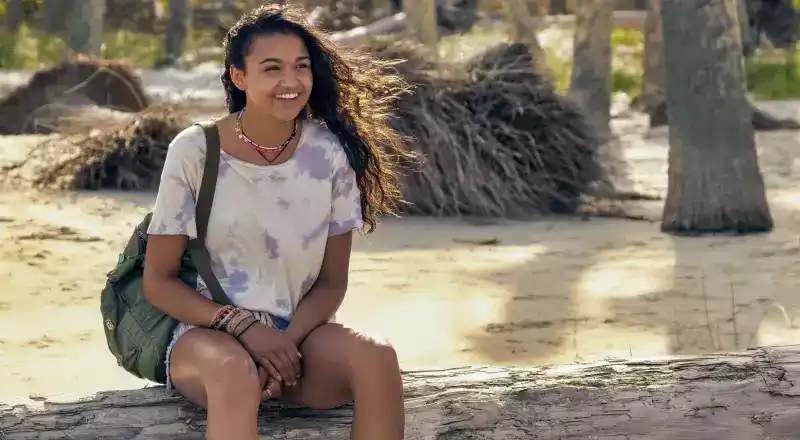 Character Analysis
(Avoiding Spoilers)
Living… in Outer Banks, North Carolina where there are clear class distinctions: the "Kooks" have money, and the "Pogues" do not. Kiara may look and act like a Pogue, but her family is actually from the wealthier side of the island. However, Kiara and her family are down to earth, and live a much more practical lifestyle than many of their fellow Kooks. Kiara can often be found hanging out with the other Pogues: John B, JJ, and Pope.
Profession… student at the academy, but she doesn't hang out with her classmates. She prefers to spend time with the Pogues who go to another school. She is also a waitress at the Wreck, her father's diner, but she doesn't pick up that many shifts. She would rather be out on the Atlantic, boating with her boys.
Interests… saving the planet. Kiara's friends describe her as a hippie socialist, and her mindset towards life seems to back that up. Equality is important to her, but she also wants to have fun. She might be the only Pogue without a wild streak, and she is constantly reminding the boys not to litter and to save the turtles. Kiera's biggest pet peeve is giving only 1% to the environment. As she says, "We only have one Earth, we should be giving it 100%, bare minimum."
Relationship status… single. Kiara doesn't go out of her way to make boys fall in love with her, but they still do. "No Pogue on Pogue mackin'" is a rule that Kiara upholds, so when John B makes a move, Kiara shuts him down. She has become closer to JJ and Pope recently, but as for now, she is sticking to the single life.
Challenge… figuring out where she belongs. Even though Kiara comes from the wealthier side of the island, she is still at the core of the Pogues. JJ thinks she's slumming it, but deep down, Kiara is sick of the Kook lifestyle, and longs to live life with more freedom, which she sees in the Pogues. She has grown to see JJ, Pope, and John B as family, which her parents take issue with. When things get hard, Kiara will have to decide where her real loyalties lie.
Personality… passionate, chill, and loyal. Kiara is a hippie to the core. She loves Bob Marley and eco-friendly lifestyle tips, but when she finds something, she is passionate about, it consumes a part of her. Lately, that has been the Pogues, much to her parent's dismay. But her father's disapproval doesn't seem to be holding her back.
Recommendations
Fans of her also like: