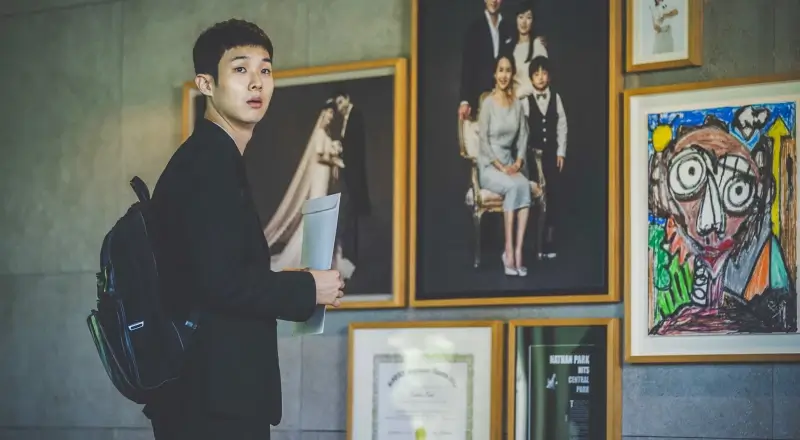 Character Analysis
(Avoiding Spoilers)
Grew up... in a middle-class home that was neither poor nor terribly wealthy. However, things went downhill from there.
Living… in a small, musty semi-basement in the slums of Seoul, South Korea.
Profession… English tutor. Ki-Woo's high school friend persuaded Ki-Woo to take his place as an English tutor for the Parks family's young girl. However, to qualify for the job, Ki-Woo must forge his identity from a man in his mid-20s with no formal education to a student studying business at an elite university. Surprisingly, Ki-Woo turns out skilled in his artifice: as Ki-Woo explains, "I don't consider this a crime. No. Because I plan on going to this school next year." After he gets the job, Ki-Woo proceeds to fetch employment for the rest of his family members--sister Ki-Jung as an art tutor, father Ki-Teak as a chauffeur, and lastly mom Chung-Sook as a housekeeper. For his family members' employment, Ki-Woo manipulates the Parks into firing their original chauffeur and housekeeper without much thought about what will happen next.
Interests… scouting. Like the Park family's young boy, Ki-Woo used to be a Scout as a child. It is the only common factor between the Parks' young boy and Ki-Woo.
Relationship Status… involved with his student Da-Hye. Now that he is both her tutor and her boyfriend, he dreams of an affluent future as her husband.
Challenge… getting through his family's bad luck. Improving the family's financial situation is the most important goal for Ki-Woo, and he remains hopeful of his future. Although it does not seem likely, Ki-Woo claims he will get admission into an elite university and marry Da-Hye.
Personality... driven and flexible. Although Ki-Woo lacks the charisma his sister Ki-Jung exhibits, Ki-Woo is an excellent scammer.
Recommendations
Fans of him also like: