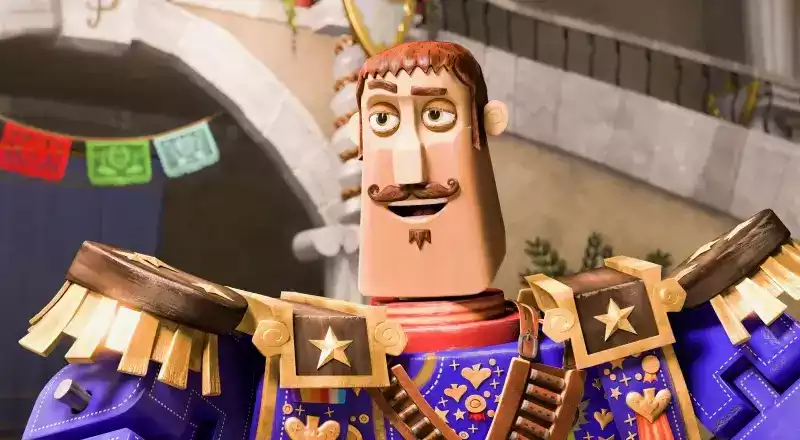 Character Analysis
(Avoiding Spoilers)
Grew Up… in the quaint town of San Angel. His father Captain Mondragon was a great hero of the town but passed away and his mother had left the town, leaving Joaquín under the care of General Posada, María's father. Wanting to grow up just like his father, Joaquín trained under General Posada to grow stronger and protect the town from bandits.
Visiting… San Angel. He doesn't stay there because he's busy saving all the other towns and becoming their hero. General Posada, however, has plans for Joaquín to marry María so that he can stay and protect San Angel.
Profession… saving towns from bandits. No matter how mighty the gangs seem, Joaquín can always singlehandedly defeat them. The Medal of Everlasting Life given to him by Xibalba, ruler of the Land of the Forgotten, protects him but no one knows of this secret.
Interests… his medals, moustache, and fighting. From countless battles Joaquín's chest is adorned with many medals. He proudly shows them off, naming each one's significance whenever he has the chance. Joaquín also prides himself for his moustache, believing it makes him manlier.
Relationship Status… single. Although he can easily win the hearts of girls with his many medallions, swordsmanship, and unwavering strength, he is only interested in María's heart.
Challenge… getting María's to marry him. He's had a crush on her since they were children, and he uses every advantage to win her over. But his best friend Manolo is his rival for María's hand.
Personality… fearless, ambitious, and arrogant. With or without the medal, Joaquín dauntlessly faces any danger to protect the people he loves most. He fights for what's right and is determined to be a hero just like his father, although he feels the pressure to rise out of his shadow. His immunity to peril, however, makes him narcissistic, putting his own pursuits before the feelings of others, coming off as self-centred and unempathetic.
Recommendations
Fans of him also like: